Trading beyond the headlines
FIVN hit a new low for 2021 this week
Stock hit record high then pulled back 29% amid high-profile headlines
Call options volume was running high on Thursday
Big headlines often play out as big price moves on the chart or big prints on the options tape, but sometimes things can get interesting when all the news appears to have played out, at least for the moment.
For example, on Thursday, a LiveAction scan showed options volume in Five9 (FIVN) was around 5.2 times average: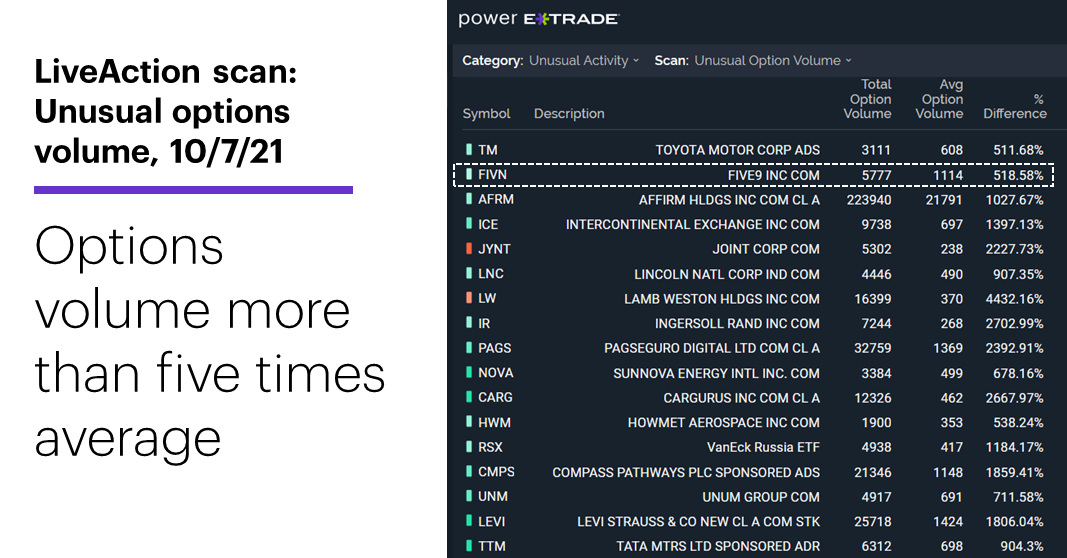 Source: Power E*TRADE (For illustrative purposes. Not a recommendation.) *Reflects 30-day performance as of 11:30 a.m. ET on 10/5/21.
---
Most of that activity was taking place on the call side, where volume was closer to six times average around 12:30 p.m. ET. If any of the traders buying those calls were doing so to take bullish positions, they were arguably taking a contrarian position—at least in terms of FIVN's recent price history. The cloud-based software provider is off roughly 29% from its August record high of $209.70, which was the top of a 271% rally off its March 2020 lows.
The following chart shows this has been an especially busy couple of months for FIVN. After zigzagging throughout much of the first half of the year, the stock made the final push to its August highs after a July 18 announcement that Zoom Communications (ZM) would purchase the company for $14.7 billion,1 followed by its earnings announcement on July 27: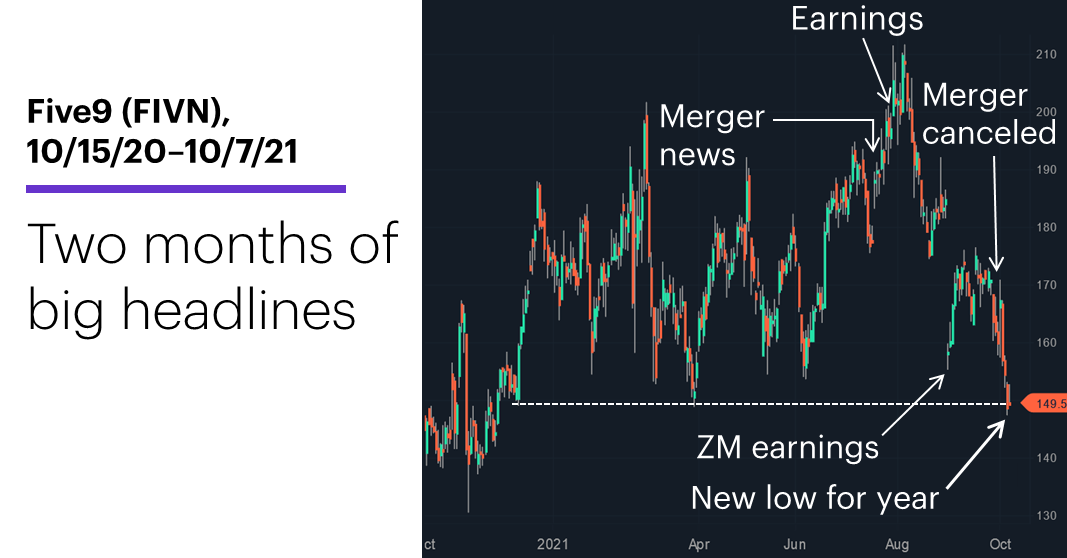 Source: Power E*TRADE (For illustrative purposes. Not a recommendation.)
---
Ironically, it wasn't FIVN's earnings that triggered the most notable move on the chart. The huge down gap and 14.4% loss on August 31 followed Zoom's poorly received quarterly numbers,2 which dragged down its soon-to-be merger partner by association.
The final twist in the story came on September 30 when the two companies called off the merger.3 After a one-day bounce, FIVN slid 11% over the next three days—setting a new low for the year on Wednesday—before stabizing a bit early Thursday.
It's possible that some call buyers may have expected a bounce in the neighborhood of a potential support level, especially since some of the potential bearish catalysts associated with the merger appeared to have been taken off the table. However, it's worth noting FIVN weakened throughout the day yesterday—much more so than the broad market.
Aside from the reality that the stock is significantly lower than it was two months ago, some FIVN bulls may also have factored in the relatively low implied volatility (IV) of many of its options—most expiration months were below their 30-day IV averages. Lower IV typically translates into lower options prices, other factors aside. The one exception: the higher-than-average IV of the November options, which was probably tied to the fact that the company's next earning release is scheduled for early November.
A small detail, but in the markets, it helps to keep track of them.
Today's numbers include (all times ET): Employment report (8:30 a.m.), Wholesale Inventories, preliminary (10 a.m.).
Today's earnings include: to come.
Click here to log on to your account or learn more about E*TRADE's trading platforms, or follow the Company on Twitter, @ETRADE, for useful trading and investing insights
---
1 Forbes. Zoom Set To Acquire Intelligent Cloud Contact Center Pioneer Five9. 7/22/21.
2 Reuters. Zoom shares record worst day in 9 months as searing growth tapers off. 8/31/21.
3 TechCrunch.com. And that's that, as the Zoom deal to buy Five9 is called off. 9/30/21.
What to read next...
10/06/21
Oil just pushed to levels it hasn't seen in years, but energy stock traders may want to keep some key price-action principles in mind.
---
10/04/21
Market will head into Q4 looking to rebound after September sell-off gives back almost all of Q3 rally.
---