Large trader footprints
MNDY up double digits over past two days
Call volume more than five times average on Thursday
Related trades illustrate conservative bullish strategy
While it's more difficult than most people think to decipher what unusual options activity represents—traders don't benefit from broadcasting their intentions, after all—sometimes positions highlight the different types of strategies traders may be deploying in a certain type of environment. Yesterday offered an example in cloud software-development company Monday.com (MNDY).
The stock jumped 18% to a four-month high on August 8 following a stronger-than-expected earnings report, but the move was immediately followed by a grueling four-week downturn, during which shares closed higher only five times while falling 27%. The past two days marked a conspicuous pivot, with the stock rebounding more than 15% at Thursday's high:
Source: Power E*TRADE. (For illustrative purposes. Not a recommendation.)
---
MNDY was one of last year's higher-profile tech IPOs, debuting in the $170s and hitting an all-time high of $450 in November 2021 before embarking on the slide that would eventually drop shares to a record low of $85.75 on July 19. On the other hand, that means as of yesterday MNDY was still more than 45% above that low, despite a significant August correction.
But given the stock's significant recent volatility and the pressure tech and growth stocks have faced as interest rates have climbed across the globe, it would be understandable if some MNDY bulls nonetheless leaned toward conservative, limited-risk strategies.
One of the most basic options strategies in this category is the vertical (bull) call spread, which combines a long call option (often with a strike price near the current stock price) and a short, higher-strike call option with the same expiration. The risk is limited to the cost of the spread no matter how far the stock falls below the lower strike price, while the potential profit peaks at the upper strike price: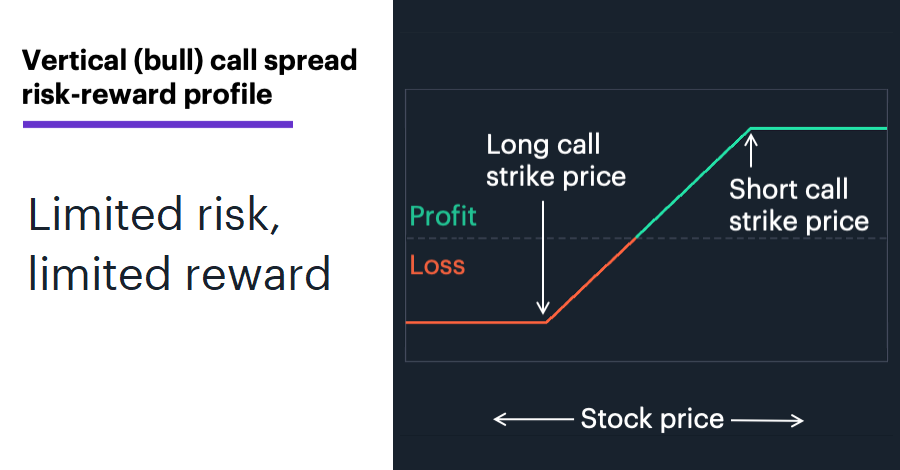 Source: Power E*TRADE. (For illustrative purposes. Not a recommendation.)
---
One reason this strategy comes to mind is MNDY had unusually high (more than five times average) call volume on Thursday, with much of the activity in the October $125 and $145 calls: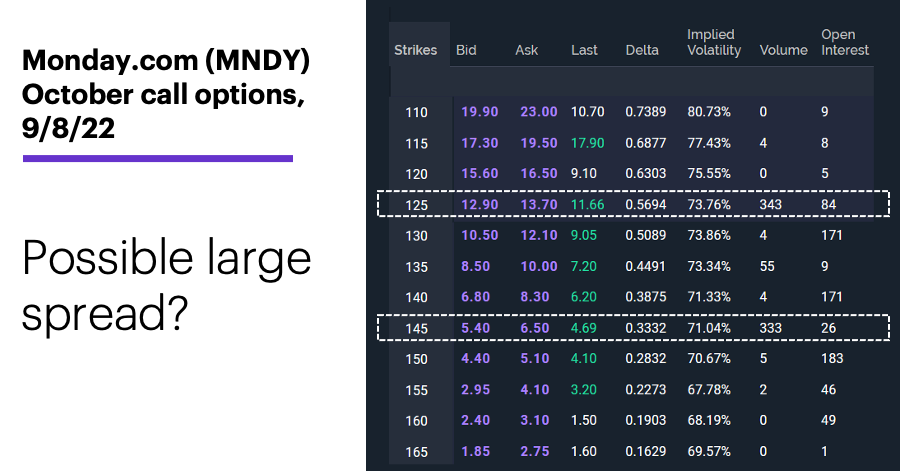 Source: Power E*TRADE. (For illustrative purposes. Not a recommendation.)
---
Two details worth noting: First, the volume in both contracts was greater than the existing open interest, which means at least some of the activity consisted of traders getting into the market, as opposed to liquidating existing trades. Second, there was a series of equal-sized trades between 9:55 a.m. –noon ET on Thursday totaling 332 contracts in both options.
If these positions are related, one possibility is that a large trader opened an October $125–$145 call spread, which would have the potential to profit from a rally into the zone between the strike prices. At expiration, the position's profit would max out if the stock closed at the upper strike price.
In addition to its built-in risk control, the vertical spread has another characteristic that may make it attractive to some traders: lower cost. Yesterday, for example, the October $125–$145 call spread was nearly 40% cheaper than an October $125 call. While the spread's potential gain would be smaller than the long call's on a dollar-for-dollar basis, it could be larger relative to the cost of establishing the trade.
Market Mover Update: Rhythm Pharmaceuticals (RYTM) reversed a two-day slide with a double-digit percentage rally on Thursday (see "Biopharma throws its weight around"). October WTI crude oil futures (CLV2) recovered some of Wednesday's sell-off, rebounding more than 1% to climb back above $83/barrel.
Today's numbers include (all times ET): Preliminary Wholesale Inventories (10 a.m.), European Union energy ministers emergency meeting.
Today's earnings include: Kroger (KR).
Click here to log on to your account or learn more about E*TRADE's trading platforms, or follow the Company on Twitter, @ETRADE, for useful trading and investing insights.
---