Closing out or adding on?
MDT up more than 6% for year, down 10% from April highs
Put volume 11 times call volume on Wednesday
Volume matches large trade(s) from April
The options market often does something interesting when a stock doesn't, which is why even traders who don't use options often monitor their activity. But it requires some effort to read between the lines of that activity to extract its possible "message."
On Wednesday morning, for example, medical device maker Medtronic (MDT) was more or less flat despite a large print that hit the options tape. But the stock had been quite active before that, hitting a six-month high in April before pulling back as much as 11%: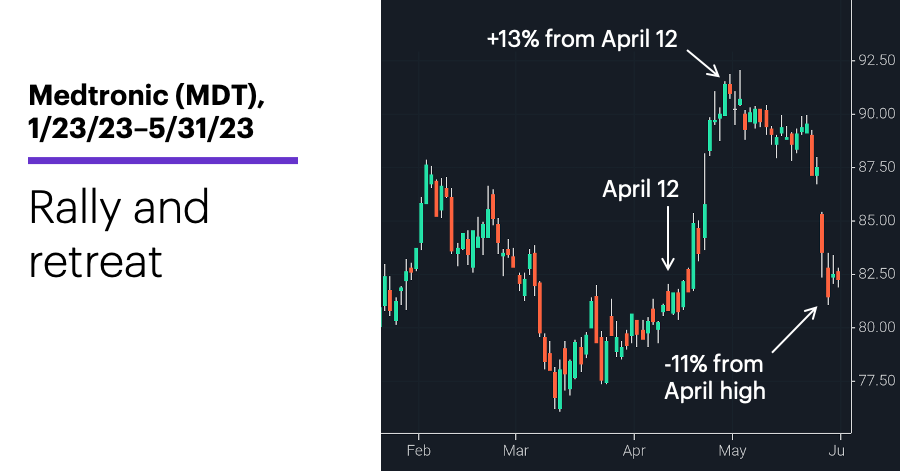 Source: Power E*TRADE. (For illustrative purposes. Not a recommendation.)
---
Given the stock's recent weakness, traders may not have been surprised to see MDT had one of Wednesday's higher put-call ratios. Put volume was more than 11 times call volume, thanks to 10,300 contracts changing hands in the June $72.50 puts—a strike price roughly $10 below where the stock was trading around midday.
But that trade (or collection of trades) occurred in a contract with open interest (OI) of 10,900--something experienced options traders would have recognized as a potential liquidation (i.e., traders exiting positions instead of opening new ones). Opening a price chart of the June $72.50 put showed similar volume—in fact, the only notable volume of the past three months—occurred on April 12: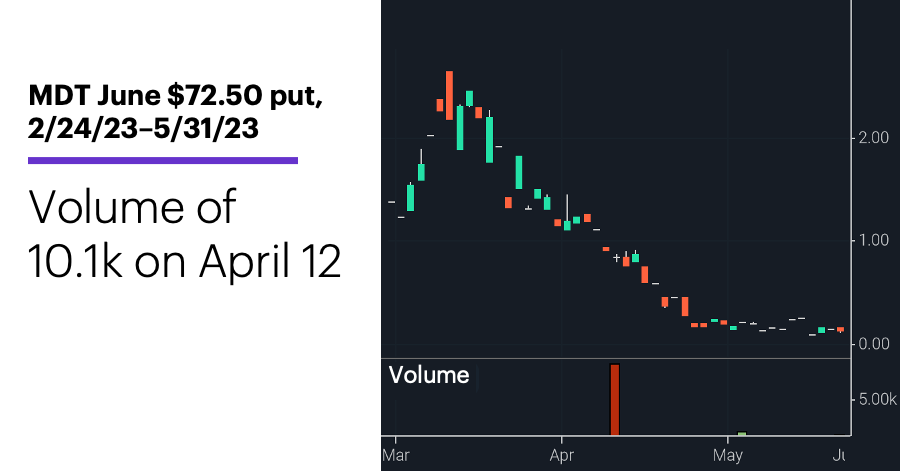 Source: Power E*TRADE. (For illustrative purposes. Not a recommendation.)
---
The option closed at $0.85 that day, $0.72 higher than its price Wednesday morning, which means a trader (or traders) who held 10,100 contracts for the entire period would have experienced a loss of more than $720,000, while sellers who may have shorted on April 12 and covered yesterday would have netted the same amount. (Note: If the contract's OI is higher Thursday than it was on Wednesday, it means at least some of Wednesday's volume represented new positions rather than liquidations.)
It's easy to speculate that buyers who had seen their options decline by roughly 84% may have wanted to get at least some money out of their positions. It may be more difficult to see the motivation of sellers who were potentially looking at roughly $130,000 of additional profit if the options expired worthless at expiration—which would happen if MDT was trading above $72.50 on June 16.
One reason is that a lot can happen in two weeks and two days—MDT fell $8 just in the four days from May 22–26, after all. That said, as of yesterday, the stock was trading roughly 27% below the Street's average 12-month price target of $112.43, and 21% below Morgan Stanley & Co.'s $104 target.1
June market performance. Technically, June may contain more spring than summer, but in terms of stock market performance, it's had its share of "summer doldrums." Since 1985, June has been one of the weaker months of the year for the S&P 500 (SPX), although it's been positive 23 times and negative 15 times: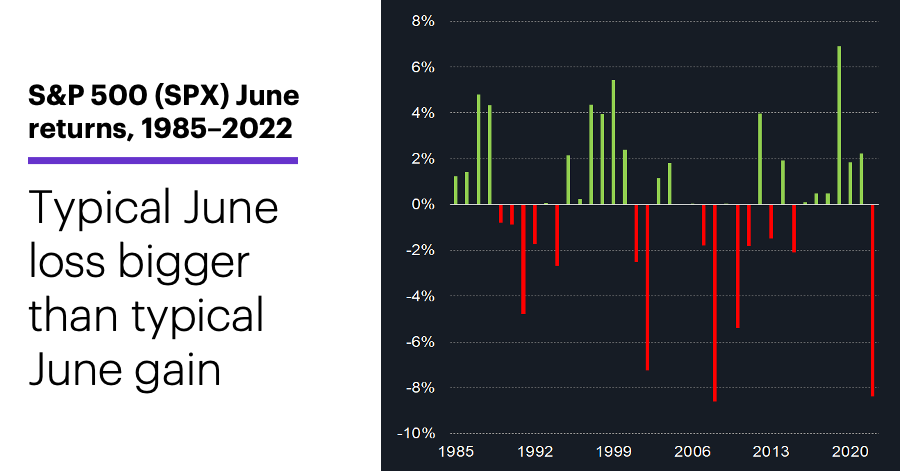 Source (data): Power E*TRADE. (For illustrative purposes. Not a recommendation.) Note: It is not possible to invest in an index.
---
That 60.5% positivity rate was the eighth-lowest out of all months of the year, while the SPX's 0.16% median return in June was second from the bottom (only September was weaker).2 Also, the median June loss (-2.1%) was larger than the median June gain (1.8%).
Market Mover Update: Even though it closed lower yesterday, the Nasdaq 100 (NDX) tech index just posted its fourth-best month since 2020. The SPX eked out a marginal gain for May despite briefly falling into the red for the month on Wednesday morning.
Today's numbers include (all times ET): Challenger Job-Cut Report (7:30 a.m.), ADP Employment Report (8:15 a.m.), Weekly Jobless Claims (8:30 a.m.), Productivity and Labor Costs (8:30 a.m.), PMI Manufacturing (9:45 a.m.), ISM Manufacturing Index (10 a.m.), Construction Spending (10 a.m.), EIA Natural Gas Report (10:30 a.m.), EIA Petroleum Status Report (11 a.m.).
Today's earnings include: Designer Brands (DBI), Dollar General (DG), Macy's (M), Broadcom (AVGO), Five Below (FIVE), Lululemon (LULU), VMware (VMW).
Click here to log on to your account or learn more about E*TRADE's trading platforms, or follow the Company on Twitter, @ETRADE, for useful trading and investing insights.
---
1 StreetInsider.com. Morgan Stanley Assumes Medtronic, Inc. (MDT) at Overweight, 'More heartthrob than heartbreaker.' 5/30/23.
2 All figures reflect S&P 500 (SPX) monthly closing prices, 1985–2022. Supporting document available upon request.
What to read next...
05/30/23
Market gains ground as tech sector continues to roll.
---
05/26/23
A biotech's options activity takes on a different appearance after breaking down the numbers.
---
05/24/23
Medical stock's rally slows near resistance level, but options market appears to expect more volatility.
---