Weighing options
Unity Software (U) up more than 50% year to date
Shares recently tested resistance near Dec. highs
Volatility and time critical to short-term options choices
A stock hits a multi-month high after making one of its biggest one-day up moves of the past few months, and tests a resistance level in the process. An options trader thinks the stock may retreat or move sideways in the near future.
What's the best way to trade it?
Experienced traders know there's no one-size-fits-all answer to that question. Different people have different risk tolerance levels and goals, and every market situation is unique. But an example from yesterday's market action illustrates some of the key variables traders may take into account.
Gaming software stock Unity Software (U) jumped more than 16% intraday—its biggest up move since November—after announcing an update to its game-publishing platform.1 The stock hit its highest price since September ($42.18) before retreating a bit: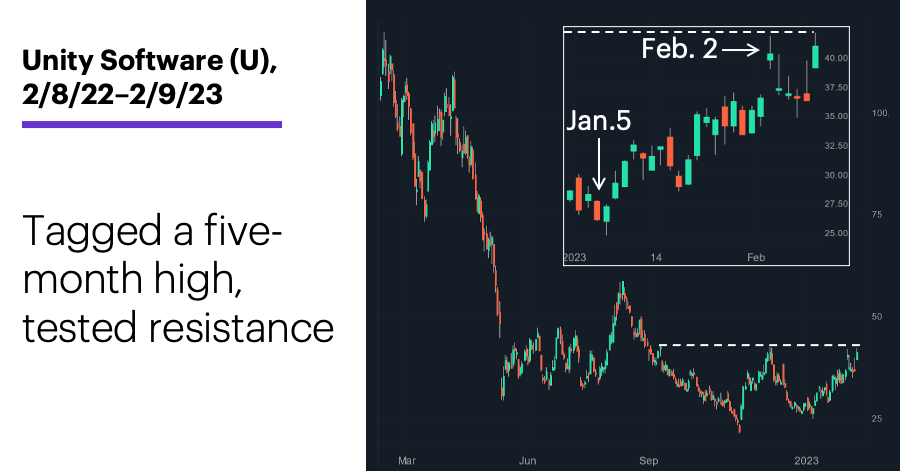 Source: Power E*TRADE. (For illustrative purposes. Not a recommendation.)
---
In the context of the past year's price action, this move may look like a blip, but the chart inset shows U has rallied roughly 55% since January 5. The stock's recent highs are testing resistance in the vicinity of the early-December swing highs.
While some traders may believe this momentum could translate into a longer-term rally, others would point out that even the strongest trends contain pullbacks and pauses—and that exceptionally large short-term price swings are susceptible to at least partial reversals, as the pullback after U's February 2 rally illustrates.
Many people naturally think of buying puts in anticipation of a price drop, but in this case, another market factor may have cast some doubt on doing so. Yesterday U appeared on the scan for high 30-day implied volatility (IV):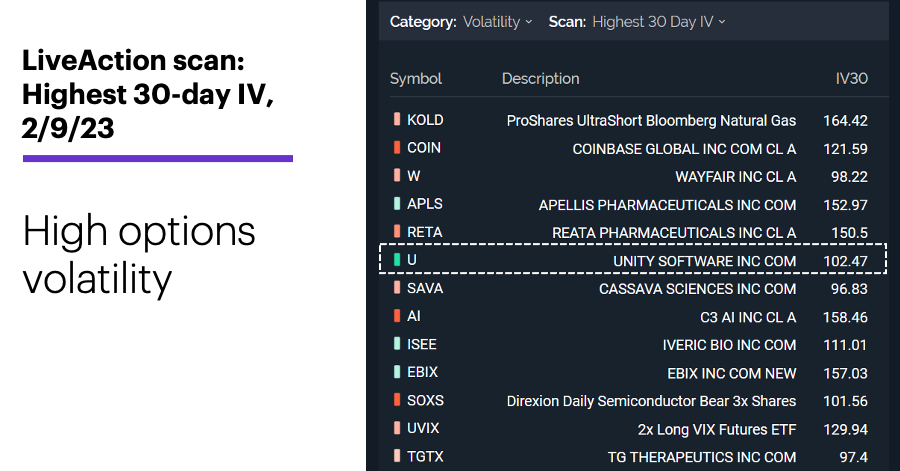 Source: Power E*TRADE. (For illustrative purposes. Not a recommendation.)
---
A key aspect of high IV is that it can make options pricier than they would be otherwise, which means a long options position may be fighting an uphill battle to profitability even if the stock moves in the expected direction. Higher IV reflects greater uncertainty in the options market—if and when that uncertainty is removed, IV may drop sharply, deflating options premiums in the process.
In this case, there appeared to be a reason for U's higher-than-average IV: The company's earnings are currently scheduled for February 22. Since those numbers—and the market's reaction to them—can't be predicted, it makes sense that U's implied volatility is relatively high.
That reality may prompt traders looking for a near-term pullback to sell calls rather than buy puts, and use options that expire before an unpredictable—and potentially price-moving—earnings release.
In this case, that would mean selling the February monthly calls that expire three trading days before U announces earnings. Unlike a long put position, a short call would benefit from steady-to-lower IV over the life of the trade, as well as the inevitable and unavoidable time decay.
This is just one example, based on a specific (hypothetical) outlook. Other situations may lend themselves to different choices. The key is to use options in a way that they can benefit from—rather than battle—existing market conditions.
Market Mover Update: ON Semiconductor (ON) hit a new record high for the sixth time in the past seven days. The PHLX Semiconductor Index (SOX) is up around 23% so far this year—a big part of the tech sector's surge.
Today's numbers include (all times ET): Consumer Sentiment (10 a.m.).
Today's earnings include: Mr. Cooper (COOP), Enbridge (ENB).
Click here to log on to your account or learn more about E*TRADE's trading platforms, or follow the Company on Twitter, @ETRADE, for useful trading and investing insights.
---
1 Dow Jones Newswires. Unity Software Shares Rise 13% After New Update for Supersonic. 2/9/22.
What to read next...
02/09/23
Many traders probably missed it, but the S&P 500 formed a fairly rare pattern on Wednesday.
---
02/08/23
Breaking down options volume highlights an interesting dynamic in a high-flying AI stock.
---
02/06/23
Market pushes higher as traders digest rate hike, jobs report, and big-tech earnings.
---