The long and short of it
Tech led in market in January, chips led tech
NXPI up more than 16% last month, more than 30% since Oct.
Short call, long put positions not interchangeable
Tech stocks played a big role in the market's January upsurge, and chip stocks were at the vanguard of the push. The Nasdaq 100 (NDX) tech index gained roughly 10% last month—nearly twice as much as the S&P 500 (SPX)—while the PHLX Semiconductor Index (SOX) rallied more than 14%.
NXP Semiconductors (NXPI) did its share in the chip space, climbing more than 16% in January, its second notable upswing since hitting a two-year low in October: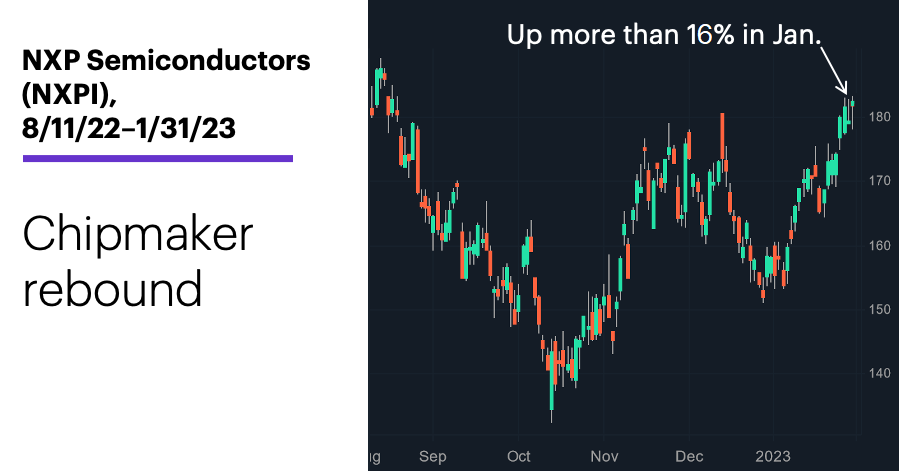 Source: Power E*TRADE. (For illustrative purposes. Not a recommendation.)
---
For argument's sake, let's say an options trader thought NXPI was vulnerable to at least a short-term pullback after such an energetic rally. Not only was the stock trading its highest level since August, it was up more than 30% from its October low and was trading a little above the average Street 12-month analyst target of $181.56.1
At the most basic level, an options trader anticipating a down move may consider either buying puts or selling calls—both have the potential to profit from a down move from the stock. But aside from the obvious differences—a long put has limited risk, while a short call has unlimited risk, for example—volatility may play an important role in determining which option a trader chooses.
Yesterday, for example, NXPI appeared on the LiveAction scan for symbols with 52-week low implied volatility (IV):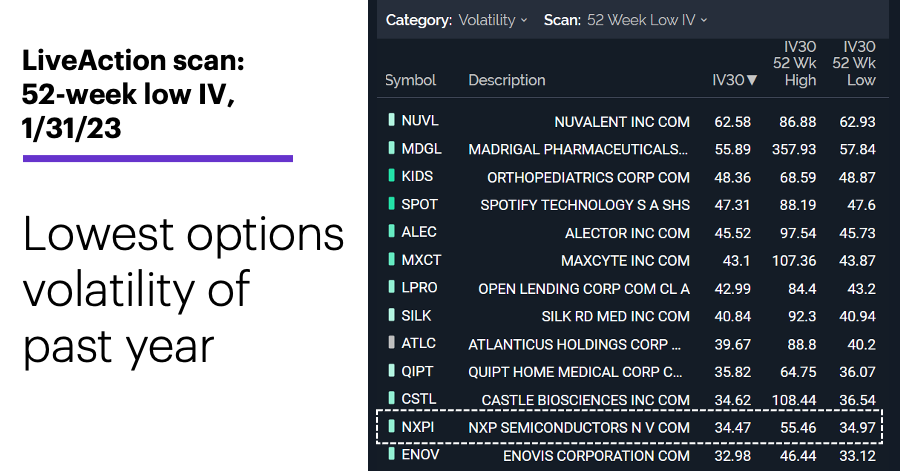 Source: Power E*TRADE. (For illustrative purposes. Not a recommendation.)
---
Because high IV can translate into higher option prices (all other factors being equal) while low IV can translate into moderate options prices, IV at the lower end of its one-year range could mean NXPI's options premiums weren't particularly overpriced. That may lead a trader expecting a down move to buy puts instead of selling calls, since a down move—especially a sharp one—could cause IV to jump, which could boost put premiums beyond any increase they'd get from the stock's decline.
That said, a stock's IV can be at a 52-week low and still be relatively high (say, compared to other stocks) if that range is exceptionally elevated. While the LiveAction scan suggested that wasn't the case for NXPI (note the higher IV levels of most of the other symbols on the list), the stock's "volatility constellation" shows IV was also below its 30-day average for the next several expirations:
Source: Power E*TRADE. (For illustrative purposes. Not a recommendation.)
---
Finally, any long options position has to account for time decay, which erodes an option's value at an accelerated rate as expiration approaches. So, even when volatility conditions may appear to favor buying options, traders also have to ensure they're not negating that advantage by purchasing options with too little time remaining until expiration.
Trading is always about balancing potential rewards against risks. Experienced traders know that overlooking any of the latter can wipe out all of the former.
Market Mover Update: After Monday's -1.3% stumble, the S&P 500 (SPX) rebounded Tuesday to wrap up its second-strongest January of the past 20 years, gaining more than 6%. March WTI crude oil futures (CLH3) interrupted a sharp two-day pullback yesterday by reversing a 1.6% intraday sell-off to close higher.
Today's numbers include (all times ET): Mortgage Applications (7 a.m.), ADP Employment Report (8:15 a.m.), PMI Manufacturing Final (9:45 a.m.), ISM Manufacturing Index (10 a.m.), Construction Spending (10 a.m.), Job Openings and Labor Turnover Survey (10:00 a.m.), EIA Petroleum Status Report (10:30 a.m.), Fed interest rate announcement (2 p.m.).
Today's earnings include: Humana (HUM), Johnson Controls (JCI), Altria Group (MO), Peloton (PTON), Thermo Fisher Scientific (TMO), Waste Management (WM), Meta Platforms (META), Meritage Homes (MTH), Qorvo (QRVO).
Click here to log on to your account or learn more about E*TRADE's trading platforms, or follow the Company on Twitter, @ETRADE, for useful trading and investing insights.
---
1 TipRanks. NXP Semiconductors (NXPI) Stock Forecast & Price Target. 1/31/23.
What to read next...
01/31/23
February has been more bullish than bearish for stocks over the past three decades, but its returns have also been fairly volatile.
---
01/30/23
Stocks extend New Year's rally as focus shifts to Fed, jobs.
---
01/27/23
With a few days until it releases its numbers, a railroad stock with a history of rallying after earnings sees a spike in call volume.
---