Bullish, bearish, or undecided?
Stocks closed lower Tuesday after early rally
SPX up more than 1% intraday before turning red
Pattern has occurred more than 350 times since 1960
New year, familiar price action.
On Tuesday, the S&P 500 (SPX) did something that probably felt very "2022" to many traders, surrendering an intraday gain to close lower: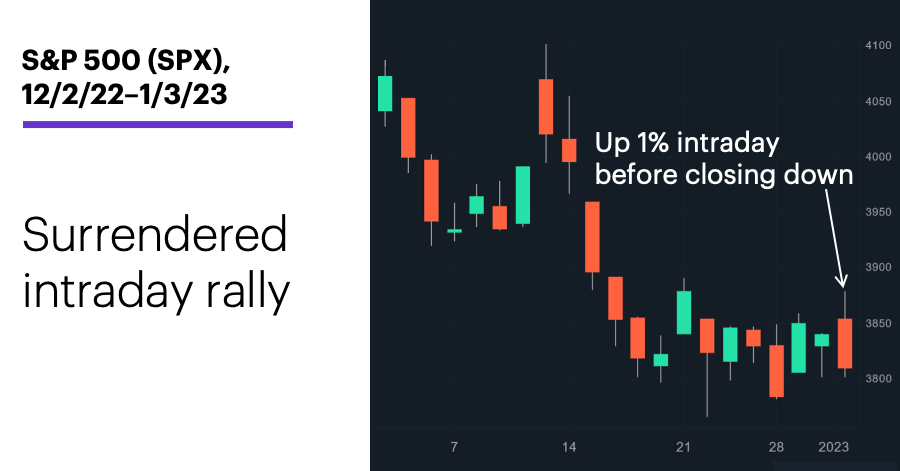 Source: Power E*TRADE. (For illustrative purposes. Not a recommendation.)
---
Specifically, the SPX was up a little more than 1% yesterday before slipping into the red, something it's done 363 other times since 1960, and 17 times in 2022—more than in any other year since 2008.
While many traders and investors like to study the market's behavior at the outset of the year for clues regarding its longer-term path, such efforts ignore not just the reality that every situation is unique, but that short-term price patterns tend to have short-term implications. (Check out "Looking ahead to January" for some insights into January's track record as a barometer for full-year market performance.)
Days like Tuesday are a good example. Surrendering a sizable intraday gain on the first day of year may not have been particularly encouraging for bulls—and, in fact, the SPX closed lower 54% of the time the day after such days.1 But the following chart shows that after five days, the situation was a bit different: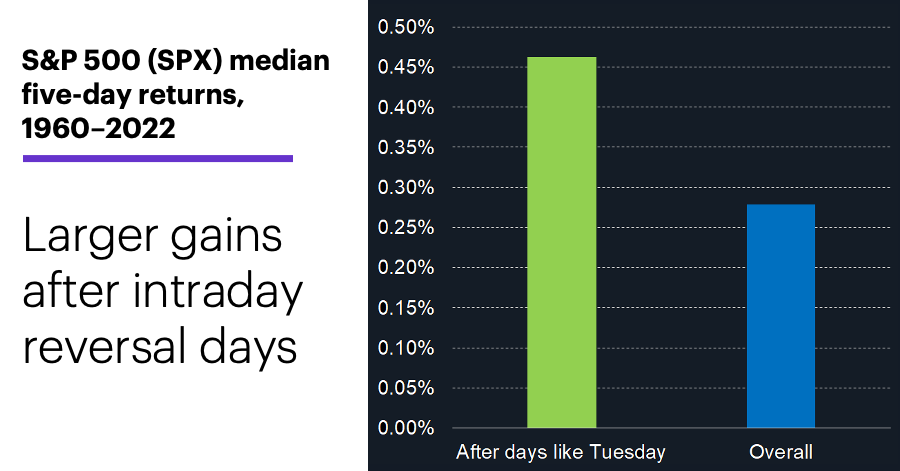 Source (data): Power E*TRADE. (For illustrative purposes. Not a recommendation.)
---
The SPX's median five-day return after days like Tuesday was much larger than its overall median five-day return, and it also gained ground slightly more often—58.4% vs. 56.2% of the time. In other words, the market was more bullish than average in the first five days after these seemingly bearish intraday reversals, even with a tendency toward downside follow-through in the first day after them.
The unique factors currently at work in the market will dictate whether the patterns outlined here play out once again, but traders inclined to extrapolate on the market's behavior early in a year—especially it's short-term price action—should remember that one day (or one week, etc.) can tell you only so much about what the market will do in the long term.
Market Mover Update: February WTI crude oil futures also surrendered an early gain, closing down more than 3%. BOK Financial (BOKF) fell more than 6% intraday on Tuesday, but despite that volatility, the January $105 straddle was still trading for around 11% less than it was on December 1 (see "Large trader making volatility play?").
Today's numbers include (all times ET): Mortgage applications (7 a.m.), ISM Manufacturing Index (10 a.m.), Job Openings and Labor Turnover Survey (10 a.m.), FOMC minutes (2 p.m.), Vehicle Sales.
Today's earnings include: Unifirst (UNF).
Click here to log on to your account or learn more about E*TRADE's trading platforms, or follow the Company on Twitter, @ETRADE, for useful trading and investing insights.
---
1 All figures reflect S&P 500 (SPX) daily prices, 1960–2022. Pattern represents days the SPX traded at least 1% higher intraday before closing below the previous day's close. Supporting document available upon request.
What to read next...
01/03/23
No Santa Claus rally as stocks wrap up year by extending pullback.
---
12/28/22
Are bear-market sector patterns likely to carry over into 2023?
---