Biotech tests support
ALNY fell 17% in four days after FDA advisory decision
Stock steadied Wednesday around long-standing support
Options volume higher than usual on Wednesday
Biotech investors and traders know the cost of the outsized gains that occasionally occur is volatility: The path to a successful therapy is long and uncertain, often with multiple clinical trials, setbacks, and adjustments before (hopefully) regulatory approval. And that's all before a company even has a chance to take a therapy to market and turn it into a potentially profitable product.
Consider recent developments in Alny Pharmaceutical (ALNY), which recently had its heart-disease treatment, Onpattro, recommended for approval by a Food and Drug Administration (FDA) advisory panel.
While that sounds like good news—and reason for the stock to rally—the panel's recommendation (which is non-binding) came with a caveat: It suggested Onpattro would be useful only to improve the prospects of patients who worsen while receiving a Pfizer (PFE) treatment for cardiomyopathy (tafamidis). The FDA is expected to issue its official Onpattro ruling on October 8.1
ALNY shares stabilized on Wednesday after falling 17% in four days after the FDA's advisory panel announcement on September 13: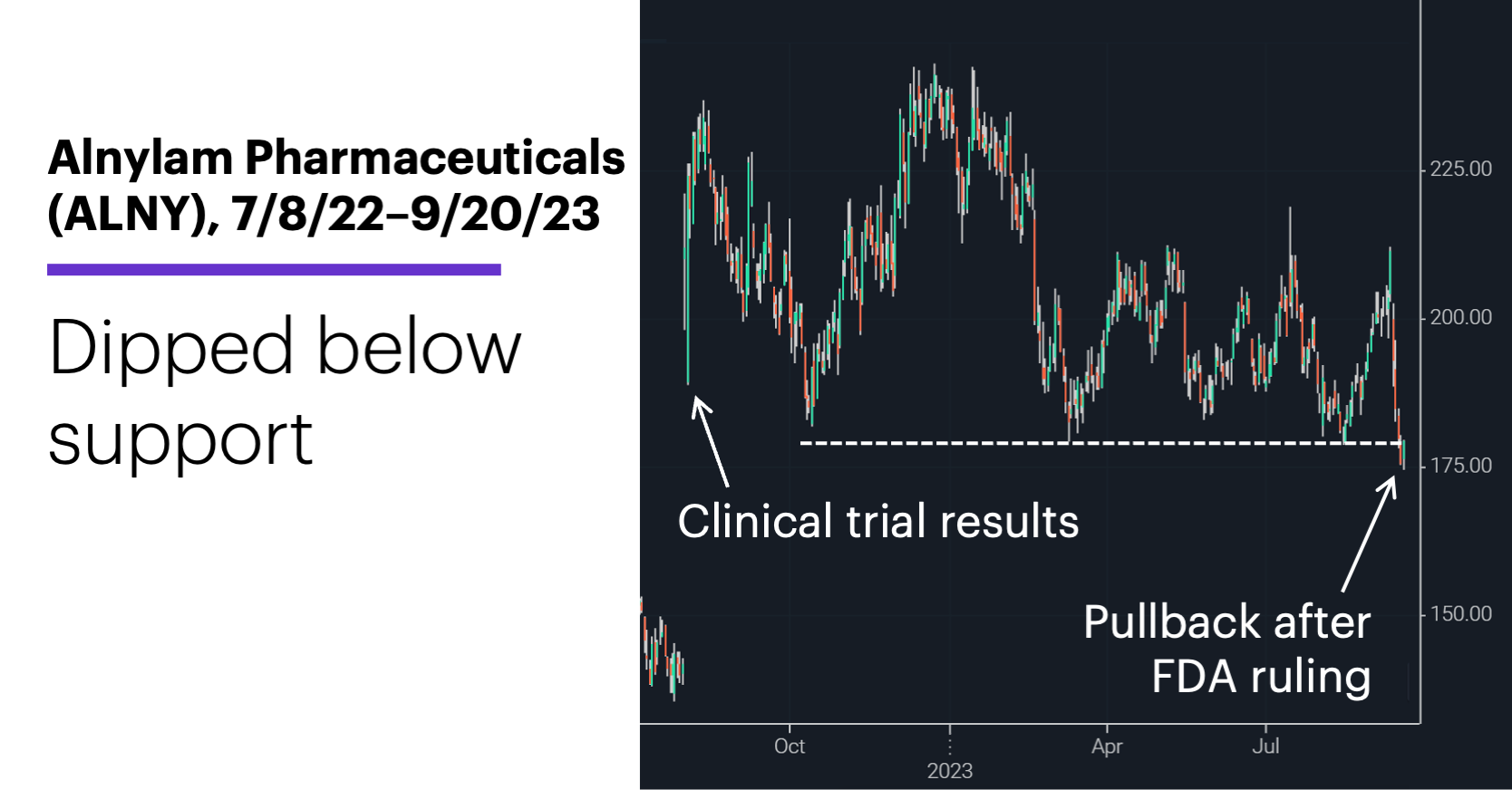 Source: Power E*TRADE. (For illustrative purposes. Not a recommendation.)
---
That pullback dropped the stock to its lowest level since August 2, 2022—which was the day before the stock soared 49% on the release of positive clinical trials for the treatment. Since then, the stock has repeatedly pulled back to, and rallied off, support around $178.50-$183. ALNY closed below this level on Tuesday.
Meanwhile, ALNY options were more heavily traded than usual on Wednesday. Put volume was around five times average in early trading, but call volume was nearly 17 times average. Interestingly, the biggest trades Wednesday morning were all the same size—1,300 contracts each in the October $180 calls, October $195 calls, and October $160 puts: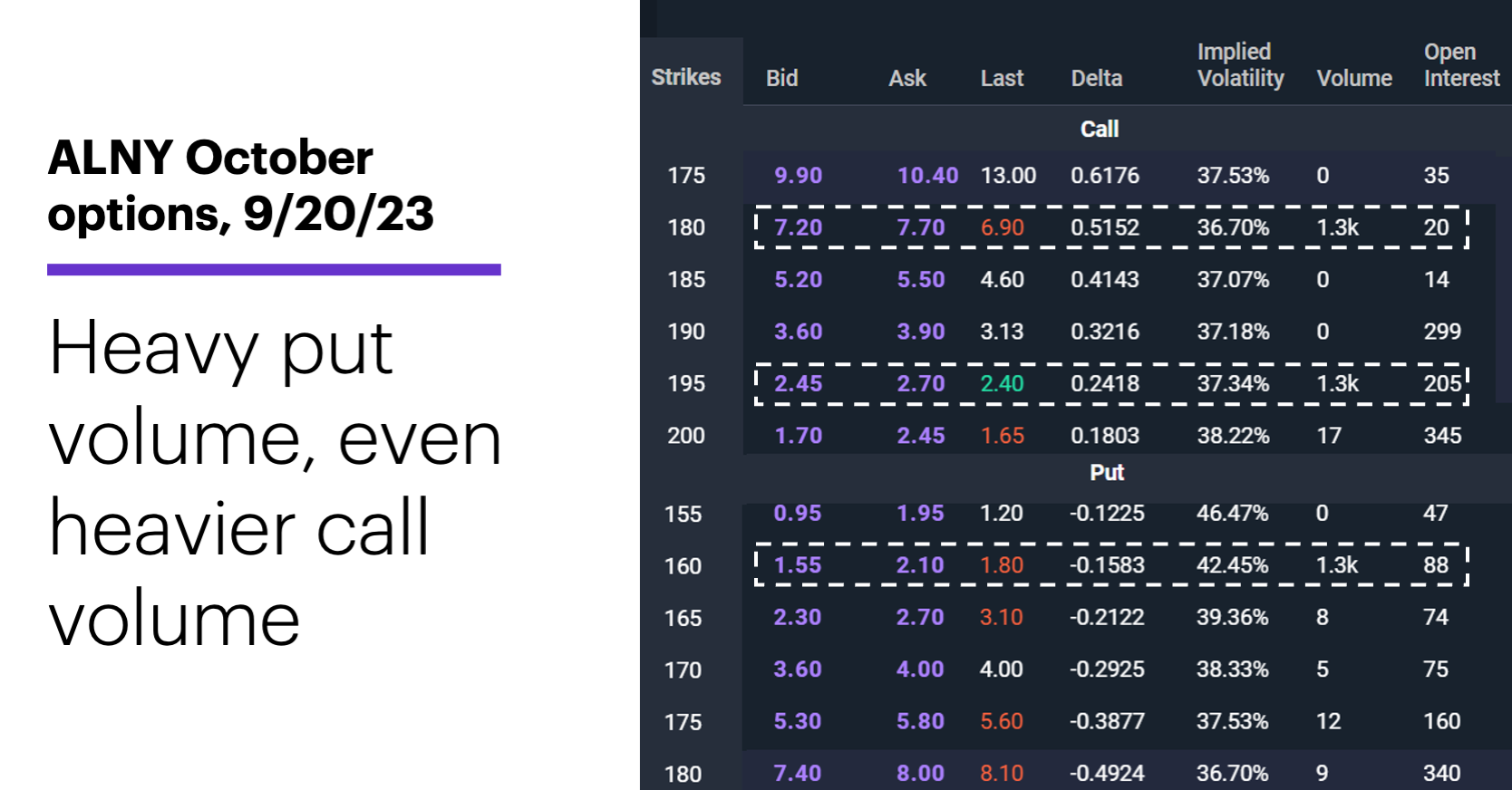 Source: Power E*TRADE. (For illustrative purposes. Not a recommendation.)
---
While the fact that the positions were all the same size (the quantities in each increased to 1,400 contracts later in the day) may lead traders to assume the trades are related in some way, this is always a dangerous assumption. Even when true, it doesn't clarify whether the trades were initiated as longs or shorts, whether they were hedges, or whether they were part of a more extended strategy.
All we know with certainty is that on Wednesday options traders were busier than usual in ALNY options, in calls more so than puts, and that this was happening as the stock was testing a notable price level in the wake of major company news. But those may be reasons enough for traders to keep tabs on the situation.
Market Mover Update: Although the Fed announced on Wednesday afternoon that it was leaving interest rates unchanged, the majority of members felt another hike would be called for by the end of the year.
Two stocks with heavy call volume last week have taken different paths. Invitation Homes (INVH) pulled back soon after a brief push out of a consolidation, while on Wednesday AbbVie (ABBV) was sustaining its upside breakout (see "Tracking options").
Although Colgate-Palmolive (CL) has been trading mostly sideways the past couple of weeks, traders established sizable put options positions earlier this week. On Monday, CL's put volume was more than 100 times its average, with big trades in out-of-the-money contracts expiring next year. Yesterday, open interest in the May $60 puts stood at 15,400 contracts and OI in the June $60 puts was 18,400—positions that represent a total of more than $200 million worth of stock.
On Tuesday, November WTI crude oil futures (CLX3) closed lower after hitting a fresh intraday high of $92.43. On Wednesday, it looked like oil would post back-to-back down days for the first time since August 23, but after falling nearly 2% in early trading, the market rebounded to close up for the day.
Today's numbers include (all times ET): Weekly jobless claims (8:30 a.m.), Current Account (8:30 a.m.), Existing Home Sales (10 a.m.), Leading Indicators (10 a.m.), EIA Natural Gas Report (10:30 a.m.).
Today's earnings include: Darden Restaurants (DRI), FactSet Research (FDS), Scholastic (SCHL).
Click here to log on to your account or learn more about E*TRADE's trading platforms, or follow the Company on Twitter, @ETRADE, for useful trading and investing insights.
---
1 Investor's Business Daily. Alnylam Pharma Tumbles After FDA Advisors Dash Its Hopes Of Rivaling Pfizer. 9/14/23.
What to read next...
09/18/23
Stocks slump amid inflation uptick and more strong economic data.
---
09/13/23
Comparing activity in two stocks shows how traders can use options to track what's happening "beneath the surface."
---
09/11/23
Bulls cautious in early September as markets get ready for inflation numbers.
---