Interesting developments
RXDX options open interest (OI) eight times average
Short interest declined in November
A big move this week in a biotech stock showed why many traders like to keep tabs on options open interest (OI), which is the number of unclosed options positions in a given stock.
LiveAction scans showed OI in Prometheus Biosciences (RXDX) was 2,541 contracts on Tuesday (and also Monday):
Source: Power E*TRADE (For illustrative purposes. Not a recommendation.)
---
That OI total, while paltry for many other stocks, was nearly eight times average for RXDX, a small-cap biotech that began trading earlier this year.
High (or rising) OI reflects…well, interest in a stock, since it means traders are establishing positions in its options. It also provides deeper insight into potential trader sentiment than volume alone, since volume can be high even when traders are abandoning a stock. For example, a 10,000-contract trade in a particular option (representing 1 million shares of the underlying stock) would probably trigger quite a few volume alerts, but if it turned out to be the liquidation of an existing 10,000-contract position (in which case OI would decline instead of increase), traders would likely view it in a different light than if it was a new open position.
But even though high OI can signal trader interest, it's helpful to know where, and for how long, those traders may be interested—i.e., the contract type, strike prices, and expiration dates that are in play. Calls or puts? Are the positions short term or long term? Are the strikes far away from the stock price or relatively nearby? The answers to those questions may help provide context for a stock's price action.
Yesterday, RXDX's OI was overwhelmingly concentrated in two contracts, the January $40 calls (400 contracts) and the February $35 calls (2,000 contracts):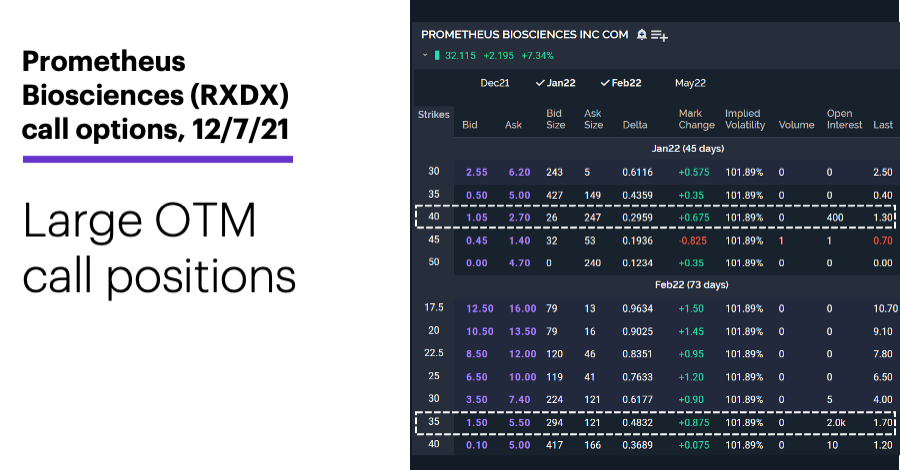 Source: Power E*TRADE (For illustrative purposes. Not a recommendation.)
---
Both strike prices were out of the money (OTM) yesterday (above the stock price), even though RXDX was up 15% midday following reports of promising clinical trial results for one of its inflammatory bowel disorder therapies:1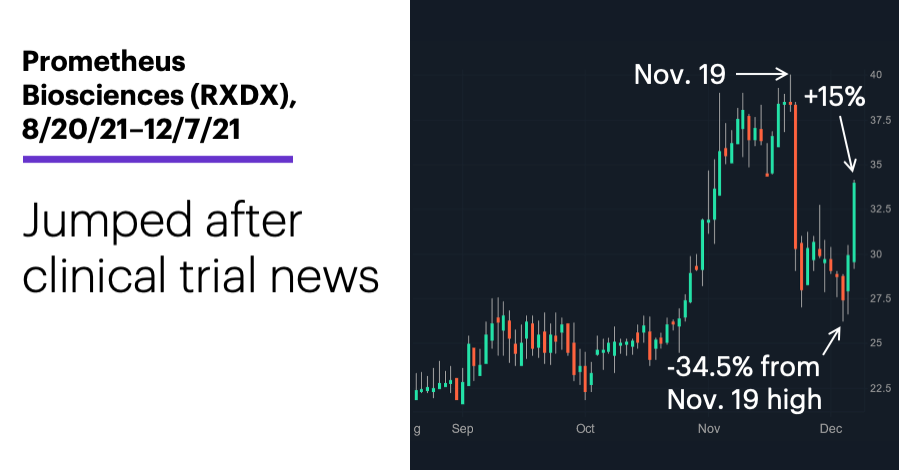 Source: Power E*TRADE. (For illustrative purposes. Not a recommendation.)
---
Heavy call options OI and volume is often thought of as bullish, since calls give their owners the right to buy the underlying stock. But the fact that there's a seller for every buyer makes such reflexive assumptions dubious, at best. In this case, for example, while the sizable OTM call positions could mean some large traders expect the stock to rally above their strike prices in the coming weeks, it's equally logical to think that the traders who sold those options expect the opposite.
But like any indicator, OI doesn't tell the entire story. The price chart shows that, despite this week's rebound, RXDX is still trading at a discount to its November high of $39.98, and as recently as last Friday shares were as much as 34.5% below that high.
Also, there was a potentially interesting development in another type of "interest." RXDX's short interest—the number of shares short sellers hold in a particular stock—fell by nearly 20% in mid-November compared to a month earlier,2 which could mean some former bears changed their minds, or simply took profits on the sell-off.
What may interest traders going forward is whether yesterday's price action changes RXDX's OI totals—especially those big positions in the January and February calls.
Market Mover Update: Nearby Silvergate (SI) put options dropped sharply yesterday. The December $125 puts closed down 67% at 0.96, and were 83% below Monday's high of 5.70 (see "Sell-offs and surges").
Today's numbers include (all times ET): MBA Mortgage Applications 7 a.m.), Job Openings and Labor Turnover Survey, JOLTS 10 a.m.), EIA Petroleum Status Report (10:30 a.m.).
Today's earnings include: United Natural Foods (UNFI), Campbell Soup (CPB), Weber (WEBR), RH (RH).
Today's IPOs include: Chicago Atlantic Real Estate Finance (REFI).
Click here to log on to your account or learn more about E*TRADE's trading platforms, or follow the Company on Twitter, @ETRADE, for useful trading and investing insights
---
1 Baystreet.ca. Prometheus Hikes on Test Results. 12/7/21.
2 MarketBeat.com. Short Interest in Prometheus Biosciences, Inc. (NASDAQ:RXDX) Declines By 19.8%. 12/4/21.
What to read next...
12/07/21
Volatility gets a bad rap, but options traders know it can work for you as well as against you.
---
12/06/21
Rocky conclusion to November spills into early December as markets grapple with virus variant.
---
12/03/21
This week's choppy price action included an unusual type of day that many people may have overlooked.
---