Options putting stock traders on notice?
RETA has consolidated since late-2021 sell-off
Options volatility recently soared as stock's range tightened
March options have highest IV
What does it mean when a stock is saying one thing and its options are sending the opposite message?
Ultimately, it depends on the situation, but such disconnects merit closer scrutiny since they can sometimes signal potential price moves. For example, Biopharma Reata Pharmaceuticals (RETA) was close to the top of Tuesday's LiveAction scan for highest 90-day implied volatility (IV):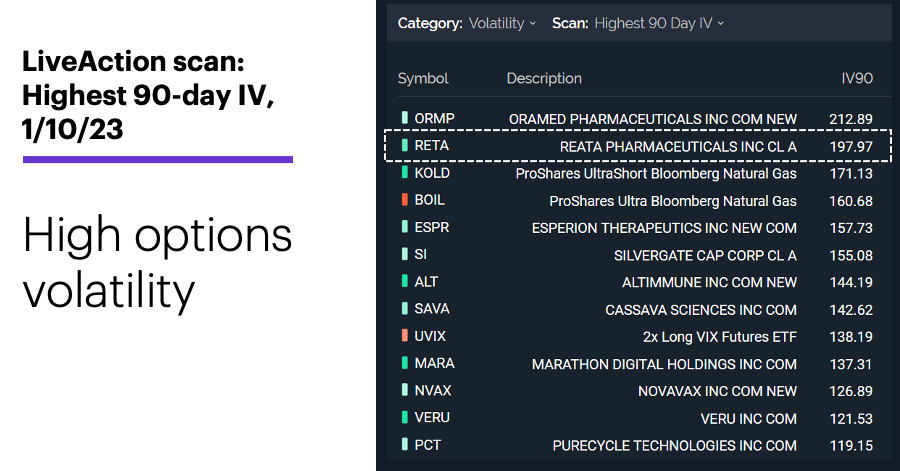 Source: Power E*TRADE. (For illustrative purposes. Not a recommendation.)
---
RETA also appeared on the scans for high 30-day and 60-day IV levels, which suggests the options market was expecting more volatility from the stock over the next one-, two-, and three-month windows.
Interestingly, RETA has not been a particularly volatile stock—at least recently. Since plummeting from around $86 to $29 over the course of three days in December 2021, RETA has traded in a range between roughly $18.50 and $44, and it's been in an especially tight consolidation for nearly two months: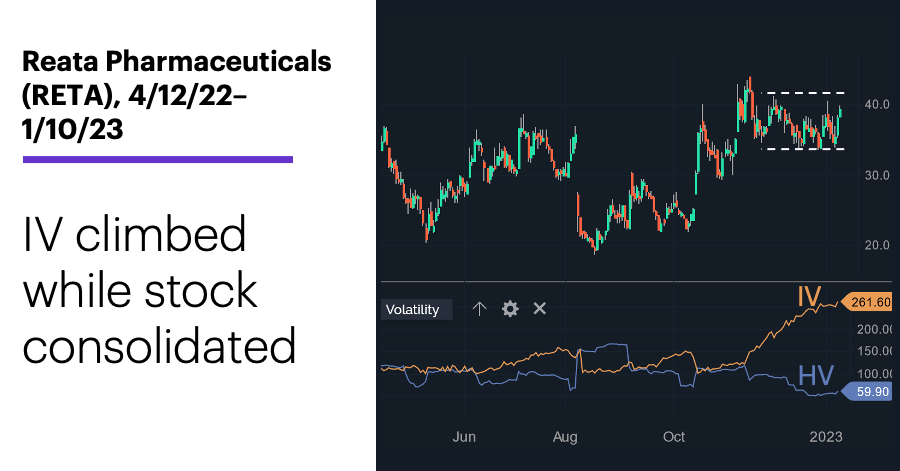 Source: Power E*TRADE. (For illustrative purposes. Not a recommendation.)
---
But as the bottom of the chart shows, this is precisely when RETA's IV began to soar, approaching its highest levels on record.
RETA's implied volatility constellation, which compares the IV for different contract months, shows the March options had—by far—the highest IV of any expiration: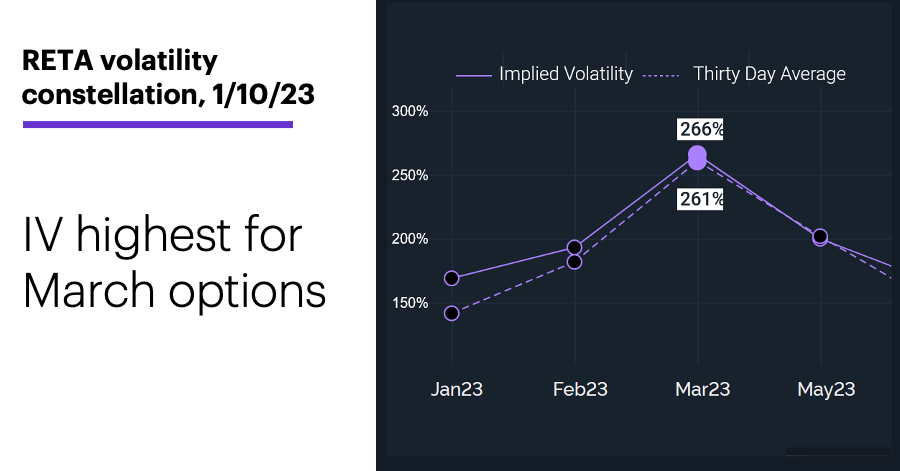 Source: Power E*TRADE. (For illustrative purposes. Not a recommendation.)
---
"Breakout signals and volatility realities" discussed a similar situation, when rising IV was accompanied by a consolidating stock price. In that case, though, NovoCure (NVCR) was expected to release clinical trial results in a defined time window, which it did (last week). RETA, on the other hand, hasn't announced imminent trial results or related news.
While that could change, the absence of any other known catalysts leaves earnings as a possible explanation for the March options' high IV. RETA is tentatively scheduled to release earnings in late February, after the expiration of February monthly options on February 17. The stock has, in fact, made some fairly sizable earnings-day moves over the past year: +15.44%, -32.61%, +17.91%, and +25.30%.
The options market isn't always right, but when there's a sizable difference between its expectations (as signaled by implied volatility) and what's been happening in the stock price, it can sometimes highlight a potential breakout—although as NVCR's example shows, it doesn't tell you which direction it will take or  how long it will last.
Today's numbers include (all times ET): Mortgage applications (7 a.m.), Atlanta Fed Business Inflation Expectations (10 a.m.), EIA Petroleum Status Report (10:30 a.m.).
Today's earnings include: KB Home (KBH).
Click here to log on to your account or learn more about E*TRADE's trading platforms, or follow the Company on Twitter, @ETRADE, for useful trading and investing insights.
---
What to read next...
01/10/23
New put positions highlight retailer's recent rally, test of resistance, and upcoming earnings.
---
01/09/23
Fed and inflation still center stage as Friday rally helps bulls capture the first week of 2023.
---
01/06/23
Comparing different contract months—along with open interest—can shed light on which way the options market may be leaning.
---