Welcome to the trading dollhouse
MAT up more than 20% since June 21
"Barbie" movie hits theater on July 21
Stock testing resistance amid heavy options trading
Is there such a thing as a "Barbie Rally?"
Traders may be wondering, given toymaker Mattel's (MAT) recent upswing. At yesterday's high, the manufacturer of the iconic doll was up more than 23% in less than three weeks, and had pushed slightly above the implied resistance of the stock's early-February high: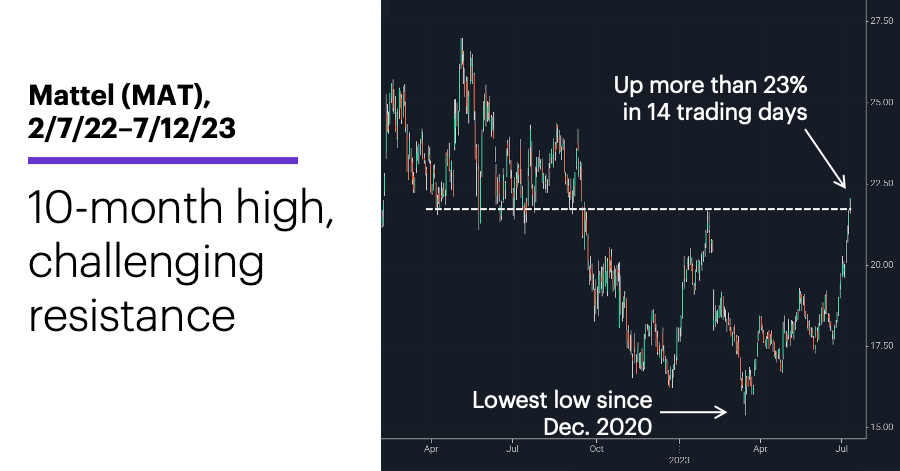 Source: Power E*TRADE. (For illustrative purposes. Not a recommendation.)
---
The February high also represents the approximate support level defined by the stock's lows throughout much of last year, until the decisive breakdown in late September.
Connecting the recent rally to the fact that the heavily promoted "Barbie" movie is just a week away may sound far-fetched to some. But to others—including those who have found Barbie commercials and media coverage difficult to avoid in recent weeks—it may explain a great deal. "Barbie" is far more than a movie, it is the center of a branding and marketing universe consisting of more than one hundred deals with the likes of Target and Gap1—and let's not forget things like the Airbnb listing of Barbie's Malibu DreamHouse.
Mattel's options trading has been quite active, too. On Tuesday, for example, MAT's put volume was more than nine times average. Anyone inclined to read anything into that should know that call volume was nearly 43 times average.
But the history of MAT rallies like the current one tells an interesting tale. Since 1976, the stock has rallied 20% or more in 14 trading days 95 other times. The red columns in the following chart show the stock's average returns five, 10, and 20 trading days after these rallies. The green columns represent benchmark moves—the stock's average returns for all five-, 10-, and 20-day periods since 1976: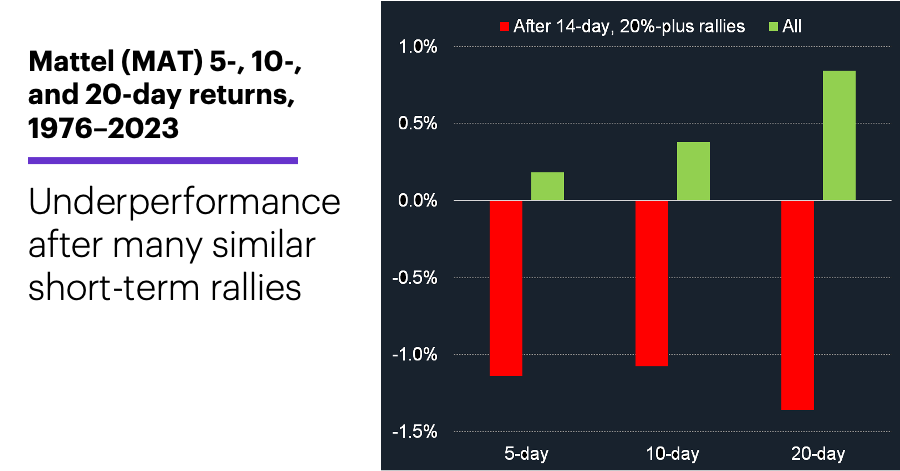 Source (data): Power E*TRADE. (For illustrative purposes. Not a recommendation.)
---
It's a pretty stark contrast. Even though MAT had positive average returns overall on 5-day, 10-day, and 20-day time horizons, it tended to lose ground after rallies like the current one. In fact, the stock was lower five trading days later 64% of the time, and lower 56% of the time after 20 trading days.2
That's far from saying MAT's current rally is about to come to a screeching halt. These averages represent 95 unique events with wide-ranging individual returns. In 1982, for example, MAT gained an additional 46% in the first two weeks after a rally like the current one, and fell 45% in the first two weeks after another. And after the most recent comparable upswing, which ended on January 10 of this year, MAT closed roughly 2% lower a week later, but rallied as much as 9.2% over the next 11 trading days before selling off and hitting its March lows.
But a little more than a week from now, traders may be glancing away from their price charts to check the box-office returns for "Barbie." Right now, other traders may be wondering how much of the movie's success—if it does, in fact, meet or exceed expectations—has already been baked into the stock's price.
Market Mover Update: Mattel also benefited from yesterday's broad-market rally following the release of the Consumer Price Index (CPI), which showed inflation rose in June at its slowest pace since March 2021.
Today's numbers include (all times ET): Weekly jobless claims (8:30 a.m.), Producer Price Index (8:30 a.m.), Fed Beige Book (2 p.m.), EIA Natural Gas Report (10:30 a.m.).
Today's earnings include: Conagra (CAG), Cintas (CTAS), Delta Air Lines (DAL), Fastenal (FAST), PepsiCo (PEP), Progressive (PGR).
Click here to log on to your account or learn more about E*TRADE's trading platforms, or follow the Company on Twitter, @ETRADE, for useful trading and investing insights.
---
1 The Wall Street Journal. The Summer of 'Barbie' Has Only Just Begun. 6/29/23.
2 All figures represent Mattel (MAT) daily prices, 1976–2023. "Rallies like the current one" refers to a percentage gain of 20% or more from the closing price 14 trading days ago to the most recent closing price—but only if the percentage gain over the previous 14 trading days was less than 20%. Supporting document available upon request.
What to read next...
07/11/23
Find out which options were in play after this consumer stock's surprisingly large earnings move.
---
07/10/23
Market slumps to start second half as traders await the latest inflation data.
---
07/07/23
With a key date approaching, traders made big position adjustments in this drugmaker's options.
---