Market chops its way to weekly gain
Broad market volatile but higher, Powell holds 2% line
Treasury yields hit highest levels in nearly 16 years
This week: Jobs, Fed inflation, GDP, home prices
Stocks may have snapped a three-week losing streak, but the market will need to do some heavy lifting over the next four days to get into positive territory for the month.
The S&P 500 (SPX) ended a week higher for the first time since July 28, despite S&P Global's downgrade of several bank stocks on Tuesday and, on Thursday, one of the market's most volatile days of the year.1 A solid Friday rally (after more intraday gyrations) gave bulls the final say on the week: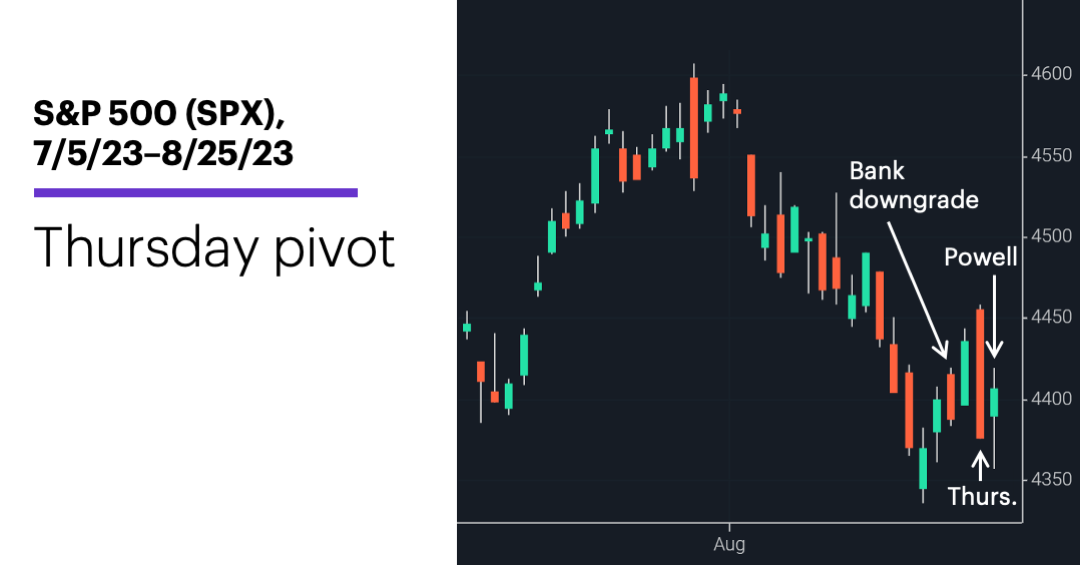 Source: Power E*TRADE. (For illustrative purposes. Not a recommendation. Note: It is not possible to invest in an index.)
---
The headline: Bulls take the week, but bears make presence felt.
The fine print: Last Thursday's volatility largely revolved around tech. The Nasdaq 100 (NDX), which led the market rebound early in the week, rallied 0.9% early Thursday in the wake of Nvidia's (NVDA) earnings beat. But after opening 6.6% higher on Thursday, NVDA quickly reversed—and the rest of the market followed suit. Nvidia ultimately ended the day flat, while the NDX lost 2.2%.
The number: 2%. The takeaway from Jerome Powell's hold-the-line-on-inflation speech at the Jackson Hole economic conference was that the Fed's inflation target remains 2% (not 2.5% or 3% or...).
The move: Another week, another milestone for the 10-year T-note yield, which closed at 4.34% last Monday—its highest level since November 2007. Morgan Stanley & Co. analysts weighed in on the pros and cons of higher yields in a recent podcast.2
The scorecard: The major indexes were mixed, but the Nasdaq 100 (NDX) and SPX got back into the plus column last week: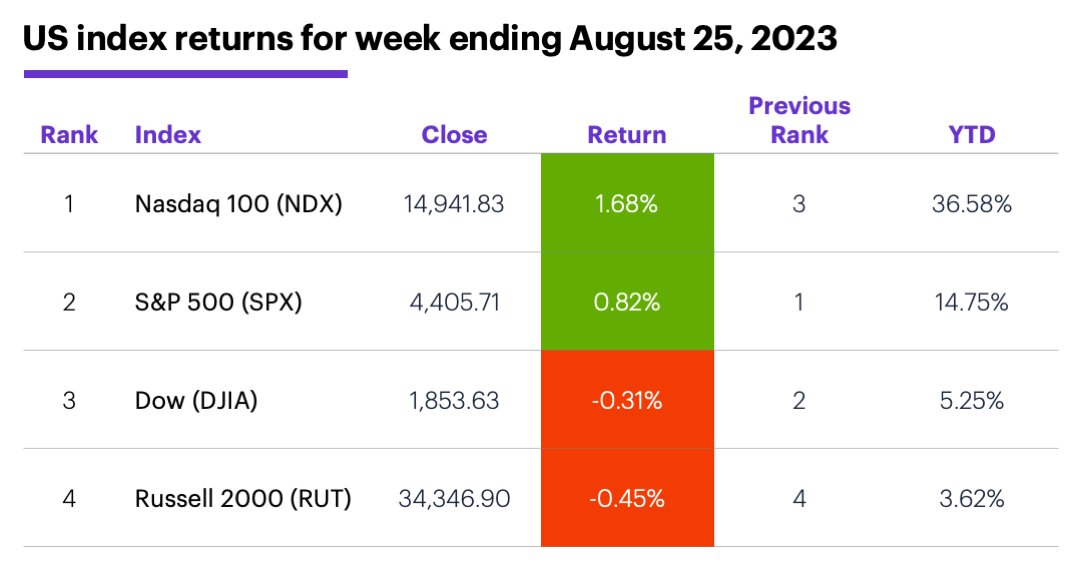 Source (data): Power E*TRADE. (For illustrative purposes. Not a recommendation.)
---
Sector returns: The strongest S&P 500 sectors last week were information technology (+2.8%), consumer discretionary (+1.3%), and communication services (+1.1%). The weakest sectors were energy (-1.2%), consumer staples (-0.7%), and health care (-0.04%).
Stock movers: Fabrinet (FN) +32% to $153.66 on Tuesday, Apellis Pharmaceuticals (APLS) +30% to $40.04 on Wednesday. On the downside, Foot Locker (FL) -28% to $16.64 on Wednesday, Domo (DOMO) -36% to $10.94 on Friday.
Futures: October WTI crude oil (CLV3) tagged a one-month low of $77.62 last Wednesday, but ended the week with a minor loss at $79.83, thanks to a solid rebound on Friday. December gold (GCZ3) posted its first up week in five weeks, closing Friday at $1,939.90. Week's biggest gains: December oats (ZOZ3) +8.7%, September silver (SIU3) +6.9%, December soybean meal (ZMZ3) +6.7%. Week's biggest losses: September VIX (VXU3) -7.9%, September lumber (LBSU3) -3.2%, October hogs (HEV3) -2.8%.
Coming this week
In addition to Friday's jobs report, traders will get another look at Q2 GDP, home prices, and the latest reading from the PCE Price Index (Fed inflation):
●Tuesday: S&P Case-Shiller Home Price Index, FHFA U.S. House Price Index, Job Openings and Labor Turnover Survey (JOLTS), Consumer Confidence
●Wednesday: ADP Employment Change, Retail and Wholesale Inventories (advance), Trade Balance in Goods (advance), GDP (Q2, second estimate), Pending Home Sales
●Thursday: Challenger Job Cuts, Personal Income and Spending, PCE Price Index, Chicago PMI
●Friday: Employment Report, S&P Global Manufacturing PMI, Construction Spending
Like last week, retail and tech names highlight the earnings calendar:
●Monday: Heico (HEI), Joann (JOAN)
●Tuesday: Best Buy (BBY), Big Lots (BIG), J.M. Smucker (SJM), Ambarella (AMBA), Box (BOX), Hewlett Packard Enterprise (HPE), HP (HPQ)
●Wednesday: Chewy (CHWY), Salesforce (CRM), CrowdStrike (CRWD), Five Below (FIVE)
●Thursday: Campbell Soup (CPB), Dollar General (DG), Ollie's Bargain Outlet (OLLI), UBS (UBS), Broadcom (AVGO), Dell (DELL), Lululemon (LULU), VMware (VMW)
Check the Active Trader Commentary each morning for an updated list of earnings announcements, IPOs, economic reports, and other market events.
Winding down August
Barring a significant (4.2%) rally over the next four days, this will turn out to be the fifth negative August for the SPX over the past decade.
Historically, though, the week before the Labor Day holiday has tended to be a little more bullish than average for stocks—at least in terms of how often the market climbs, if not how much it gains. Since 1957, the SPX's five-day return leading up to Labor Day weekend has been positive 63.6% of the time, while only 56.4% of all five-day periods have been positive.3
But the SPX's average return for the week before Labor Day (0.12%) is a little smaller than its average return for all five-day periods (0.16%). Translation: The market has rallied the week before Labor Day more often than it has fallen, but the declines have often been larger than the gains. For example, the SPX's average gain when it has rallied the week before Labor Day is 1.3%, while it's average loss when it has declined is -1.9%. Also, the SPX has rallied 2% or more the week before Labor Day seven times, but it's fallen -2% or more 11 times.
Click here to log on to your account or learn more about E*TRADE's trading platforms, or follow the Company on Twitter, @ETRADE, for useful trading and investing insights.
---
1 Reuters. Shares of US banks drop after S&P downgrades some ratings. 8/22/23.
2 MorganStanley.com. The Positive Side of Higher Rates. 8/18/23.
3 All figures reflect SPX (SPX) daily closing prices, 1957–August 2023. Supporting document available upon request.
What to read next...
08/23/23
Stock's downtrend may have been favored put buyers, but recent activity has been centered around calls.
---
08/21/23
Current slide is now the US market's second-biggest pullback of the year.
---
08/18/23
Did heavy volume in this financial company's call options have anything to do with the stock's nearby support level?
---