Stocks extend pullback
Market trips on another downgrade, loses ground for week
Inflation numbers mixed, oil hits new 2023 high
This week: Retail Sales, retail earnings, FOMC minutes
So far, the word of the month seems to be "downgrade."
For the second week in a row, a ratings agency downgrade (Moody's lowered its credit rating on 10 banks) appeared to knock the US stock market off balance.       
Mixed inflation data didn't seem to help, either. After starting off last week with a gain, the S&P 500 (SPX) retreated on Tuesday amid the downgrade news. An initial rally after Thursday's relatively cool Consumer Price Index (CPI) evaporated by the close, and the market followed through to the downside on Friday after the Producer Price Index (PPI) came in higher than expected: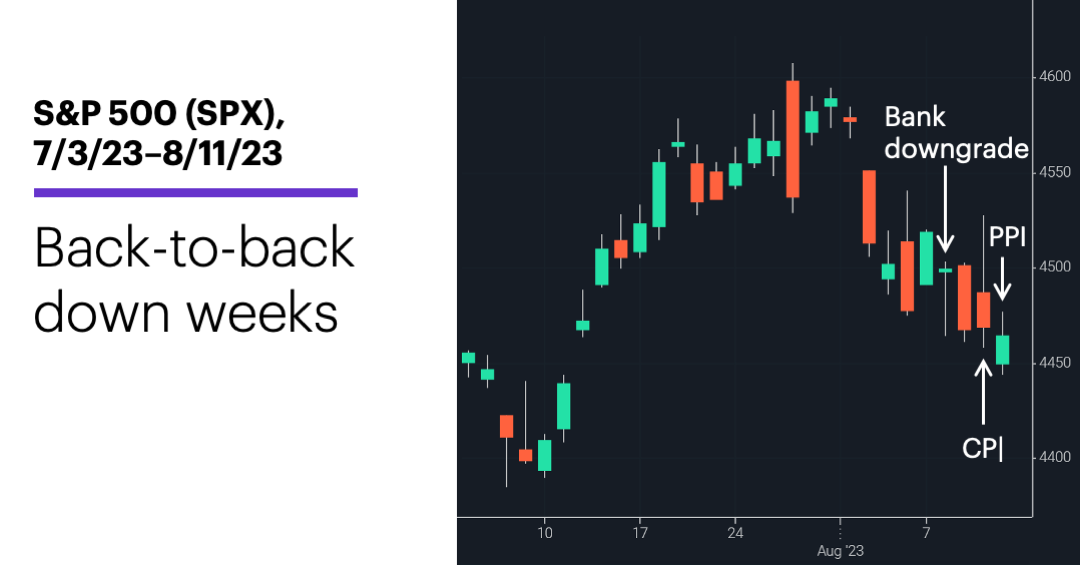 Source: Power E*TRADE. (For illustrative purposes. Not a recommendation. Note: It is not possible to invest in an index.)
---
The headline: Market slumps to one-month low.
The fine print: Last week's inflation data didn't give bulls or bears much to hang their hats on. The core CPI (excluding food and energy prices) ticked lower year-over-year, but the headline number was slightly higher. PPI was up across the board, although not dramatically. Expect the "reinflation" debate to gain momentum until other data clarifies the picture, one way or the other.
The number: 2. Last week marked just the second time this year (and the first time since May) that the SPX lost ground two weeks in a row.
The move: Last Monday Vistagen (VTGN) soared 1,371% intraday (from $1.68 to $24.71) after positive trial results for a nasal spray social-anxiety treatment.1 The stock closed up "only" 677% at $13.05, then sold off to end the week at $6.42.
The scorecard: The small-cap Russell 2000 (RUT) and the Nasdaq 100 (NDX) tech index lost the most ground, while the Dow notched a gain for the week:
Source (data): Power E*TRADE. (For illustrative purposes. Not a recommendation.)
---
Sector returns: The strongest S&P 500 sectors last week were energy (+3.4%), health care (+2.4%), and real estate (+0.8%). The weakest sectors were technology (-2.8%), materials (-1%), and consumer discretionary (-1%).
Stock movers: Mirati Therapeutics (MRTX) +33% to $37 on Wednesday, Capri (CPRI) +56% to $53.90 on Thursday. On the downside, Sage Therapeutics (SAGE) -54% to $16.75 on Monday, Ebix (EBIX) -32% to $14.79 on Thursday.
Futures: After tagging a new 2023 intraday high of $84.89 last Thursday, September WTI crude oil (CLU3) ended the week at $83.19. December gold (GCZ3) lost ground every day last week, closing Friday at a five-month low of $1,946.60. Week's biggest gains: September natural gas (NGU3) +7.5%, September RBOB gasoline (RBU3) +6.5%. Week's biggest losses: August VIX (VXQ3) -6%, September silver (SIU3) -4.1%.
Coming this week
Retail sales, Fed minutes, and housing starts highlight the economic calendar:
●Monday: NY Fed Consumer Inflation Expectations
●Tuesday: Retail Sales, Import Prices, Empire State Manufacturing, NAHB Housing Market Index, Business Inventories
●Wednesday: Housing Starts and Building Permits, Industrial Production, Capacity Utilization, FOMC minutes
●Thursday: Leading Economic Indicators Index
●Friday: August monthly options expiration
It's the first week of the retail portion of earnings season:
●Monday: Monday.com (MNDY), XP (XP)
●Tuesday: Home Depot (HD), Agilent (A)
●Wednesday: Target (TGT), TJX (TJX), Cisco (CSCO)
●Thursday: Tapestry (TPR), Walmart (WMT), Applied Materials (AMAT), Bill Holdings (BILL), Ross Stores (ROST)
●Friday: Deere (DE), Estee Lauder (EL), Palo Alto Networks (PANW)
Check the Active Trader Commentary each morning for an updated list of earnings announcements, IPOs, economic reports, and other market events.
Two-week streaks
Two-week SPX losing streaks have been few and far between lately, which may explain the level of chatter about whether the current pullback marks the beginning of a bigger down move. There's no way to know, of course, but if that does turn out to be the case, it would be out of character for the market in terms of its historical short-term performance.
Since 1957, the SPX's average four-week return is 0.62%. After back-to-back down weeks, the SPX's average four-week return is 1.06%.2 Also, after back-to-back down weeks that occurred within four weeks of a 26-week (or longer) high, as was the case last week, its average return is 1.05%.
The options market didn't appear to be overly perturbed by last week's decline. The Cboe Volatility Index (VIX), which usually rises when the stock market falls, closed lower for the week.
China tech roadblock. Last week President Biden signed an executive order intended to prevent US investment in Chinese entities developing specific technologies (semiconductors and microelectronics, quantum information technologies, and certain AI systems) that could potentially undermine US national security.
While Morgan Stanley & Co. analysts acknowledge the tensions between the US and China are less than optimal for the global economy, they point out the executive order has been widely misunderstood, and that it also may leave the door open for opportunities as companies and governments adapt to this new constraint.3
Click here to log on to your account or learn more about E*TRADE's trading platforms, or follow the Company on Twitter, @ETRADE, for useful trading and investing insights.
---
1 Bloomberg.com. Vistagen (VTGN) Stock Surges on Social Anxiety Spray Trial Success. 8/7/23.
2 All figures reflect SPX (SPX) weekly closing prices, 1957–August 2023. Reflects consecutive lower weekly closes that were preceded by a higher weekly close. Supporting document available upon request.
3MorganStanley.com. The Impact of New Investment Limitations in China. 8/9/23.
What to read next...
08/04/23
Is the Nasdaq 100's pullback just a pullback, or the start of something bigger?
---
08/02/23
Tech stock makes a big price move—and a burst of put volume—with earnings approaching.
---
07/31/23
Stocks recover from another stumble as traders sort through a big week of earnings and economic data.
---