Taking an interest in OI
EXLS currently has OI roughly 29 times average
Stock has pulled back this year after rallying in 2022
Analyzing OI highlights possible bull-bear timing
Sometimes one aspect of a market's performance catches a trader's eye, only to reveal something entirely unexpected.
ExlService (EXLS) has had high options open interest (OI) recently, with the total number of contracts around 29 times average on Tuesday.
While EXLS's options chain showed the biggest position was 1,200 contracts in the October $34 calls, a trader who pulled up the tech services stock's weekly price chart may have noticed something surprising. While EXLS hasn't participated in this year's rally, it defied the 2022 market sell-off with a 17.1% gain last year: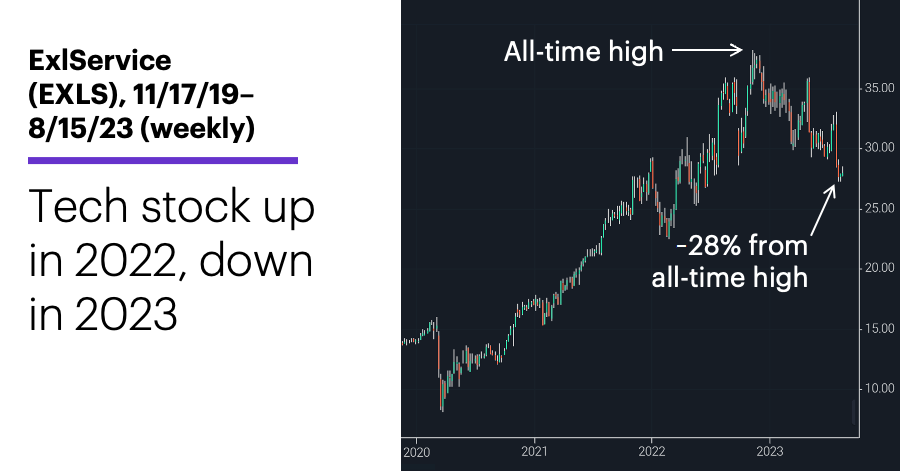 Source: Power E*TRADE. (For illustrative purposes. Not a recommendation.)
---
On August 9, EXLS closed at its lowest level ($27.37) in nearly 14 months, and had fallen nearly 29% from its November 2022 record high.
The daily chart below shows the stock's most recent downturn occurred in the wake of its July 27 earnings announcement. Even though EXLS topped its headline numbers,1 shares fell 15.5% over the next week before stabilizing in recent days. The stock formed an inside day on Tuesday after rallying 2.3% on Monday to hit a two-week high: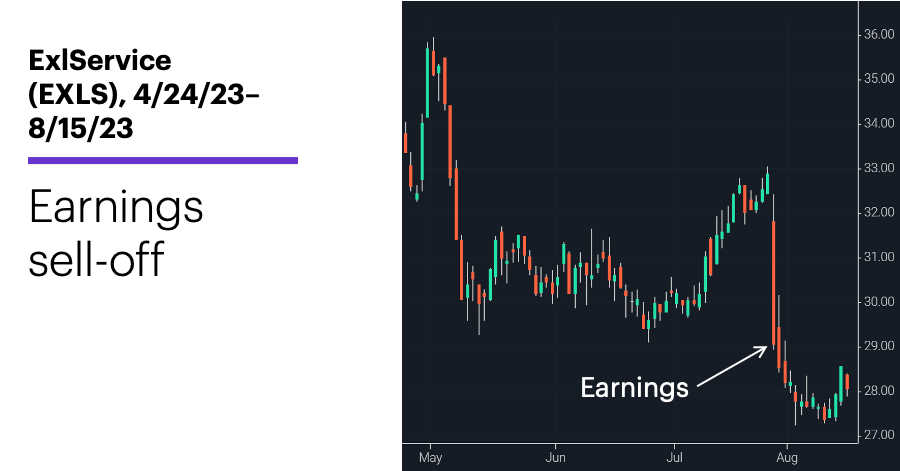 Source: Power E*TRADE. (For illustrative purposes. Not a recommendation.)
---
In addition to the peculiarity of the stock rallying last year and falling this year, some traders may be wondering why EXLS's OI is higher than average now—more than two weeks after earnings. While the 1,200 contracts in the October $34 calls may not sound like a particularly large position, it represented roughly 24% of EXLS's total OI across four expirations. Here's a breakdown of all the open positions as of Tuesday (when the stock traded between $27.88 and $28.38):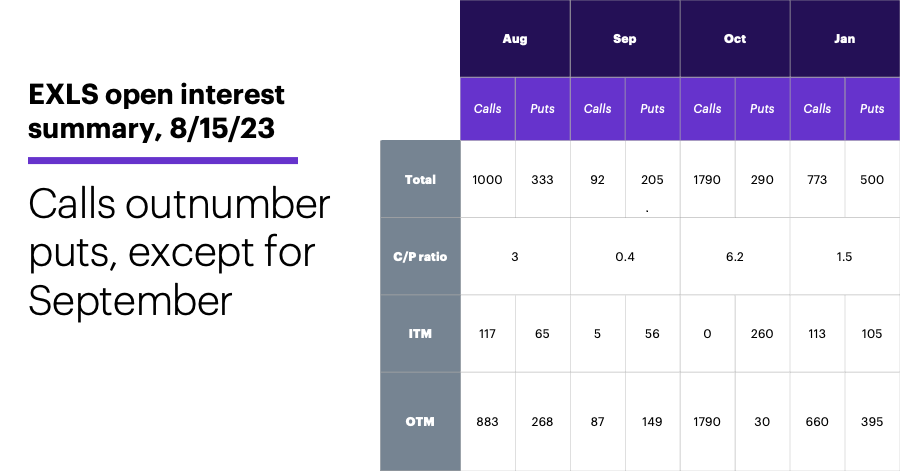 Source: Power E*TRADE. (For illustrative purposes. Not a recommendation.)
---
October had the highest ratio of call positions to put positions (6.2), while September was the only month with higher put OI than call OI. Also, call positions were more likely to be in out-of-the-money (OTM) rather than in-the-money (ITM) strike prices.
Because there are sellers for every buyer—and any options position can be part of a larger, multi-leg strategy—a high number of OTM call positions doesn't automatically mean options traders are more bullish on a stock. But if traders who bought those options are, in fact, bullish, the fact that they were much more active in the October (and January) options than September options may say something about how they expect a possible up move in the stock may unfold.
Market Mover Update: Cognex (CGNX) fell more than 3% on Tuesday to hit its lowest price since May 3 (see "Pre-earnings fireworks"). September WTI crude oil futures (CLU3) posted their second-biggest down day since June and closed at their lowest level in nearly two weeks (see "Oil rally nears test"). After initially challenging its record intraday low on Tuesday, Kenvue (KVUE) reversed to close up more than 1% (see "Spin-off on the move"). Fulgent Genetic (FLGT) rallied more than 5% intraday on Tuesday before closing up 2.1% (see "Balancing volatility and time in a trade").
Today's numbers include (all times ET): Mortgage Applications (7 a.m.), Housing Starts and Building Permits (8:30 a.m.), Industrial Production (9:15 a.m.), Atlanta Fed Business Inflation Expectations (10 a.m.), EIA Petroleum Status Report (10:30 a.m.), FOMC minutes (2 p.m.).
Today's earnings include: Target (TGT), TJX (TJX), Cisco (CSCO).
Click here to log on to your account or learn more about E*TRADE's trading platforms, or follow the Company on Twitter, @ETRADE, for useful trading and investing insights.
---
1 StreetInsider.com. EXL (EXLS) Tops Q2 EPS by 14c, Offers Guidance. 7/27/23.
What to read next...
08/14/23
Second down week for stocks amid inflation data and a new downgrade.
---
08/11/23
Healthcare stock's options may have dropped in price, but potential buyers need to factor in time.
---
08/07/23
Down week for stocks as traders navigate ratings downgrade, employment numbers.
---