Nothing artificial about options intelligence
AI up more than 100% YTD, but pulled back on Tuesday
Put volume topped call volume—on a relative basis
Earnings scheduled for early March
The stock market has performed better in early 2023 than many people expected, but few stocks have kept pace with C3.ai (AI), which on Tuesday morning was up more than 120% for the year, and more than 140% above its record low close of $10.16 on December 28: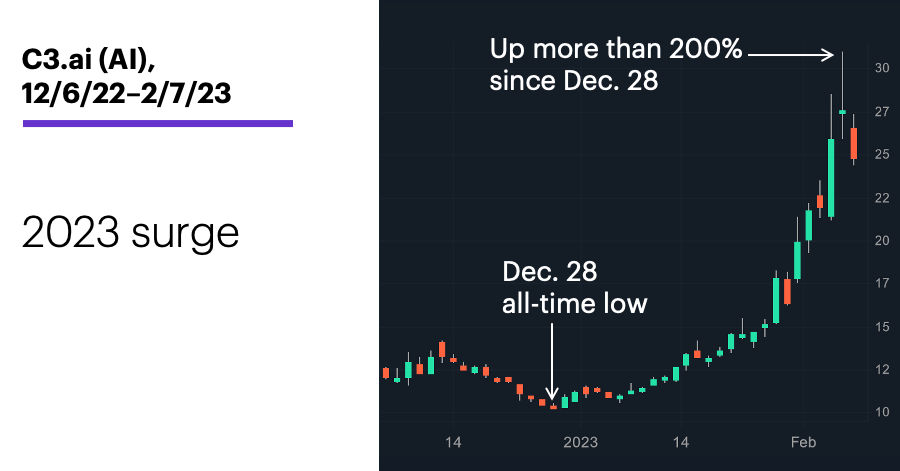 Source: Power E*TRADE. (For illustrative purposes. Not a recommendation.)
---
Those gains, by the way, reflect the stock's price as of approximately 11 a.m. ET on Tuesday morning, when it was down roughly 10% for the day. (Yesterday was only the third time in the past month AI failed to either close up or make a higher intraday high.) At Monday's intraday high of $32.90, shares were up more than 200% since December 28, although nowhere near their record close of $177.47 from December 2020, not long after the company went public.
C3.ai is a software company that provides businesses a platform for developing and implementing artificial intelligence (AI)-based solutions. With AI very much in the news lately—thanks to the buzz surrounding ChatGPT—some traders may have wondered whether a stock with AI as its ticker symbol has enjoyed more than its share of bullish tailwinds. But aside from the current excitement surrounding the field and its long-term possibilities, alert traders may have noticed two important aspects of AI's options activity this week.
The stock has been near the top of several LiveAction scans, including yesterday's unusual options volume list, with total volume nearly 23 times average just 90 minutes or so into the trading session: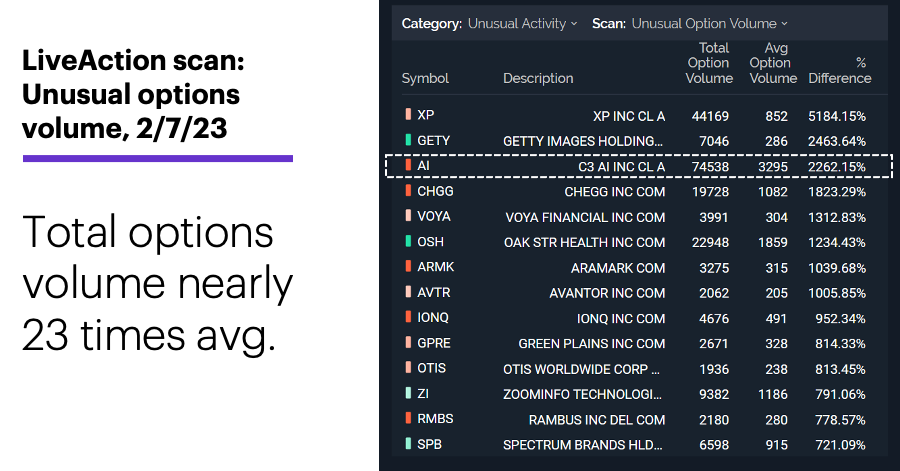 Source: Power E*TRADE. (For illustrative purposes. Not a recommendation.)
---
Typically, call volume is greater than put volume because more people buy stocks than short them, and calls are more commonly used than puts to take long positions. For example, on Monday—a day the S&P 500 (SPX) closed lower—the Cboe Equity Put/Call ratio, which reflects the exchange's total number of stock puts divided by the number of stock calls, was 0.71,1 which means fewer puts traded than calls.
On Tuesday morning, that was certainly the case for AI: Even though the stock was trading lower, call volume (top) was 48,418, while put volume (bottom) was 30,224: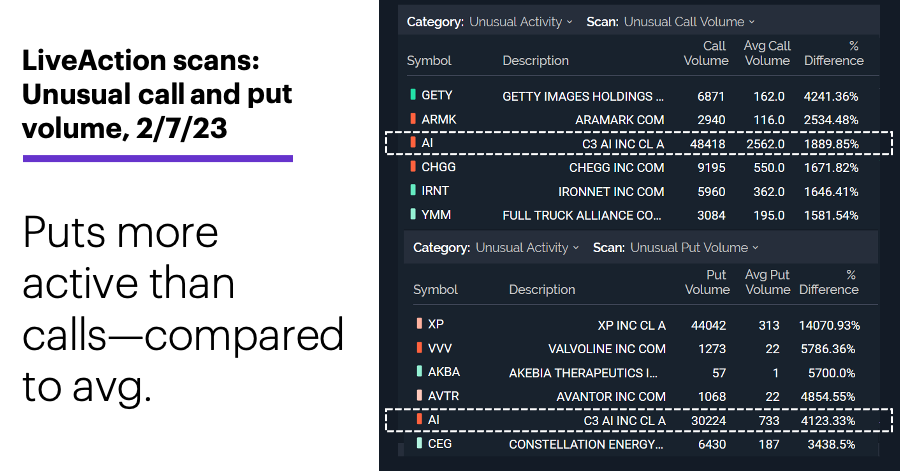 Source: Power E*TRADE. (For illustrative purposes. Not a recommendation.)
---
But the final column (% difference) puts a spin on the call-put story. Yesterday morning's call volume was a little less than 19 times its daily average of 2,562 contracts, while put volume was more than 41 times its daily average of 733 contracts. In other words, while more calls were changing hands than puts on an absolute basis, puts were much more active on a relative basis.
A final point of interest: Puts were also more active on a relative basis on Monday, when the stock jumped as much as $19.5% intraday before retreating to the lower half of the day's range (despite closing 6.5% higher). In the middle of the afternoon, AI's call volume was around 44 times average, but put volume was more than 57 times average.
Note: C3.ai is tentatively scheduled to release earnings on March 2.
Market Mover Update: With earnings due before the bell on Thursday morning, Ralph Lauren (RL) interrupted a three-day pullback with a gain on Tuesday (see "If the options fit").
Today's numbers include (all times ET): Wholesale Inventories (10 a.m.)
Today's earnings include: CVS Health (CVS), Yum Brands (YUM), Mattel (MAT), O'Reilly Automotive (ORLY), Impinj (PI).
Click here to log on to your account or learn more about E*TRADE's trading platforms, or follow the Company on Twitter, @ETRADE, for useful trading and investing insights.
---
1 Cboe (www.cboe.com). Cboe Daily Market Statistics. 2/6/23.
What to read next...
02/06/23
Market pushes higher as traders digest rate hike, jobs report, and big-tech earnings.
---
02/03/23
With earnings around the corner, traders added to put positions as this apparel stock added to its rally.
---
02/01/23
A chip stock's run-up shows why deciding whether to buy or sell options requires balancing multiple risks and rewards.
---