Stock in neutral, options in gear?
Unusually high number of options positions in WWD
Stock in consolidation since earnings pullback
Options positions concentrated in two OTM puts
Inactive stock, active options market.
That was the story this week in aerospace and defense company Woodward (WWD). After a 22% gain since late December—the second leg of the nearly 40% rally off the 23-month low it made in late September—the stock pulled back on January 31 after an earnings miss: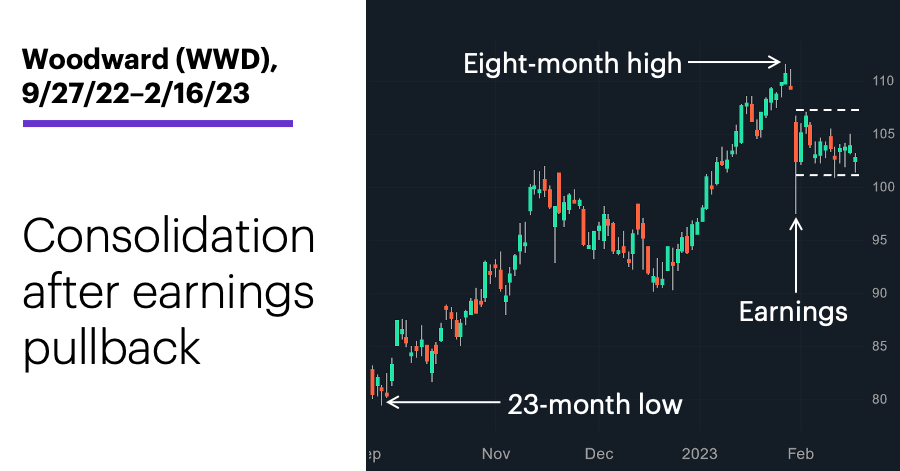 Source: Power E*TRADE. (For illustrative purposes. Not a recommendation.)
---
The stock has since consolidated, with yesterday's low of $101.28 testing the bottom of its roughly two-week range. (For reference, WWD hit an all-time high of $130.75 in May 2021, and came close to matching that peak in March 2022 before falling to its September 2022 low.)
Although the stock has recently been neutral, there appeared to be some traction in its options. WWD was on Thursday's LiveAction scan for unusual open interest (OI), with nearly six times its average number of open option positions: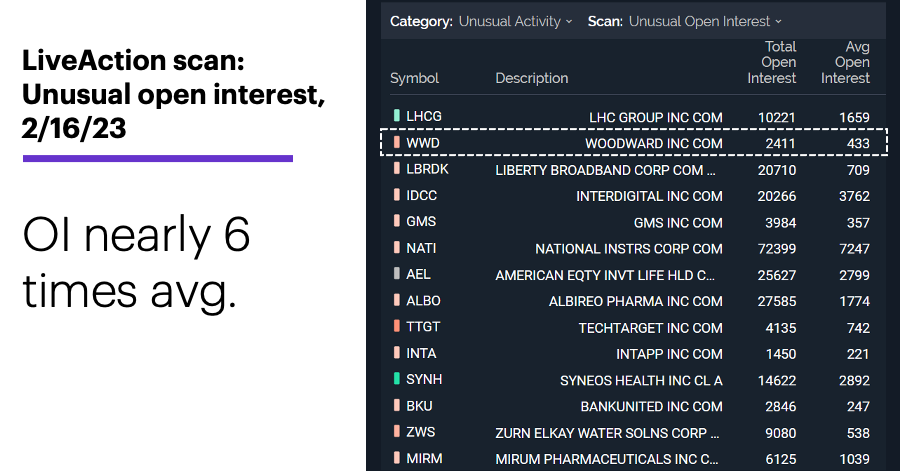 Source: Power E*TRADE. (For illustrative purposes. Not a recommendation.)
---
The fact that WWD is a modestly traded stock (average daily volume of around 320,000 shares) with relatively light options trading activity made it easy to identify where options traders had established their positions. The options chain showed 2,000 contracts—83% of the stock's total OI—split evenly between the April $85 and $100 puts: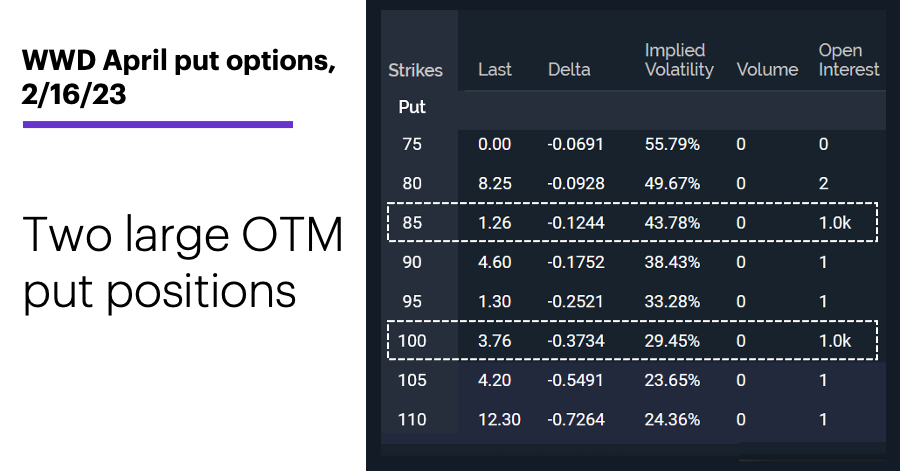 Source: Power E*TRADE. (For illustrative purposes. Not a recommendation.)
---
Both options are out-of-the-money (OTM)—their strike prices are below the current stock price—which means the trader or traders who bought them would need the stock to be roughly 3% (for the $100 puts) or 17.5% (for the $85 puts) below yesterday's levels for the options to have any value at expiration.
But the price charts for these options also showed that 1,000-contract trades occurred in both of them on the same day (February 10), which could mean the positions are related. One possibility is that they represent a "bear put spread"—long the $100 put and short the $85 put, a limited-risk, limited-reward trade with the potential to profit (at expiration) if the stock is between the two strike prices.
It's always impossible to know what options positions represent—a directional trade, a hedge, etc.—but the presence of larger-than-average positions in a rangebound stock can mean some options traders don't expect the stock to consolidate indefinitely.
Market Mover Update: Although it eventually recovered much of its intraday loss, the US stock market traded sharply lower Thursday morning after the Producer Price Index (PPI)—like the Consumer Price Index (CPI) two days earlier—showed inflation was hotter-than-expected last month. To dig a little deeper, check out Morgan Stanley & Co.'s discussion of some of the possible bumps that could appear in the "disinflation" road in coming months.1
Today's numbers include (all times ET): Import and Export Prices (8:30 a.m.), E-Commerce Retail Sales (10 a.m.), Leading Indicators (10 a.m.).
Today's earnings include: AutoNation (AN), Deere (DE).
Click here to log on to your account or learn more about E*TRADE's trading platforms, or follow the Company on Twitter, @ETRADE, for useful trading and investing insights.
---
1 MorganStanley.com. Thoughts on the Market podcast: Can Inflation Continue to Come down? 2/13/23.
What to read next...
02/16/23
Car dealer's options volatility is high heading into earnings.
---
02/15/23
Options scans shows traders taking major positions in this rangebound casino stock.
---
02/13/23
Stocks pull back as traders await latest readings on consumer and producer prices.
---