We are committed to making your transition from Capital One Investing as easy as possible. Check back frequently for key dates and details about your account(s).
Get ready for best-in-class investing

1
We're excited you are joining us! Below is a snapshot of just some of the investing tools and resources you'll be able to tap into at E*TRADE.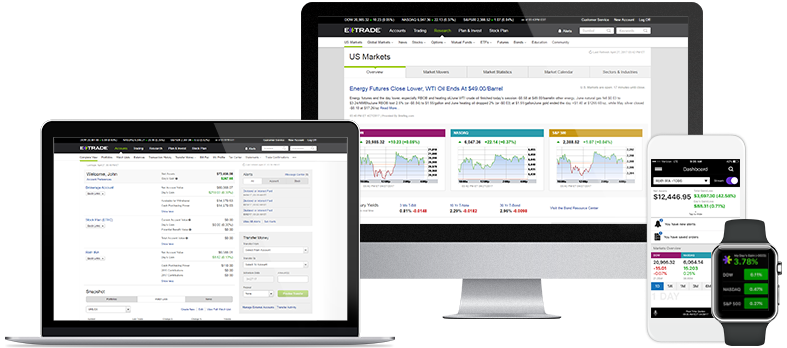 Invest on your own…
A full range of investment choices
Build your portfolio with stocks, bonds, options, thousands of no-load mutual funds, and more than 250 commission-free ETFs.
Powerful idea-generating tools
Spot new investing opportunities with easy-to-use screeners, free independent research, and our exclusive All-Star Lists of leading mutual funds and ETFs.


…or invest with our help
Professionally managed portfolios
Let us do the investing while you control the strategy with our suite of managed portfolios. Now when you sign up for Core Portolios your advisory fee will be waived for the first year (only 0.30% after, that is $15 for $5,000)2
Retirement planning
Our Retirement Specialists will explain all your options, help you choose the right accounts, and guide you as your needs evolve.
Overall rating
star star star star star_half
Stockbrokers.com 2018 Broker Review
"Best in Class"
For New Investors, Research, and Education
Stockbrokers.com 2018 Broker Review
More great features waiting for you
Anytime, anywhere mobile access
Seamlessly connect to your accounts and the markets from anywhere with our #1-rated E*TRADE Mobile app for iOS and Android.
Real help from real humans
When you have questions, get the support you need by phone, email, or live chat. Or visit us in person at any of our local branches.
Free education on demand
Boost your knowledge with an array of helpful videos and articles, along with live webinars and in-person events for investors of every kind.
Here are some important things we'd like you to know.
 Will my pricing change?
At this time, there are no changes to the standard commission rates you've been paying as a Capital One Investing customer.
 Will my monthly Advantage Pricing Program remain in place?
The Advantage Pricing Program is unique to Capital One Investing and will no longer be available. However, as an E*TRADE customer, you'll have access to a full range of investment products and resources at exceptional value. See all pricing and rates
 Do I need to take action to move my account(s) to E*TRADE?
Your account(s), assets, and positions will be automatically moved to E*TRADE and accessible through our secure website, etrade.com. Stay tuned for more details.
 Can I transfer early? Will I have to pay a transfer fee? How long will the transfer take?
Your Capital One Investing account will be automatically transferred to E*TRADE for you. However, if you want to get a head start, you can transfer your account to E*TRADE, and Capital One Investing will waive their normal transfer fee. Transfers submitted electronically are typically completed in 10 business days. Paper/mail requests for account transfers generally take three to six weeks.
Account information and documents
 Will I be able to download my tax forms directly from the E*TRADE website?
You will be able to view, print, and download current and previous E*TRADE tax documents 24/7 through the Tax Center on etrade.com. You'll also have access to three prior years of tax forms for your Capital One Investing account(s) in the E*TRADE Tax Center.
 Will I be charged a maintenance fee if I am not actively trading each month or have a low balance?
E*TRADE believes in clear, simple pricing and doesn't charge a maintenance fee based on your investing activity or account balance. That's true for both brokerage and retirement accounts. If you choose to open an E*TRADE Personalized Investments Account, then you will be subject to an advisory fee.
 Will there be a fee for accounts with balances under $500?
Our usual $500 new account minimum will not apply to the accounts received via the Capital One Investing conversion, and E*TRADE does not charge a minimum balance fee.
 How will my assets be protected once they're moved to E*TRADE?
Along with SIPC protection for brokerage assets and FDIC insurance for bank assets, E*TRADE employs advanced security, dedicated fraud protection teams, and multi-factor authentication to help safeguard your account. What's more, the E*TRADE Complete Protection Guarantee stands behind your privacy, your assets, and every transaction you make.
 Can I earn interest on the uninvested cash in my account?
E*TRADE offers a variety of interest bearing options for your uninvested cash. Any idle cash is swept into the cash management vehicle of your choice. Learn more here.
 Which customer agreements apply to my account(s)?
 Have there been program changes for my account(s)?
While you are gaining access to a full range of best-in-class investing features, there may be some changes to programs previously offered by Capital One Investing. Take a look at our side-by-side comparison chart to learn more.
 If I currently have an E*TRADE account, can my Capital One Investing account be merged or transferred into it?
When the conversion takes place, a new E*TRADE brokerage account will be created to hold the assets from your Capital One Investing account. You can either keep the new account or move the assets into your current E*TRADE account once they arrive. Certain account types may require additional documentation, if you have any questions please call 800-ETRADE-1 (800-387-2331).
 Will I be eligible for E*TRADE new account promotions since I am technically a new client?
Unfortunately, no. As part of the conversion, exisiting Capital One Investing customers are not eligible to participate in any new account offers at E*TRADE.
 Will my cost basis be transferred to E*TRADE?
Your cost basis will be transferred for covered securities3 held in your account at the time of conversion. If you have any questions regarding your cost basis during or after the conversion, you can call our dedicated Cost Basis Team at 800-ETRADE-1 (800-387-2331) from 7 a.m.-10p.m. ET, Monday through Friday.
 Will my margin status remain in place after my account is transferred?
All Capital One Investing accounts with margin trading authorization will continue to have that same status after being transferred to E*TRADE.
 Will E*TRADE be able to accept the OTCBB/grey market stocks I currently hold? Will I be able to trade these stocks at E*TRADE?
Any OTCBB, pink sheet, and grey market stocks you currently own will be transferred and accepted by E*TRADE during the conversion. Once at E*TRADE you will be able to buy and sell OTCBB, pink sheet, grey market, and penny stocks. Our standard commission schedule applies.
 If E*TRADE does not currently offer a mutual fund that I own, will I have to liquidate it before the conversion? How can I find out if E*TRADE will accept my mutual fund holding?
E*TRADE can only accept shares of mutual funds offered on our platform (see the list). In cases where a mutual fund you own isn't currently available, we'll do our best to add it. If the mutual fund can't be added, you'll need to exchange or liquidate prior to conversion. This may result in a taxable event, please speak with your tax advisor for details specific to your situation.
 Can I trade fractional stock or ETF shares at E*TRADE?
As a leading online broker, E*TRADE offers comprehensive trading and investing capabilities. However, we do not currently support the buying and selling of fractional stock or exchange-traded fund (ETF) shares at this time.
 Does E*TRADE support the buying and selling of fractional mutual fund shares?
You can buy and sell fractional shares from more than 9,000 mutual funds available on the E*TRADE platform.
 Does E*TRADE offer a dividend reinvestment program (DRIP)?
E*TRADE offers a commission-free dividend reinvestment program to our customers for many (but not all) stocks. You can easily enroll online or call us at 800-ETRADE-1 (800-387-2331).
 Will I be able to trade options at E*TRADE?
E*TRADE is a recognized leader in options trading. You'll have access to the best-in-class OptionsHouse trading platform, along with powerful analytics, on-demand education, and specialized support for options trading.4
 Can I trade forex at E*TRADE?
E*TRADE does not offer the ability to trade foreign currencies.
 Will I be able to set up trailing stop orders at E*TRADE?
Trailing stop orders, along with a full suite of other conditional orders, can be placed on eligible securities directly through etrade.com, the OptionsHouse platform, and our mobile apps.
 Can I use the E*TRADE branches?
You can visit any of our 30 branches nationwide to discuss your investment goals with a Financial Consultant, get personalized tours of our platforms and tools, and make deposits. Please note that withdrawals are not available at the branches.
 What if I have additional questions?
For more information about the transition to E*TRADE, contact the Capital One Investing Investor Solutions team at 800-747-2537, option 2, from 8 a.m.–9 p.m. ET, Monday through Friday. You can also call E*TRADE Customer Service team anytime at 800-ETRADE-1 (800-387-2331) and select "Capital One" when prompted.