Traders adjusting to pivot?
Heavy trading in SSNC calls, stock tests Oct. highs
Shares hit one-year low less than two weeks ago
NRG bucks utilities trend, in historical high zone
SS&C Technologies (SSNC) was far from the top of Tuesday's scan for unusual open interest (OI), but some traders were probably already aware of the stock because of its activity over the past couple of weeks. Yesterday, OI was a little less than four times average:
Source: Power E*TRADE. (For illustrative purposes. Not a recommendation.)
---
A day earlier, SSNC landed on multiple scans for unusual options activity, including unusual call volume and high call-put ratio. With the stock spending much of the day between $52-$53 on Monday (top half of screen), traders were particularly active in the December $55 and $60 calls (3,200 and 701 contracts, respectively):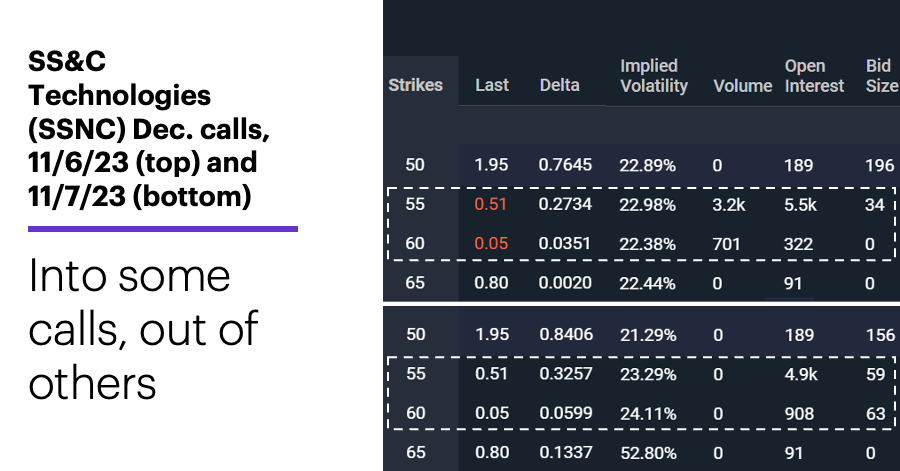 Source: Power E*TRADE. (For illustrative purposes. Not a recommendation.)
---
The bottom portion of the screen shows that while the OI in the $60 calls was higher on Tuesday (meaning the majority of Monday's volume consisted of traders getting into the market), the OI in the $55 calls was lower, falling from 5,500 to 4,900. That suggests some—but not all—of Monday's volume in these options consisted of traders getting out of positions.
Meanwhile, SSNC's recent price action probably meshes with most traders' idea of what would be happening when call volume is on the rise: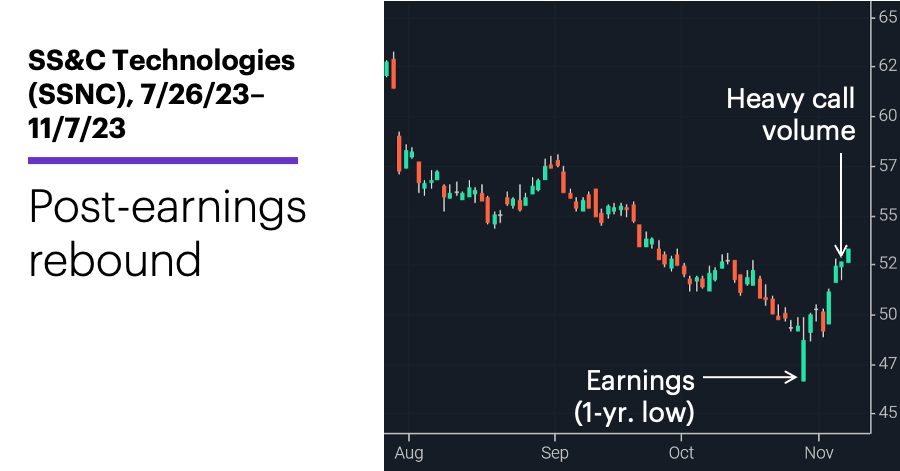 Source: Power E*TRADE. (For illustrative purposes. Not a recommendation.)
---
After releasing earnings, SSNC fell 5.7% intraday on October 27—hitting its lowest low since October 2022—before reversing to close down only 1.5%. That was the beginning of an even longer pivot: As of yesterday, the stock had gained nearly 9%, and pushed a little above its October highs in the process.
The revelation that the biggest portion of Monday's options volume (the 3,200 contracts in the December $55 calls) included trade liquidations may have made SSNC's picture appear less bullish to some traders. But that interpretation reflects the mistaken assumption that heavy call volume is automatically bullish. Since bearish traders often sell calls, the picture is never cut and dried.
Regardless, the 4,900 December $55 calls that were still open on Tuesday represented the biggest position in any SSNC options contract, with the $65 calls in third place. If those trades were, in fact, initiated by bullish traders, whatever sentiment shift traders may have felt in recent days was arguably still intact.
Market Mover Update: Another stock that experienced heavy (20 times average) call volume on Monday made an attention-grabbing move. After a five-day, 9.2% rally, NRG Energy (NRG) extended its year-to-date gain to 44%: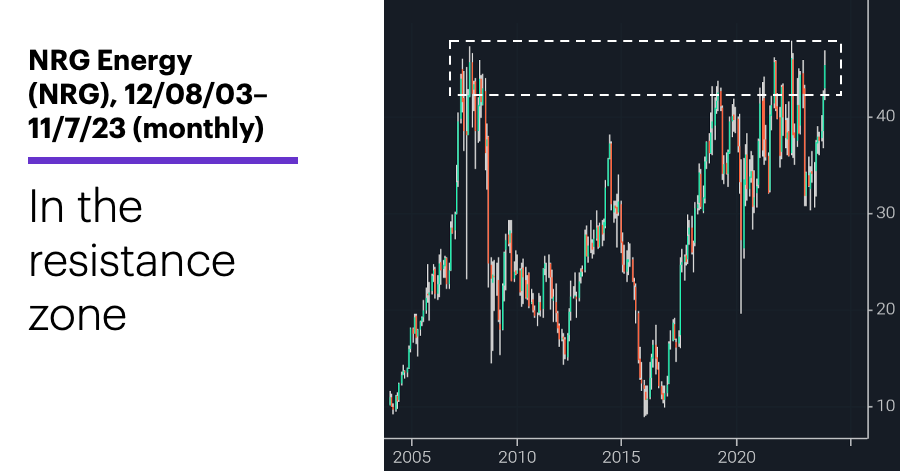 Source: Power E*TRADE. (For illustrative purposes. Not a recommendation.)
---
The most recent move unfolded amid the company's earnings miss last Thursday and news it was kicking off an accelerated stock repurchase program. The stock's rally may have interested traders not just because it comes amid a downturn in utilities (which sometimes suffer when interest rates rise), but also because NRG shares are now in a "resistance zone" that includes most of the major highs the stock has made over the past 20 years.
Speaking of energy, oil broke down below its October-November lows on Tuesday. December WTI crude oil futures (CLZ3) fell more than 4% intraday to $77.17, as low as the market has been since August 24.
Today's numbers include (all times ET): Mortgage applications (7 a.m.), Fed Chair Jerome H. Powell speaks at the Research and Statistics Centennial Conference (9:15 a.m.), preliminary Wholesale Inventories (10 a.m.), EIA Petroleum Status Report (10:30 a.m.).
Today's earnings: Biogen (BIIB), Roblox (RBLX), Ralph Lauren (RL), Duolingo (DUOL), Lyft (LYFT), Wynn Resorts (WYNN).
Click here to log on to your account or learn more about E*TRADE's trading platforms, or follow the Company on Twitter, @ETRADE, for useful trading and investing insights.
---
What to read next...
11/06/23
Market rebounds, yields drop as Fed remains on hold and jobs numbers dip.
---
10/30/23
Traders eye jobs data and a Fed rate decision as stocks extend pullback.
---
10/25/23
Traders were busy in this tech company's options as its stock tested support.
---