Trading around support
OKTA put volume higher than average on Tuesday
Stock recently retreated to prior lows
Russell 2000 challenging long-term support
Okta's (OKTA) appearance Tuesday morning on the LiveAction scan for unusual put activity was noteworthy less for how many options traded than for their expiration dates and strike prices.
First, most of the activity occurred in the October 27 puts, which were down to their final four days of trading. Second, with the stock pushing above $71 in the first half hour of trading, volume was concentrated in out-of-the-money (OTM) strike prices.
The options chain below highlights three of the most actively traded contracts. It also shows that, for the most part, volume was less than the open interest (OI)—the most notable exception being the $70 puts, which had volume of 2,900 contracts vs. OI of 867:
Source: Power E*TRADE. (For illustrative purposes. Not a recommendation.)
---
Whenever volume is less than OI, it means traders could be getting out of positions instead of into them—the only way to know is to see whether the next day's OI is higher or lower. That said, there's often a flurry of activity in soon-to-expire options as traders adjust their positions depending on whether they believe their contracts will be in or out of the money at expiration.
In this case, though, there was an interesting relationship between the options' strike prices and the stock's recent price history. Okta bounced more than 3% on Tuesday after falling to its lowest low since April on Monday: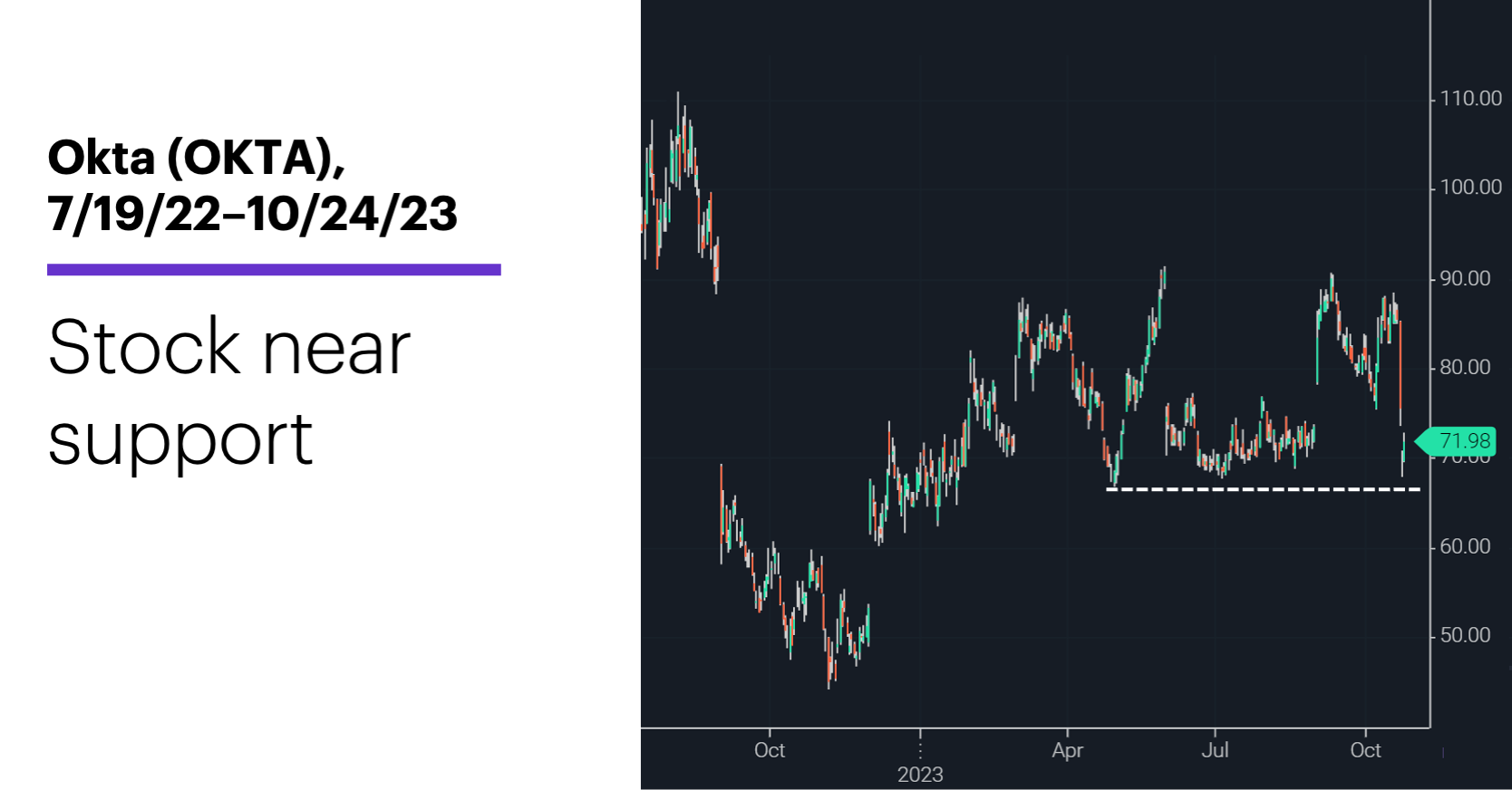 Source: Power E*TRADE. (For illustrative purposes. Not a recommendation.)
---
The April low, along with the lows of the June-August consolidation, may have marked a level traders were expecting to support the stock as it pulled back again. (Shares fell 11.6% on Friday and 8.1% on Monday after news the company had been hacked.1) So, while it's possible Tuesday's put activity consisted of traders getting out of positions, it's also possible some of it was initiated by traders who were shorting puts because they expected the stock to bounce off support, in which case the OTM October puts (which had gotten a boost from the stock's recent sell-off) would expire worthless.
Market Mover Update: While the S&P 500 (SPX) kicked off this week testing support at its shorter-term lows, the Russell 2000 (RUT) was challenging a potentially more significant level. The small-cap index bounced on Tuesday, but remained close to long-term support defined by its 2022 lows: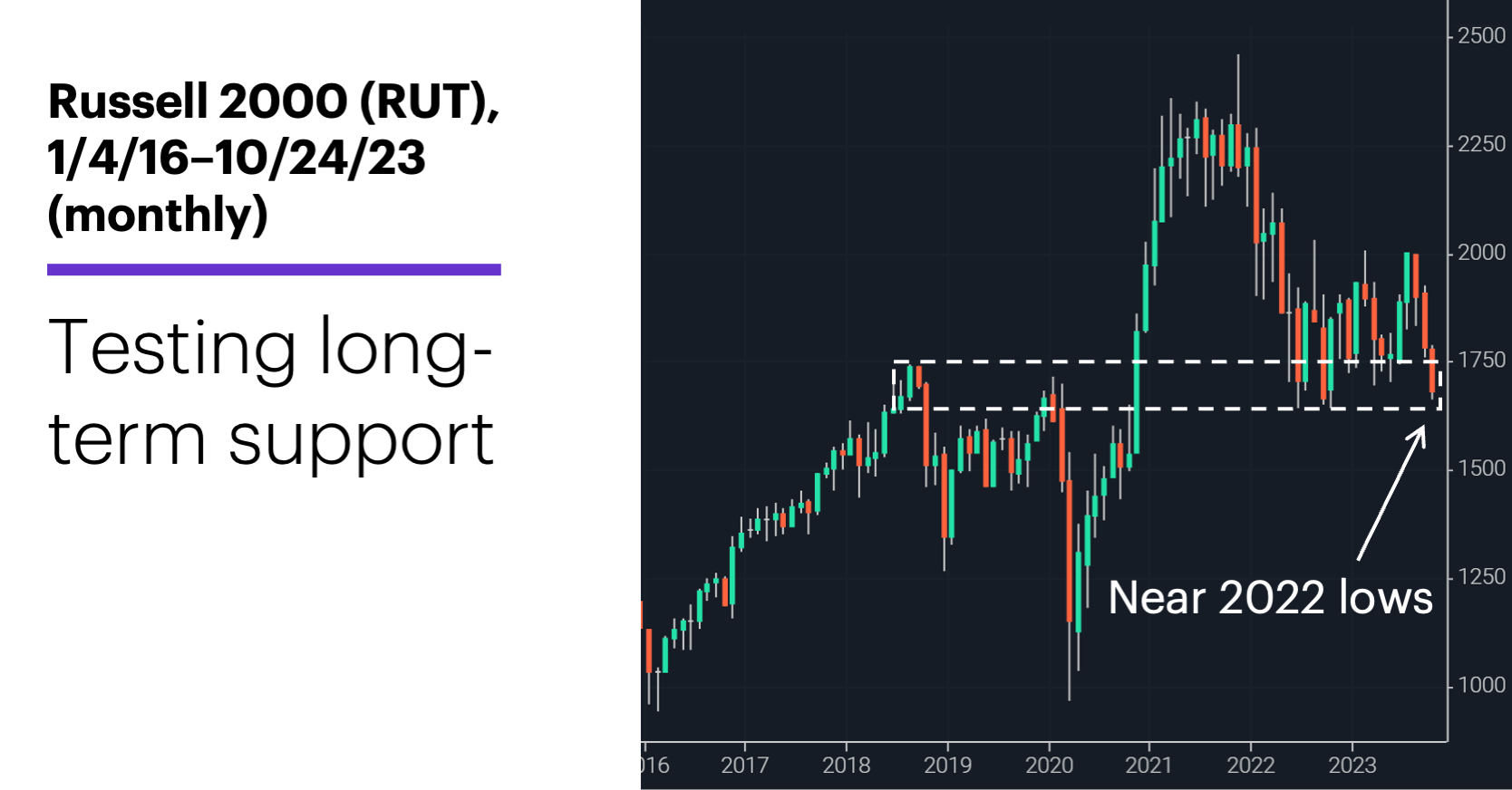 Source: Power E*TRADE. (For illustrative purposes. Not a recommendation.)
---
As the chart shows, these lows are at the bottom of an even longer-term resistance-support zone that includes the index's 2018 and 2020 highs.
Lululemon (LULU) closed lower on Tuesday after posting its first up day in a week on Monday. The stock is still down more than 4% since October 16, when it rallied 10% on news it was being added to the S&P 500 (see "Retailer gets index bump").
Today's numbers include (all times ET): Mortgage applications (7 a.m.), New Home Sales (10 a.m.), EIA Petroleum Status Report (10 a.m.), Survey of Business Uncertainty (11 a.m.), Jerome Powell speech at the Moynihan Lecture in Social Science and Public Policy (4:35 p.m.).
Today's earnings: Boeing (BA), General Dynamics (GD), Spirit Airlines (SAVE), International Business Machines (IBM), Mattel (MAT), Meta (META), O'Reilly Automotive (ORLY).
Click here to log on to your account or learn more about E*TRADE's trading platforms, or follow the Company on Twitter, @ETRADE, for useful trading and investing insights.
---
1 CNBC.com. Okta cybersecurity breach wipes out more than $2 billion in market cap. 10/23/23.
What to read next...
10/23/23
Broad market slips against a backdrop of hot economic data and rising yields.
---
10/17/23
Retail stock jumps more than 10% after news of addition to S&P 500.
---
10/16/23
Market extended upside pivot to log its second up week in a row as earnings season kicked off.
---