Stocks heat up as economy cools
Best week for stocks since June 2022, small caps soar
Fed holds steady, jobs market slows, yields retreat
This week: Trade deficit, consumer credit
The US stock market may not have avoided its first three-month losing streak since March 2020 last week, but it managed to wrap up October and kick off November with a more-than-solid bounce off its five-month lows.
As the Fed held interest rates steady and traders digested some soft economic data—including a weaker-than-expected monthly jobs report—the S&P 500 (SPX) closed Friday at a nearly three-week high and posted its biggest weekly gain since last year: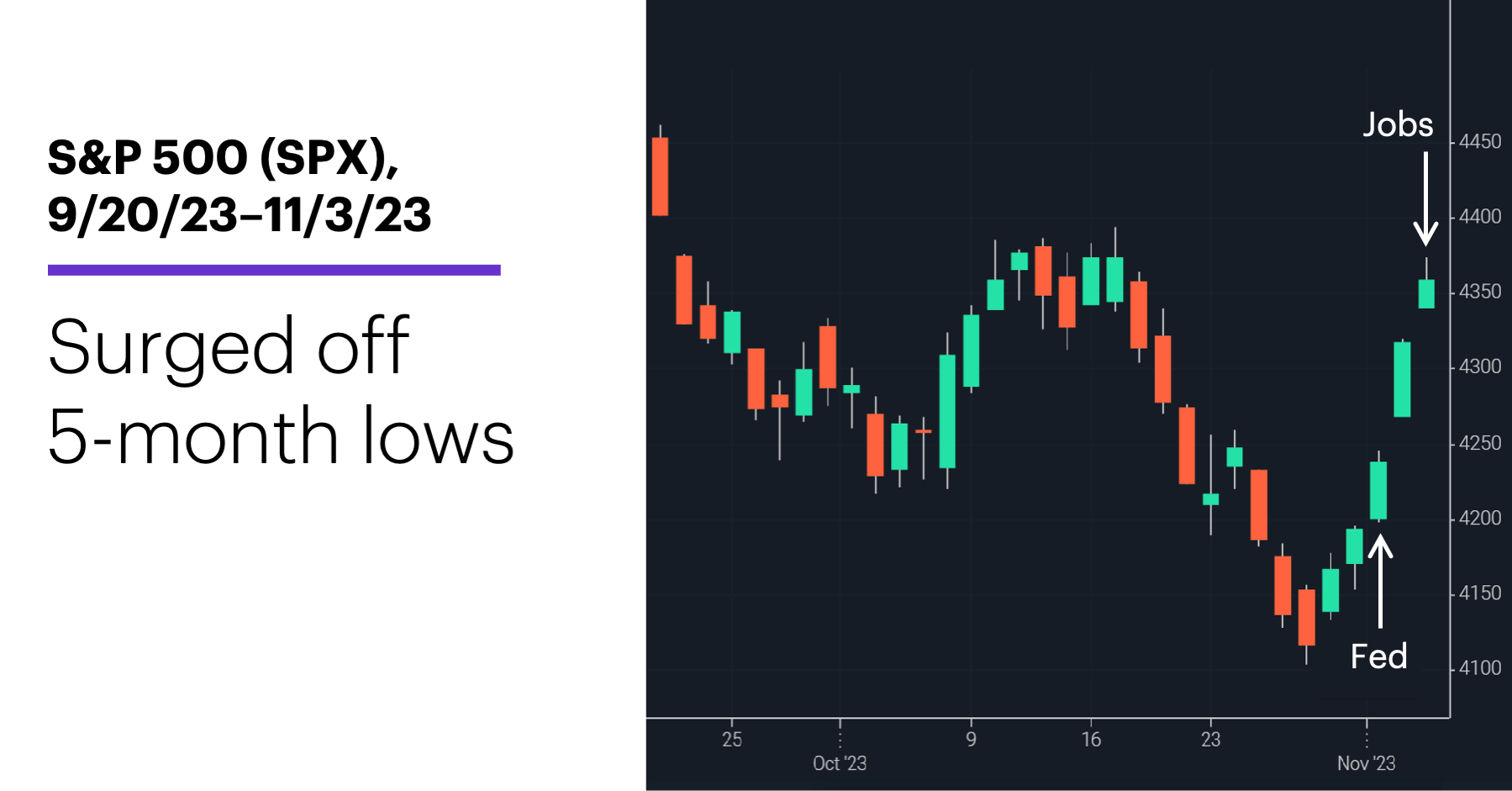 Source: Power E*TRADE. (For illustrative purposes. Not a recommendation. Note: It is not possible to invest in an index.)
---
The headline: Stocks jump into November.
The fine print: While the Fed left interest rates unchanged last Wednesday, they also noted the battle to bring inflation back down to target levels still had "a long way to go." Those words are worth noting, since last week's rally appeared to be fueled, at least partially, by the idea that softer-than-expected economic numbers (punctuated by Friday's jobs report) could translate into a less-hawkish Fed in the near term.
The move: In addition to the stock market's jump, the yield on the benchmark 10-year T-note yield fell 30 basis points last week, falling below 4.5% (intraday) for the first time since late September.
The scorecard: Small caps were one of the biggest winners last week, with the Russell 2000 (RUT) notching its biggest one-week gain since February 2021: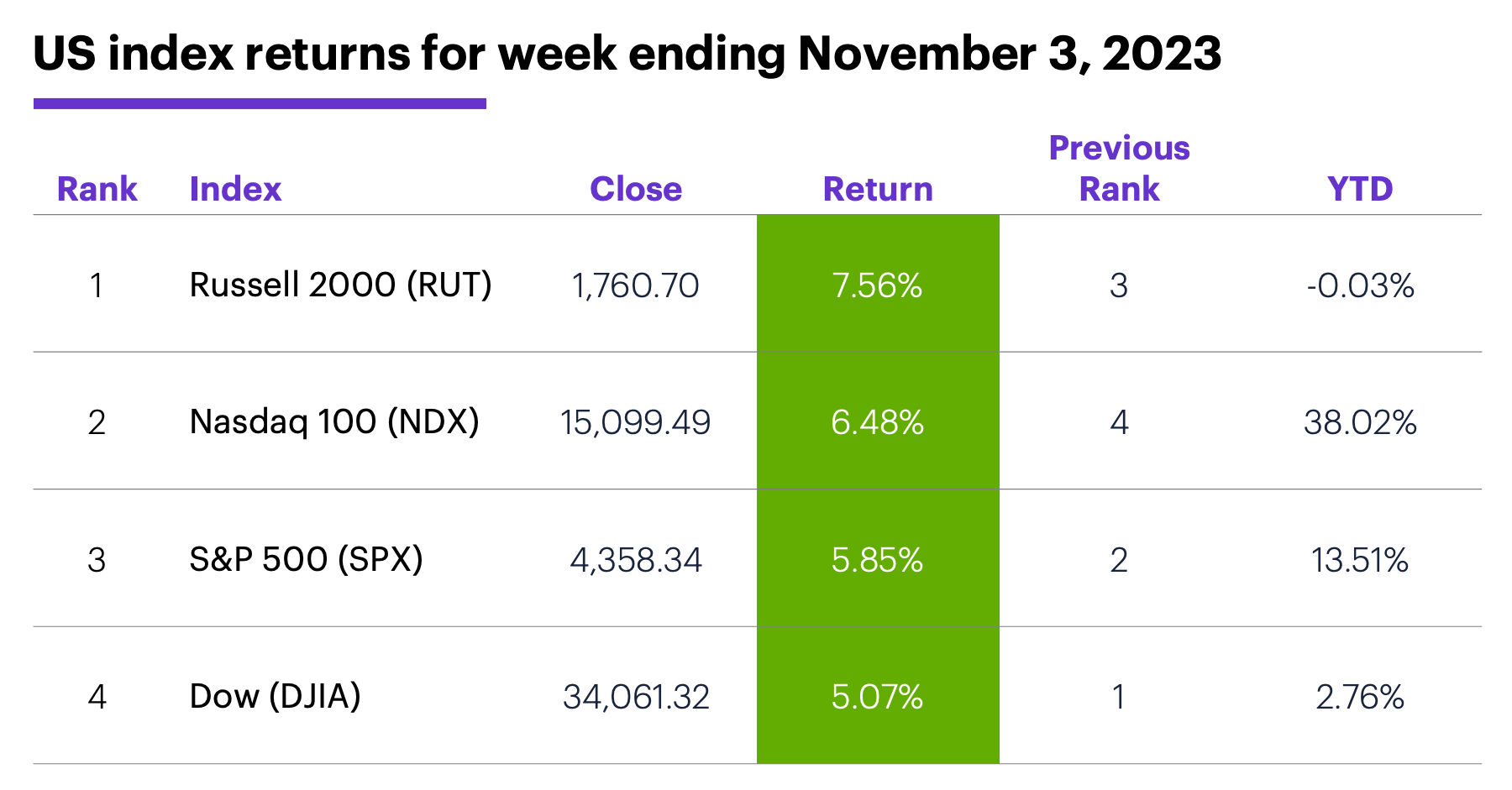 Source (data): Power E*TRADE. (For illustrative purposes. Not a recommendation.)
---
Sector returns: The strongest S&P 500 sectors last week were materials (+1.6%), communication services (+1.4%), and financials (+1.3%). The weakest sectors were energy (-1%), consumer staples (+0.1%), and health care (+0.5%).
Stock movers: Lemonade (LMND) +47% to $16.17 and Alpine Immune Sciences (ALPN) +40% to $14.72, both on Thursday. On the downside, Sarepta Therapeutics (SRPT) -37% to $67.31 on Tuesday, Confluent (CFLT) -42% to $16.28 on Thursday.
Futures: December WTI crude oil (CLZ3) tested its early October lows, trading as low as $80.10 on Friday before closing at $80.51. December gold (GCZ3) ended last week slightly higher at $1,999.20. Week's biggest gains: December E-Mini Russell 2000 (RTYZ3) +7.5%, December E-Mini Nasdaq 100 (NQZ3) +6.4%. Week's biggest losses: November VIX (VXX3) -23.8%, January orange juice (OJF4) -10.6%.
Coming this week
●Tuesday: US Trade Deficit, Consumer Credit
●Wednesday: Wholesale Inventories
●Thursday: Weekly jobless claims
●Friday: Consumer Sentiment (preliminary)
This week's earnings include:
●Monday: BioNTech (BNTX), International Flavors & Fragrances (IFF), Medifast (MED), NXP Semiconductors (NXPI), RingCentral (RNG), Teradata (TDC), Vertex Pharmaceuticals (VRTX)
●Tuesday: Uber (UBER), UBS (UBS), Bumble (BMBL), DaVita (DVA), eBay (EBAY), Rivian (RIVN), Upstart (UPST)
●Wednesday: Biogen (BIIB), Roblox (RBLX), Ralph Lauren (RL), Duolingo (DUOL), Lyft (LYFT), Wynn Resorts (WYNN)
●Thursday: Dillard's  (DDS), Tapestry (TPR), Illumina (ILMN), The Trade Desk (TTD)
●Friday: StoneCo (STNE)
Check the Active Trader Commentary each morning for an updated list of earnings announcements, IPOs, economic reports, and other market events.
Three-month downturns, 5% up weeks
Last week the stock market logged a couple of interesting, but conflicting, milestones: The SPX declined for three straight months for the first time since March 2020, but also posted its biggest weekly return since November 11, 2022.
Since 1982, the SPX had a positive return the month after a three-month down streak 69% of the time (11 out of 16 cases), with a median return of 1.1%. By comparison the SPX's median one-month return for all months since 1982 is a little higher (1.2%), but the percentage of positive returns (64%) was a little lower.1 In other words, there's not much to hang your hat on here, either way.
The history of 5% (or larger) up weeks also failed to show any evidence of significant short-term underperformance or outperformance. The SPX has rallied 5% or more in a given week 33 other times since 1990. One week later the index was higher 58% of the time, and after four weeks it was higher 61% of the time—figures that are more or less comparable to the index's overall performance for one-week and four-week periods, which were positive 56% and 62% of the time, respectively. One caveat: When a 5%-or-larger up week followed a three-month (or longer) low—as was the case last week—the SPX closed lower the next week 58% of the time.
Click here to log on to your account or learn more about E*TRADE's trading platforms, or follow the Company on Twitter, @ETRADE, for useful trading and investing insights.
---
1 All figures reflect S&P 500 (SPX) monthly and weekly closing prices, 1982-2023. Supporting document available upon request.
What to read next...
10/30/23
Traders eye jobs data and a Fed rate decision as stocks extend pullback.
---
10/25/23
Traders were busy in this tech company's options as its stock tested support.
---
10/23/23
Broad market slips against a backdrop of hot economic data and rising yields.
---