Why obesity drugs may be a new blockbuster pharma category
Morgan Stanley Research
09/13/22
Summary: Innovative treatments, policies, and physician engagement could help the market for weight-management medicines reach $54 billion in the next decade.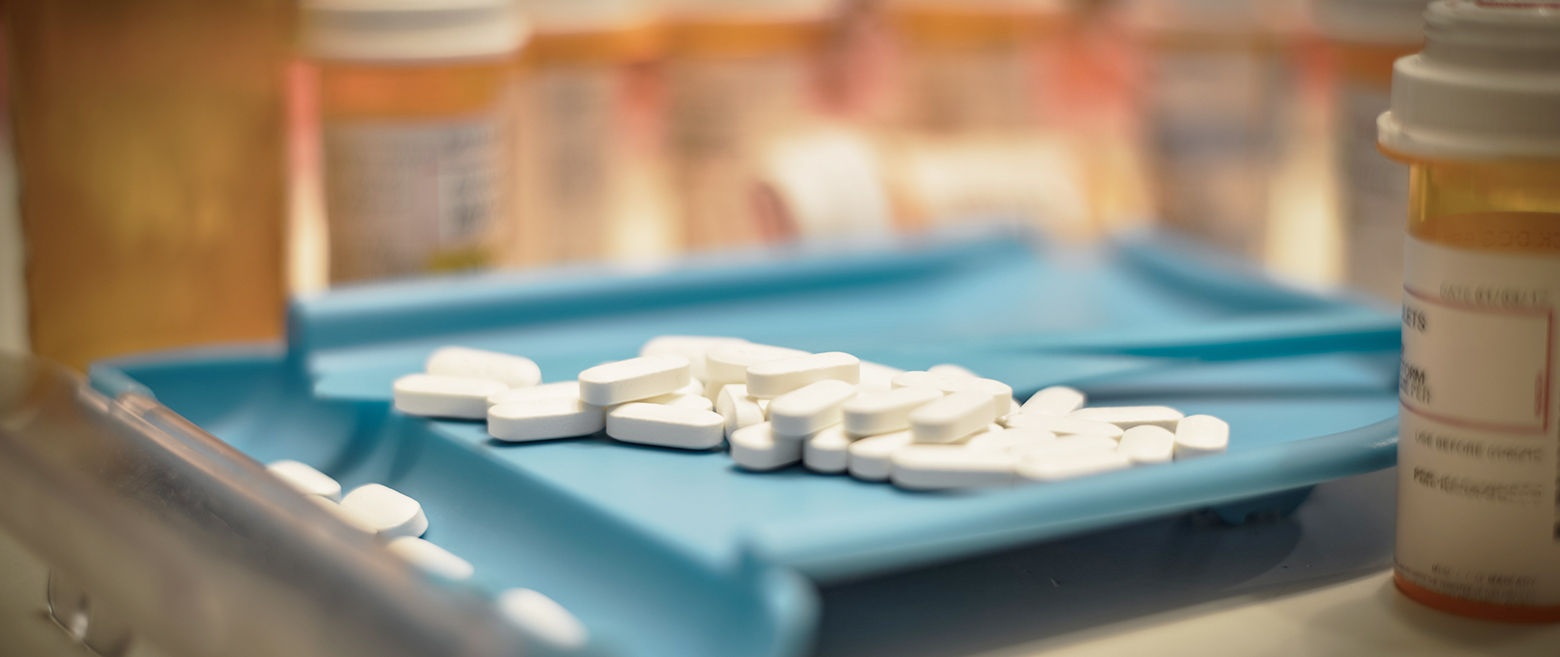 For decades, obesity has been viewed—and treated—mainly as a symptom of lifestyle choices. Diet, exercise, and surgical intervention were the only options for addressing the condition and its associated health risks, such as heart disease.
But with a greater understanding of obesity's root causes, it is now classified medically as a chronic disease. This shift has helped spur new research into developing treatments, including a range of next-generation medications to manage weight, thereby preventing the illnesses that obesity causes.
"We believe the treatment of obesity is on the cusp of moving into mainstream primary care management," says Morgan Stanley equity analyst Mark Purcell.
That means obesity treatment could quickly become a top-12 global therapy—growing from a $2.4 billion category in 2022 to $54 billion by 2030, according to Morgan Stanley Research.
"The clear precedent for investors," Purcell says, "is treatment for high blood pressure, which went from a nascent category in the 1980s to a $30 billion market in the 1990s."
Morgan Stanley Research expects the market for obesity drugs to reach $54 billion by 2030.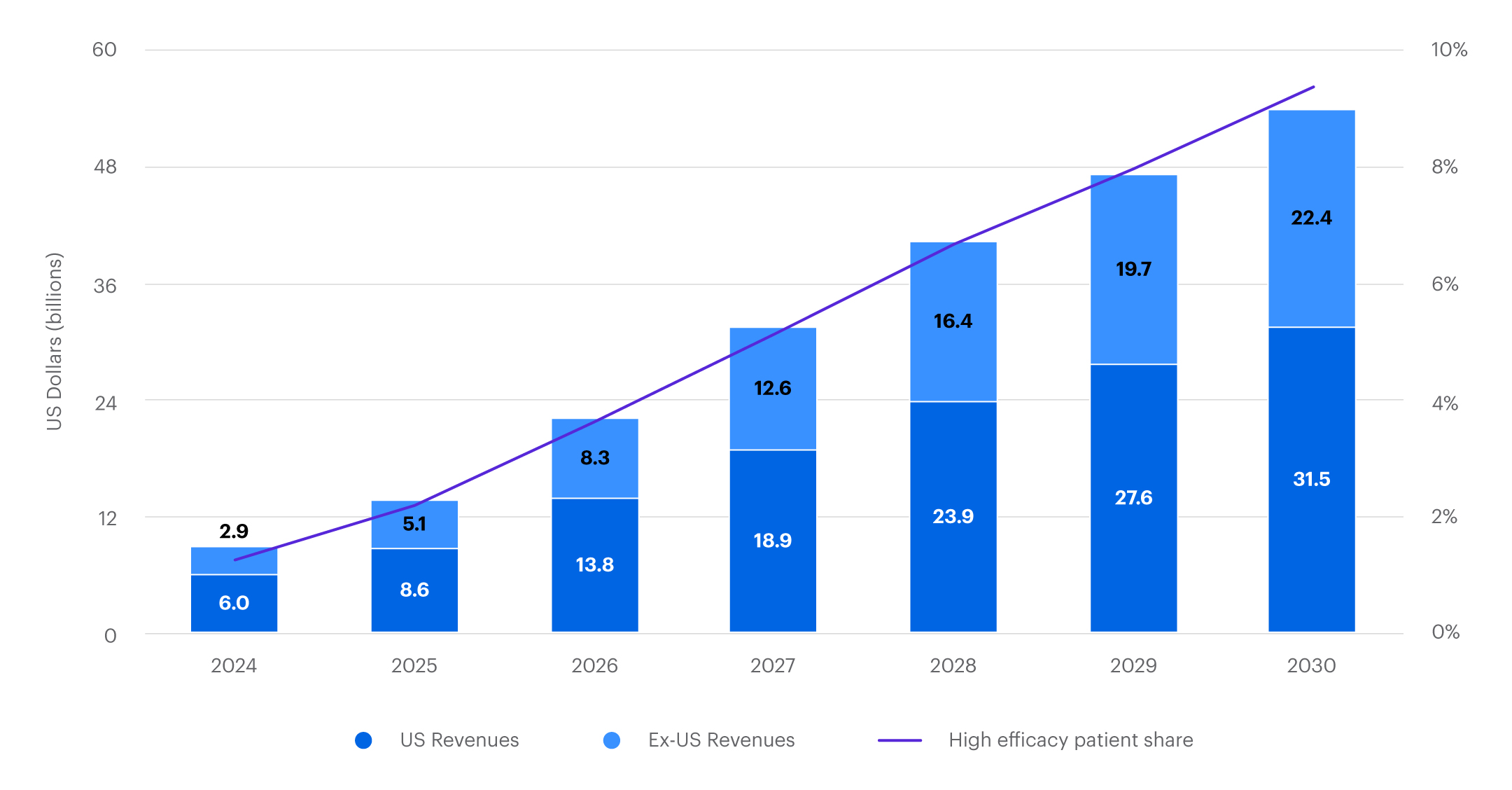 Source: Morgan Stanley Research Estimates
---
Rethinking obesity
New studies are helping make the case for weight-management as a focus of treatment. For example, one landmark obesity study due by the middle of 2023 is designed to show that weight-management medicines reduce the risk of heart attacks, strokes, and cardiovascular deaths by 17% or more.
"We would expect positive data to be incorporated into US treatment guidelines no later than the end of 2023," says Purcell. This could lead to a significant increase in both the development and prescription of obesity medications.
A market built on perception and policy changes
The sector growth also hinges on the broader acceptance of obesity as a chronic disease, rather than a consequence of lifestyle choices. Doctors and policymakers would then see the need to treat obesity directly, as the upstream cause of many serious illnesses. Likewise, patients may be more likely to talk to their doctors about seeking obesity treatment as drugs become available.
Currently, though more than 650 million people globally are clinically obese, only about 7% are diagnosed and recommended for medical treatment. By contrast, other chronic conditions, such as diabetes, have 80% to 90% treatment rates.
Purcell and team think that 25% of the patient population classified as obese will use medicine to actively manage their weight by 2035.
Along with the availability of new medicines, policies to make them affordable should also help boost both the number of people seeking treatment and the number of prescribers. In the US, for example, policy efforts have included a bipartisan effort to expand Medicare coverage to the screening and treatment of obesity with FDA-approved medicines from a diverse range of healthcare providers who specialize in obesity care.
As the market for anti-obesity and weight-management drugs develops, investors might look to established large-cap pharmaceutical companies that have new medicines in trials, as well as other large-cap pharma companies with approved treatments for cardiometabolic diseases, as these companies may seek to develop their own weight-management drugs. 
What to read next...
Advances in technology and innovation have led to new breakthroughs in health care. Here's a look at three areas of opportunity for long-term investors.
---
The "gig economy" is quickly evolving into a "multi-earner era" built on platforms that make it easy for individuals to plug into large audiences and earning power. Learn more about this emerging investing theme.
---
Global e-commerce stocks surged during the early days of Covid-19 but have since slumped. Despite overall slowing economic activity, key trends suggest e-commerce still has room to grow. What it means for economies, industries, and investors.
---