Now that E*TRADE has joined forces with Morgan Stanley, get actionable insights from our combined companies.
The Paris Agreement created a plan for the world's major industrialized countries to reach "net zero" carbon emissions by 2050. Beyond regulatory policy, ~20% of the 2,000 largest public companies in the world have also committed to net-zero targets.* The energy sector contributes about 40% of global emissions of carbon dioxide (CO2), which is why government and businesses alike are pledging to replace carbon-producing fossil fuels with renewable energy. As a result, there is a growing demand for wind and solar energy solutions and decarbonization technologies, such as carbon capture and storage.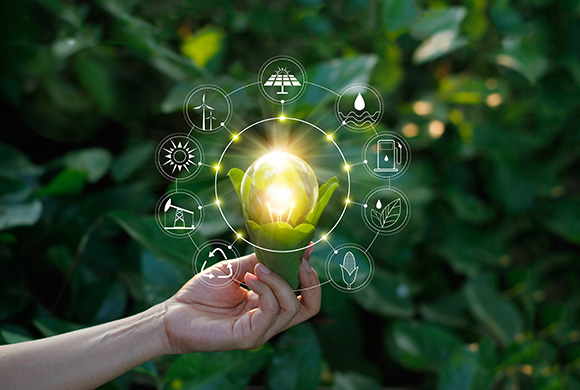 The funds on this page invest in companies that are in the business of advancing clean energy and energy conservation in order to reduce carbon emissions and pollution.
Overall Morningstar
Rating
Today's %
Change
Expense
Ratio
Data quoted represents past performance. Past performance is not an indication of future results and investment returns and share prices will fluctuate on a daily basis. Your investment may be worth more or less than your original cost when you redeem your shares. Current performance may be lower or higher than the performance data quoted. For most recent quarter end performance and current performance metrics, please click on the fund name.
*Source: Morgan Stanley Research, Chasing Climate Leadership, April 23, 2021. The World Bank Group, Understanding CO2 Emissions from the Global Energy Sector, April 2014.
Get insights from Morgan Stanley
Podcast: Thoughts on the Market
Special episode: Innovating toward decarbonizatio‪n
4/12/21
Morgan Stanley analysts explore how oil, gas, and utilities companies are tackling the complex transition to a lower carbon future.
The shifting dynamics of oil and energy
2/4/21
Morgan Stanley analysts dive into two big stories that are underway in oil and energy markets: changing supply and demand factors amid COVID-19 vaccinations and the impact of ESG considerations.
Get up to $3,000 (plus $0 commissions)1 Learn how
Take charge of your finances with a new E*TRADE brokerage or retirement account by November 30
and start with a generous cash bonus.