In health care, opportunity stems from innovation
E*TRADE Capital Management, LLC in collaboration with Morgan Stanley Wealth Management1

01/14/22
Summary: Recent trends in technology and innovation are changing the health care sector. What does that mean for investors?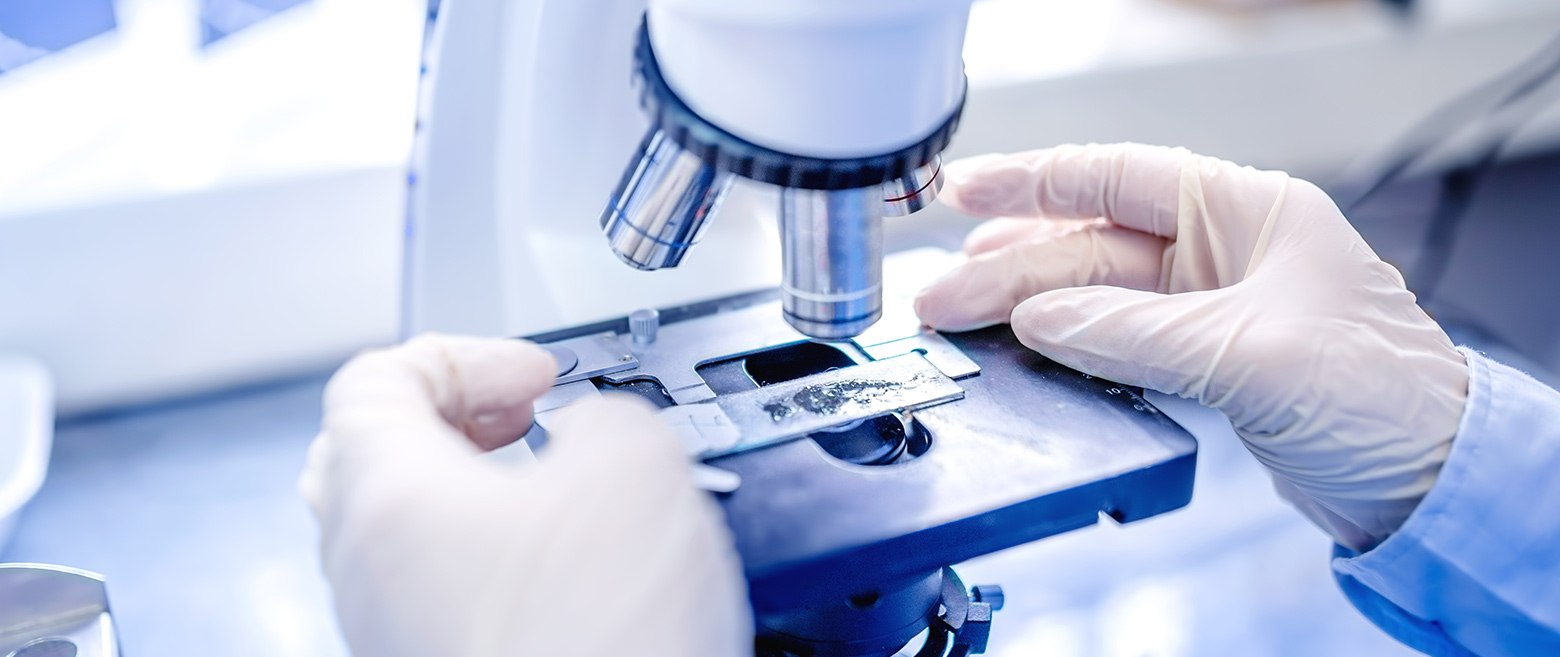 Barring the pandemic itself, one of the biggest surprises of the past few years may have been the breakneck speed at which the health care industry rolled out vaccines, therapeutics, diagnostics, and patient care.
What's also surprising? Despite this ground-breaking innovation, sector performance has been muted: In a market that notched 70 record closes in 2021,2 the health care sector lagged, currently trading around historical lows relative to the S&P 500®.
Together with a slew of game-changing developments, Morgan Stanley Wealth Management believes valuations may present opportunity for long-term investors.
During its annual AlphaCurrents Conference, Morgan Stanley Wealth Management's Global Investment Office discussed the latest trends shaping the health care industry and key considerations for investors.
Genomics
Advances in computing power and machine learning have contributed to gains in genomics over the past two decades, giving scientists detailed information about the nature of human genes and how human bodies are built. Look no further than the rapid development of messenger RNA (mRNA) COVID-19 vaccines to get a sense of the impact.
Increased attention on genomics may be a positive driver for the industry, potentially drawing more aggressive funding from governments and private investors.
Internet searches for genomics have risen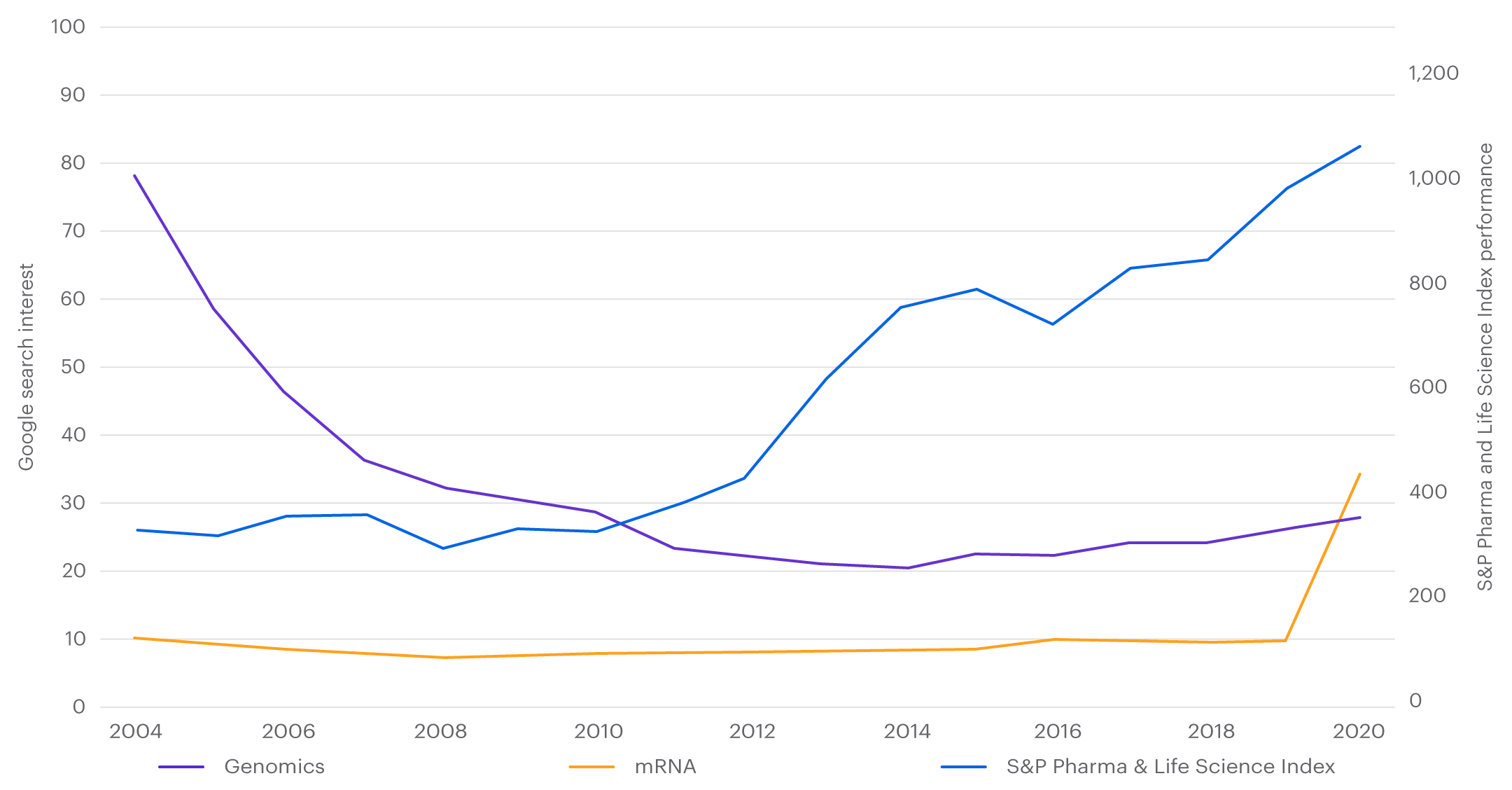 Note: Numbers represent search interest relative to the highest point on the chart for the given region and time. A value of 100 is the peak popularity for the term. A value of 50 means that the term is half as popular. A score of 0 means there was not enough data for this term. Source: Bloomberg, Haver Analytics, Morgan Stanley Wealth Management Global Investment Office as of April 13, 2021
---
Biotech
With proof of concept in the form of two FDA-approved COVID-19 vaccines, Morgan Stanley Wealth Management strategists expect to see more focus on additional mRNA applications. One exciting area is hard-to-treat and rare "orphan" diseases, of which there are roughly 10,000 but comparably few treatments.1 Another is cancer. And yet another: vaccine-elusive viruses like HIV and Zika, plus more common ones like the flu.
Beyond mRNA, better use of data and analytics has already greatly improved drug discovery. In coming years, new treatments in cancer, neurology, and gene-based therapies—areas of focus prior to the pandemic—may come to market.
Diagnostics and beyond
Innovation in areas such as diagnostics, detection, and patient care has also altered the industry. A growing number of companies are exploring tests that can detect various diseases in the early stages, including cancer, where a late-stage diagnosis is a leading cause of death. New blood tests that can detect early-stage cancer may lead to better patient outcomes, not to mention lower treatment costs.
Increasingly sophisticated and connected medical devices are driving improvements in convenience and care. For example, wire-free adhesive heart monitors can now capture cardiac data and transmit it to a patient's doctor, and pacemakers can relay data wirelessly to a patient's smartphone.
Investing considerations
Of course, there are no guarantees when it comes to drug development and medical discoveries—behind every breakthrough is often a series of failures. Yet, innovation in the pipeline today is hard to ignore. For investors, a few themes may be worth consideration:
The big picture: The macro environment may be favorable to the health care sector as we transition into the next phase of the economic cycle. In fact, markets have tended to reward quality stocks during this transitional period—and overall, the health care sector has a lot of companies with strong balance sheets, high profitability, dividend income, and capital return.
Value: The less-expensive areas of health care such as pharma, biotech, and services may present opportunity if innovation post-pandemic revives growth for the sector. But it could vary from company to company based on industry trends, research and development, approvals, and other factors—as opposed to broad tailwinds.
Growth stocks look like a bargain next to tech: Growth-style health care tech stocks have been trading at a premium relative to other sectors in health care, but at a discount compared to other growth sectors like pure tech.
Risk and reward: Rather than going all-in on value or growth strategies, diversify exposure for a balanced risk/reward profile.
Ultimately, Morgan Stanley's Global Investment Office believes innovation and advancements in the health care sector are likely just beginning. As always, though, investors should be sure that any decisions reflect individual goals, timelines, and risk tolerance.
Some of the insights expressed in this article are from AlphaCurrents: Diagnosing Health Care Opportunities Post-COVID-19, originally published on May 19, 2021.
The views expressed in this article are from Morgan Stanley Wealth Management. The original content has been modified for E*TRADE Securities and E*TRADE Capital Management, LLC audiences.
The Wall Street Journal, "U.S. Stocks Close Higher to Start 2022," 1/3/22, https://www.wsj.com/articles/global-stock-markets-dow-update-01-03-2022-11641200978
What to read next...
The new credit payment is the latest Fintech disruptor. Can established legacy banks adapt to keep up with the increased e-commerce demand and the red-hot tech services?
---
The data revolution in computing has accelerated the convergence of the next era of tech: internet of things, artificial intelligence, augmented reality, and automation. What's the opportunity for investors?
---
Investors have had mixed reactions to the 5G rollout worldwide, but an analysis of early-adopter markets suggests that 5G is surpassing expectations. Here are five key takeaways.
---