Options signaling interest?
CSGP call volume more than 100 times put volume on Wednesday
Stock recently fell around 17% from late-October high
Options volatility moderate as stock stabilized over past two days
A stock struggling to hold on to a two-day winning streak and a net gain of less than 0.5% may not sound like anything to write home about, but when it follows nearly two weeks of daily losses, traders may take note—especially when it's accompanied by unusual options activity.
Such was the case yesterday morning for CoStar Group (CSGP), a company that provides data, analytics, and marketplace services for the real estate industry. Early in the trading session, LiveAction scans showed CSGP's total options volume was more than six times average, while its call volume was around 114 times its put volume: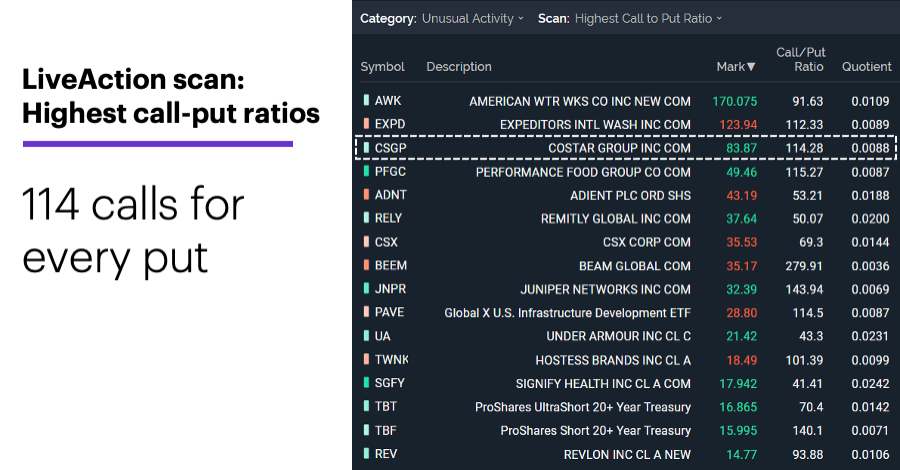 Source: Power E*TRADE (For illustrative purposes. Not a recommendation.)
---
There can be many reasons for high call volume relative to put volume—including the possibility that traders are getting out of existing call positions or shorting them because of a bearish outlook—but in the absence of definitive proof of motive, many traders will view heavier trading in calls than puts as a potentially bullish sign.
In this case, there was no mistaking where the activity was: 1,000 contracts changed hands in each of the December $88 and $89 calls, which midday yesterday were out of the money (above the stock price) by $5-$6: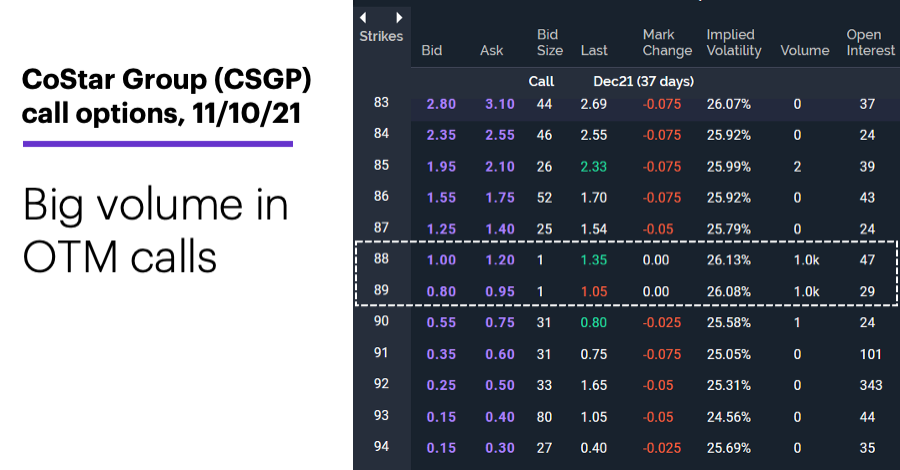 Source: Power E*TRADE (For illustrative purposes. Not a recommendation.)
---
Aside from these two trades, the total call volume for the November, December, and January expirations was 80 contracts as of noon ET.
The price chart shows how potentially "unusual" this unusual options activity may have seemed to some traders, given CSGP recently dug itself a 17% hole with nine-straight down days after closing at a record $99.74 on October 26: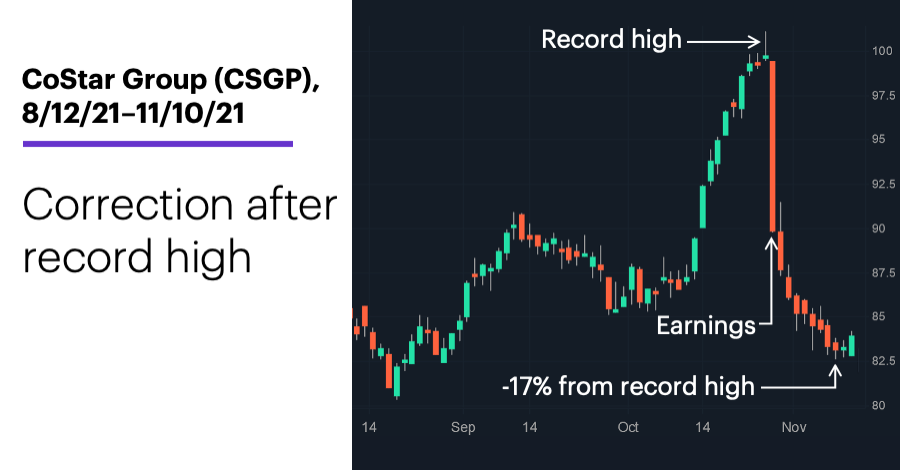 Source: Power E*TRADE. (For illustrative purposes. Not a recommendation.)
---
CoStar released earnings after the close that day, and although it topped its headline earnings and revenue numbers,1 it sold off 10% the next day as the company lowered its outlook amid a slowdown in advertising revenue.2 By Monday, the stock had fallen to its lowest level in more than two months.
Only time will tell if the recent sell-off was enough to entice bulls back to the table (CSGP slipped into the red later in Wednesday's trading session, but yesterday was a reminder of why some traders like to keep tabs on out-of the-ordinary options activity—because it can sometimes highlight sentiment shifts that may not be immediately apparent in a stock.
Market Mover Update: Roblox (RBLX) gave back some of Tuesday's 43% rally on Wednesday, pulling back more than 15% intraday. But call options gave back even bigger portions of their gains. Just one example: The $100 calls expiring this Friday, which soared from 0.25 on Monday to to 10.90 on Tuesday, fell as much as 93% to 0.79 yesterday (see "Putting a premium on volatility").
Martin Marietta (MLM), Vulcan Materials (VMC), and Eagle Materials (EXP) all pulled back more than 2% yesterday as the materials sector gave back some of Monday's infrastructure boost (see "Infrastructure, materials, and momentum").
Today's numbers include (all times ET): None scheduled (Veterans Day).
Today's earnings include: Li Auto (LI), Tapestry (TPR), Sally Beauty (SBH), Coupang (CPNG), Luminar (LAZR), Blink Charging (BLNK).
Today's IPOs include: Lulu's Fashion Lounge (LVLU), Mynaric (MYNA), Vaxxinity (VAXX), Weave Communications (WEAV).
Click here to log on to your account or learn more about E*TRADE's trading platforms, or follow the Company on Twitter, @ETRADE, for useful trading and investing insights
---
1 StreetInsider.com. Costar Group (CSGP) Tops Q3 EPS by 2c. 10/26/21.
2 Morningstar.com. Record-Low Apartment Vacancies Create Headwinds for CoStar's Growth in the Third Quarter. 10/27/21.