Infrastructure, materials, and momentum
Basic materials stocks jumped in aftermath of infrastructure bill success
Many stocks in the sector retreated from intraday highs, though
Longer-term cyclical stock outlook an eventual tailwind?
Yesterday highlighted the intersection of competing themes in the raw materials sector—and the stock market as a whole.
The first was the market's reaction to Friday's news that the House passed a $1 trillion infrastructure package. While Monday's rally in many stocks that would presumably benefit from infrastructure spending appears to make sense, it also overlooks two important points:
1. There was little debate that infrastructure legislation would (eventually) pass. The main uncertainties were the size of the package, and when it would finally be approved.
2. Many infrastructure-related stocks already appeared to be pricing in that approval long before Monday's upside burst.
For example, consider the materials sector, which includes companies that provide the gravel, concrete, and related basics for construction projects. Although it was the strongest S&P 500 sector yesterday, its rally was hardly a reversal of downtrend. Three well-known names in the space, Martin Marietta (MLM), Eagle Materials (EXP), and Vulcan Materials (VMC), have all rallied 20% or more just since September 30, more than 100% since March 2020. All hit record highs yesterday: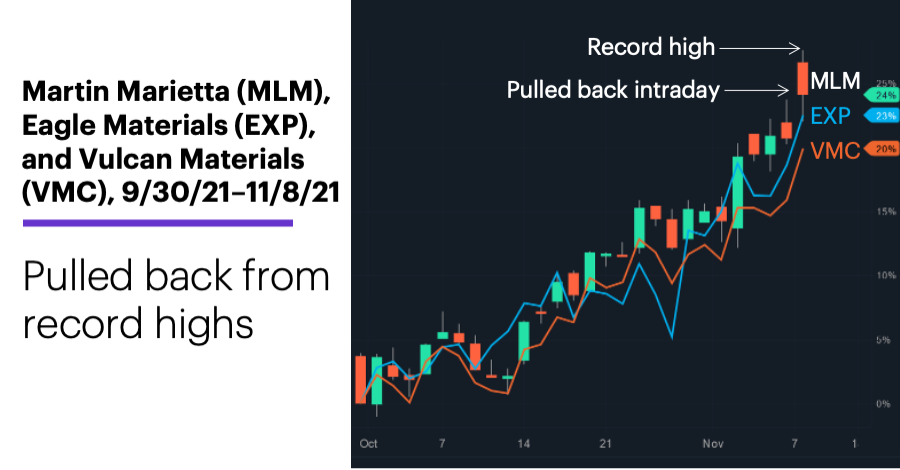 Source: Power E*TRADE (For illustrative purposes. Not a recommendation.)
---
The chart shows MLM's price bars simply to highlight Monday's price action, which was similar for all three stocks: The dominant feature is the pullback from the intraday high, suggesting that buyers were less enthusiastic later in the trading session than they were early on. Although you can't read too much into one day, that loss of momentum may lead some traders to wonder whether recent headlines may have triggered a flurry of emotion-driven buying in an area of the market that may have already priced in much of the expected infrastructure spending.
That also leads to the second theme—a point raised recently by Morgan Stanley Wealth Management strategists, who noted the stock market pushed to fresh records after the Fed's dovish announcement last Wednesday, "stoked by excess liquidity and the Fed's dovish rhetoric about rate hikes."1
The implication of that outlook is particularly relevant to the materials sector. Morgan Stanley Wealth Management argues that stock investors may be putting too much faith in the Fed's assertion that rate hikes are still a long way off, as well as its belief in the "transitory" nature of inflation.
While this suggests the possibility of a correction, Morgan Stanley Wealth Management also described such an event as a potential opportunity to "reload" stock portfolios with cyclical sectors that could benefit in the next couple of years from "a Fed running a hotter economy." In other words, this scenario could provide longer-term tailwinds for cyclical stocks like materials, which may also benefit from actual infrastructure spending.
Nonetheless, traders would point out that no matter how bullish you are, it's better to attempt to buy on weakness rather than chase strength.
Market Mover Update: On Monday the Cboe Volatility Index (VIX) closed higher for an unprecedented third-straight day as the S&P 500 (SPX) made a third-consecutive record close—a potential signal the options market was anticipating increased volatility in the stock market.
Today's numbers include (all times ET): NFIB Small Business Optimism Index (6 a.m.), Producer Price Index, PPI (8:30 a.m.).
Today's earnings include: Beam Therapeutics (BEAM), Plug Power (PLUG), BioNTech (BNTX), Scientific Games (SGMS), D.R. Horton (DHI), fuboTV (FUBO), International Game Technology (IGT), Workhorse (WKHS), Nio (NIO).
Today's IPOs include: Third Coast Bancshares (TCBX), Hertz Global Holdings (HTZ).
Click here to log on to your account or learn more about E*TRADE's trading platforms, or follow the Company on Twitter, @ETRADE, for useful trading and investing insights
---
1 Morgan Stanley. The GIC Weekly: When Doves Cry. 11/8/21.
What to read next...
11/08/21
Market follows through on October momentum in first week of new month.
---
11/05/21
Another look at the ways some traders attempt to take advantage of the effect of time on options prices.
---
11/04/21
Did options traders see anything unusual as labor negotiations pushed and pulled this industrial giant's stock price?
---