Putting a premium on volatility
RBLX jumped 43% intraday Tuesday after earnings
Options implied volatility high as stock hits record levels
High volatility can inflate call and put prices, regardless of stock direction
How do you know when you may be paying a premium (so to speak) for call options?
An option's value is determined by a handful of factors—how much it's in or out of the money, how much time it has until expiration, and how much volatility the market expects. While many people neglect to account for how changes that expected volatility—a.k.a., implied volatility (IV)—may affect an option's price, experienced traders know being on the right side of volatility is sometimes more important than being right about which direction a stock will move.
For example, Roblox (RBLX), the gaming platform that began trading in March, soared 43% intraday yesterday after releasing earnings that showed the company more than doubled its forecasted revenue in Q3 ($509 million vs. $252 million).1  At its intraday high of $109.97, RBLX was nearly 19% above the Street's average 12-month analyst target price of $89:2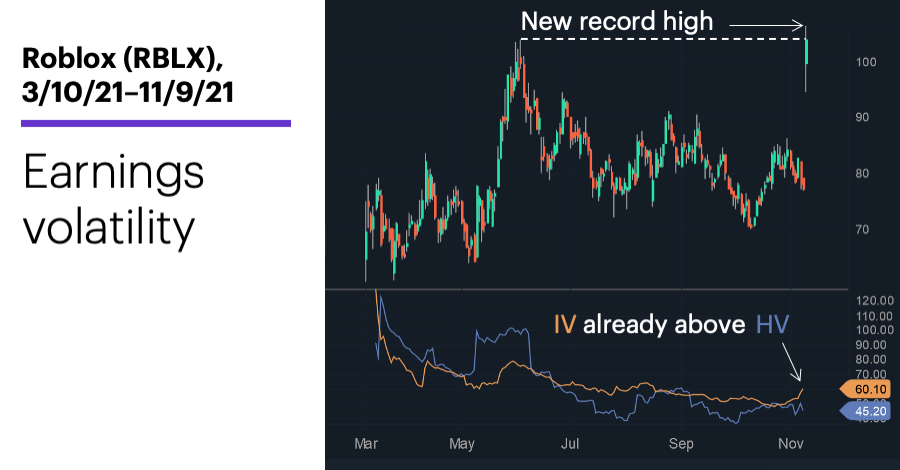 Source: Power E*TRADE (For illustrative purposes. Not a recommendation.)
---
Calls typically increase in value when the underlying stock rises, of course, but when a stock really takes off—perhaps unexpectedly—the move can push IV to extreme (and possibly unsustainable) levels, which in turn can inflate options premiums above and beyond where they would otherwise be.
In this case, RBLX's IV had been trending higher since late October and—a day before yesterday's price spike—was already above the stock's historical volatility (HV), which means the options market was expecting the stock's future volatility to be higher than its recent, actual volatility. That forecast certainly proved to be accurate—at least for a day.
Another sign of relatively high volatility—and thus, potentially overpriced options—was RBLX's "volatility constellation," which showed the average options IV for the next several expirations was well above average. While IV was highest for options expiring this week, it was still significantly above its 30-day average for the contracts expiring December 3:
Source: Power E*TRADE (For illustrative purposes. Not a recommendation.)
---
And here's another frequently overlooked point: In a way, IV is an equal opportunity options price inflator—it doesn't necessarily discriminate between calls and puts. In other words, when a stock makes an exceptionally big up move, a put may drop in value, but its premium may still be higher than it would be otherwise because IV is so high. The same is true when a stock sells off sharply—put values increase and call values decrease, but both can still be relatively "pricey" because of inflated IV.
That suggests, after a move like the one in RBLX, options traders may be wary of buying potentially overpriced options.
Today's numbers include (all times ET): Mortgage applications (7 a.m.), CPI (8:30 a.m.), Weekly Jobless Claims (8:30 a.m.), Atlanta Fed Business Inflation Expectations (10 a.m.), Wholesale Inventories, preliminary (10 a.m.), EIA Petroleum Status Report (10:30 a.m.).
Today's earnings include: Applovin (APP), Dutch Bros. (BROS), Bumble (BMBL), SoFi Technologies (SOFI), Beyond Meat (BYND), monday.com (MNDY), Wendy's (WEN), Beazer Homes (BZH).
Today's IPOs include: Rivian Automotive (RIVN), Expensify (EXFY), CI&T (CINT).
Click here to log on to your account or learn more about E*TRADE's trading platforms, or follow the Company on Twitter, @ETRADE, for useful trading and investing insights
---
1 StreetInsider.com. Roblox Corp. (RBLX) October Trends Well Ahead of Expectations, Morgan Stanley Reiterates Overweight. 11/9/21.
2 TipRanks. Roblox Stock Forecast & Price Targets. 11/9/21.
What to read next...
11/09/21
Approval of the infrastructure package prompted a surge in the materials sector on Monday.
---
11/08/21
Market follows through on October momentum in first week of new month.
---
11/05/21
Another look at the ways some traders attempt to take advantage of the effect of time on options prices.
---