Got $5,000? Get a little something extra. Learn how1
For a short time only – until May 31 – we'll reward you with up to $2,500 when you open and fund a new account.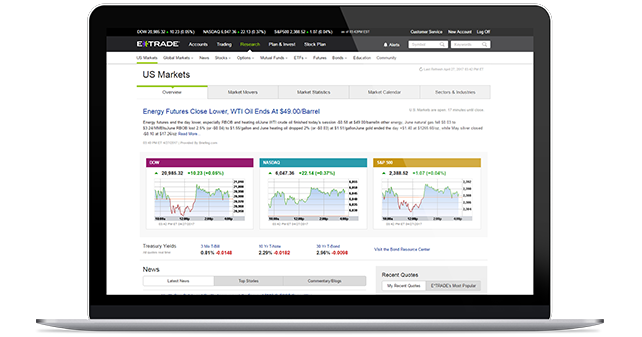 The financial markets at your command
Build a diversified portfolio. Manage your cash. Get investing guidance. It's all available on etrade.com—right at your fingertips.
Trade stocks, options, ETFs, mutual funds, and bonds (even IPOs if you qualify) with our user-friendly order ticket
Get quick access to your cash with free check writing, Bill Pay, ATM/debit card, and unlimited money transfers
Rely on our investing tools and complimentary guidance to plan for important financial goals, such as retirement
Let us do the investing for you with professionally managed accounts from E*TRADE Capital Managment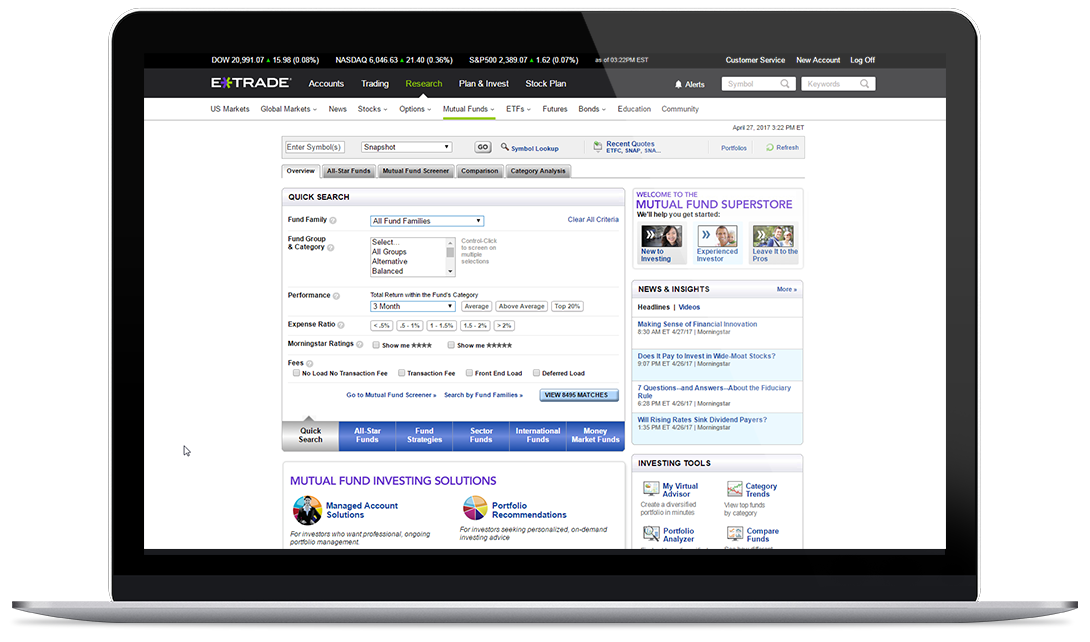 Go from insight to action in a heartbeat
Find a market opportunity. Validate your idea. Then strike when the time is right. At E*TRADE, you're in the driver's seat.
Stay on top of the markets with streaming real-time quotes, news, charts, and daily market commentary
Fuel your investing with free independent research from TipRanks, Credit Suisse, Thompson Reuters, and more
Use stock, mutual fund, bond, and ETF screeners to generate ideas based on the criteria you care about most
Hone and test your options strategies with a suite of professional-grade screeners, optimizers, backtesters, and analyzers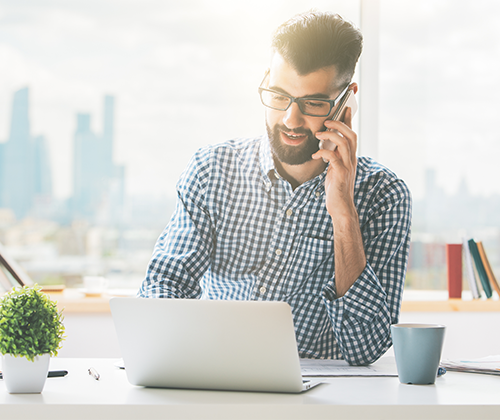 Make an investment in knowledge
When it comes to investing, knowledge is an important asset. We give you everything you need to learn on your terms.
New to investing? Take advantage of an array of videos, articles, and classes to help you get started on the right track.
Build your financial acumen with a library of education resources on topics that matter to traders and investors 
Attend monthly webinars and live events on everything from investing basics to complex trading strategies 
Get our take on current market trends and stay up to speed with exclusive market and active trader commentary