Survey reveals pent-up demand for online dating
Insights from Morgan Stanley Research
08/13/21
Summary: A recent study from Morgan Stanley Research shows consumers plan to further integrate dating apps and sites in their lives. The findings highlight demographic and secular trends that provide potential tailwinds for the online dating industry.
As more daters are willing to try their luck online, swipe-rights are becoming the pragmatic alternative to meet-cutes. And why not? From entertainment, to shopping, to exercise, people's natural inclination is to search on their phones for almost anything.
In fact, online dating has become a critical utility in the lives of many singles. According to recent findings from Morgan Stanley's proprietary survey and data arm AlphaWise, there is significant pent-up demand for online dating: 56% of US users plan to increase time on apps and sites over the next year. 
The findings highlight longer term demographic and secular trends that may provide tailwinds for an industry that's projected to amass more than 55 million users by 2025.1  
Key users swiping right
Among the roughly 2,000 US consumers polled,2 demand was greatest from Millennials (ages 25–34)—73% of whom plan to step up their online dating game in the next year. Only 4% of Millennials had intentions of winding down usage. Higher income users also appear eager to make more use of dating platforms, with 67% of individuals earning $100,000 or more indicating they would increase usage.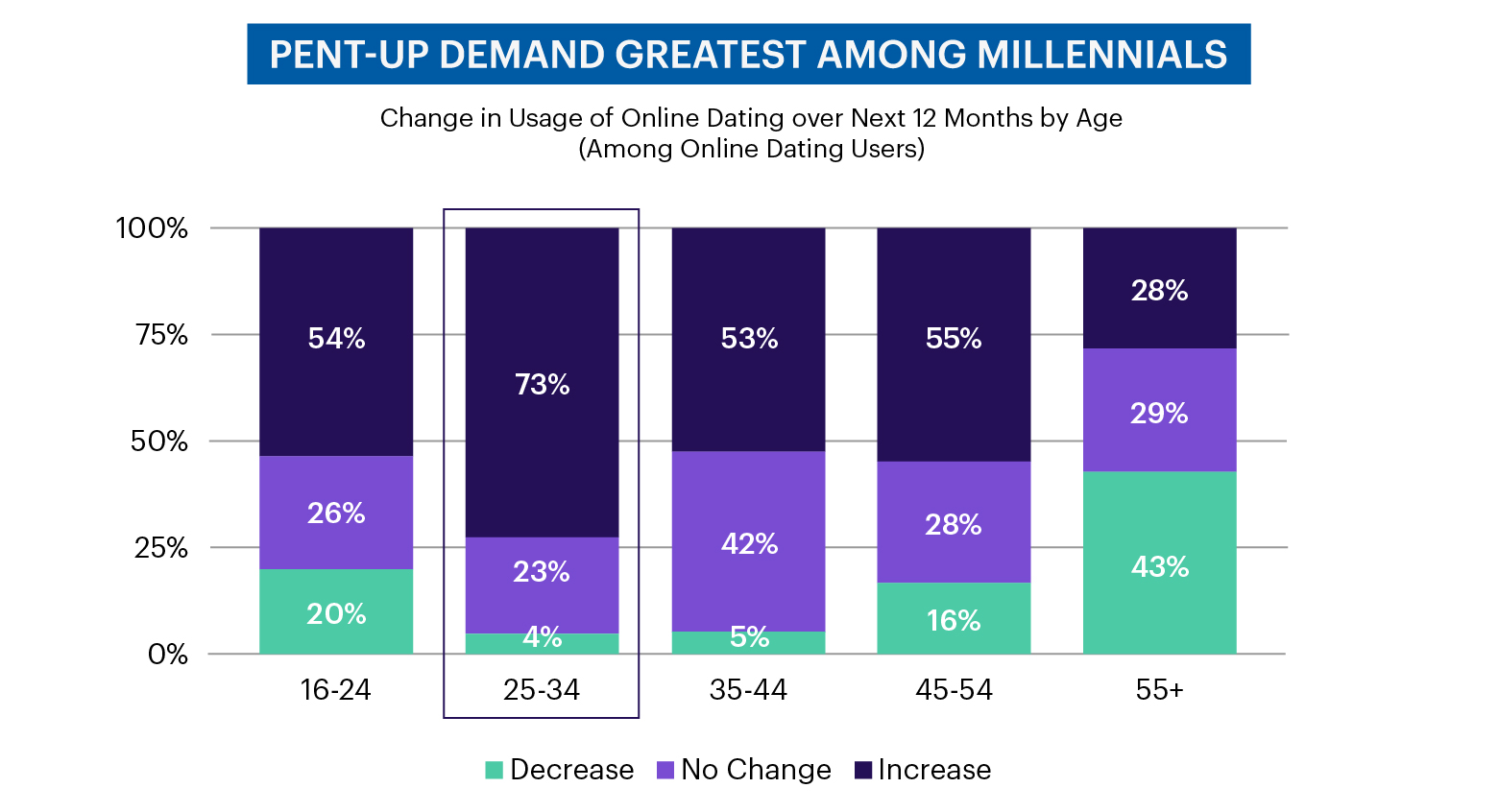 Source: AlphaWise, Morgan Stanley Research
---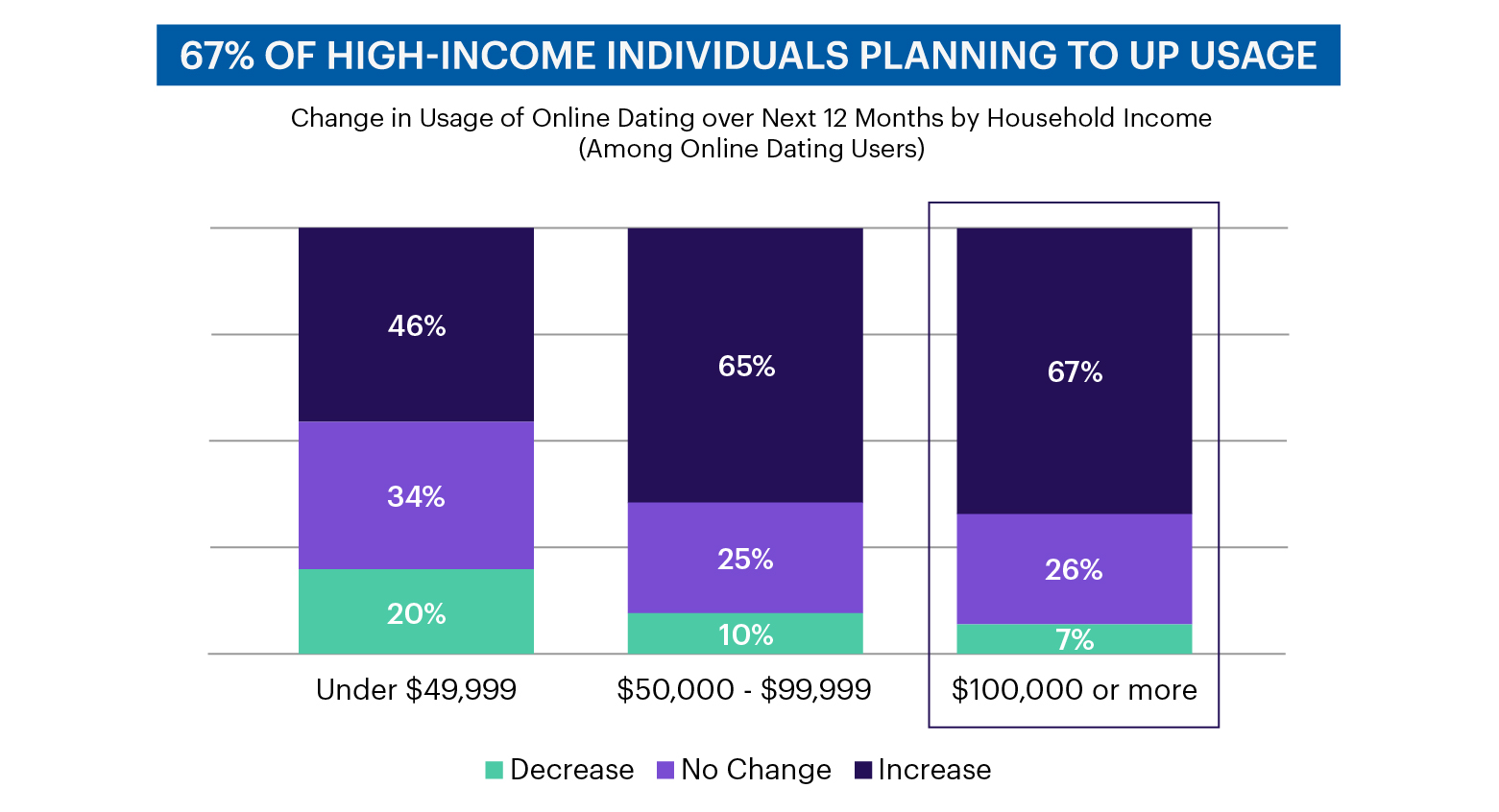 Source: AlphaWise, Morgan Stanley Research
---
These stats are significant for companies who cater to these clientele since increased engagement and utility means higher monetization rates and the potential to earn more revenue per user.
Lapsed users across ages and income levels could also help propel industry growth. Survey data found that while only 9% of the US population currently uses online dating, an additional 31% has used it in the past.
Sizing up the industry
With the global population shifting back to in-person interactions, the online dating space may be well positioned for growth, not just from pent-up demand, but also long-term demographic and secular trends. Morgan Stanley estimates there are more than 600 million global online singles ages 18–65 (excluding China). Additionally, their research found:
The US singles population is on track to reach some of the highest levels in history.
Younger generations, who are even more accustomed to interacting with others online, continue to become a larger portion of the singles population. 
On a global level, the online dating industry remains nascent. As much as 65% of the global singles population has never explored online dating services—but as internet access and smartphone penetration accelerate, that's changing rapidly. 
Investing considerations: While market share in the industry is dominated by a few major players, investors may consider a brand's exposure to key demographics and international markets where lower vaccination rates may hinder face-to-face socialization in the shorter term. Diversifying investments across the industry can offer broader exposure. As always, decisions should ultimately reflect individual goals, timelines, and risk tolerance.
The source of this article, Survey Shows Pent-up Demand For Online Dating, was originally published on June 23, 2021.
Statistica, as of 7/28/21
AlphaWise survey methodology: Online survey among ~2,000 16+ general population US consumers, conducted between May 17-21,2021. Total sample is representative of the US general population in terms of age, gender, and region. The margin of error on the total sample is ±1.8% at 90% confidence level; higher for subgroups.
What to read next...
As Gen Z joins Gen Y in the workforce, the two cohorts could deliver a sizable jolt to US GDP, consumption, wages, and housing—presenting a bullish outlook for investors.
---
As Millennials and Gen Z overtake Baby Boomers as the dominant US consumers, which retail categories might benefit from the generational passing of the prime spending baton?
---