Where to invest when China pulls back from COVID-zero
Morgan Stanley Research
08/29/22
Summary: Learn why Morgan Stanley expects China's economy to reopen by the end of 2022 and how investors can prepare for the shift from COVID-zero.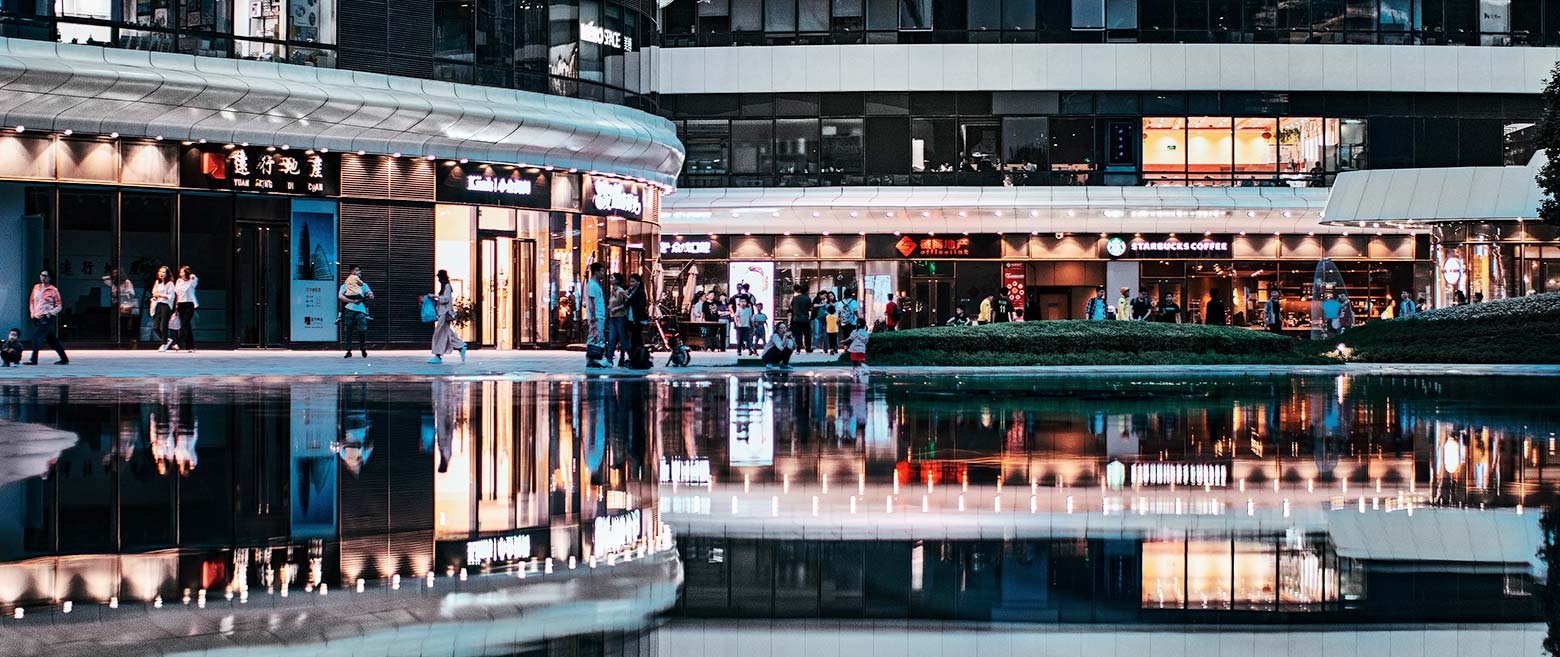 For more than two years, China has maintained the world's strictest measures to contain the coronavirus, with the effects reverberating through the country's economy and global supply chain as well as companies and sectors reliant on Chinese business.
But as Beijing makes moves to strike a balance between economic growth and pandemic containment, Morgan Stanley Research analysts believe China will reopen more broadly in the second half of 2022 and move away from its COVID-zero policy by the end of the year.
"COVID-zero calibrations show that China remains sensitive to economic objectives, albeit with a lag, and relaxing international and domestic travel marks a shift in Beijing's COVID policy, cementing economic recovery," says Robin Xing, Morgan Stanley's Chief China Economist.
This change will likely have just an incremental effect on overall global recovery, but will have widespread impact on sectors such as luxury goods and hospitality as Chinese consumers ramp up spending and traveling.
Growth versus containment
China's COVID-zero policy has emphasized stamping out transmission through mass testing, stringent quarantine requirements, travel restrictions, and lockdowns—all of which have kept Chinese citizens from buying and producing at usual levels.
For Morgan Stanley analysts, the question has been when, not if, China will ease its COVID-zero approach, especially as the highly transmissible Omicron variant has further challenged the effectiveness of strict containment tactics.
As expected, the country's leadership has been tweaking its COVID-management strategy and making progress toward the three main conditions Xing and team see as necessary for the shift to happen: higher vaccination rates, a clear protocol for managing healthcare capacity, and a change in public perception of the virus.
"There has been steady progress in some of these areas," Xing says.
Several signals indicate that China is reopening:
Relaxation of international travel rules, including reducing mandatory quarantine requirements and loosening testing measures
Easing of domestic travel rules and removal of flags on digital-travel passes for past visits to hot spots
A targeted campaign to increase inoculation rates among the elderly
Possibility of wider availability of domestic Covid treatment pills by year-end
Updated pandemic guidelines for containment and surveillance to ease overly aggressive local restrictions
The booster rate among those 60 and older was about 67% as of the end of July and could reach 80% or higher by late fall with China's National Health Commission's vaccination campaign for this age group.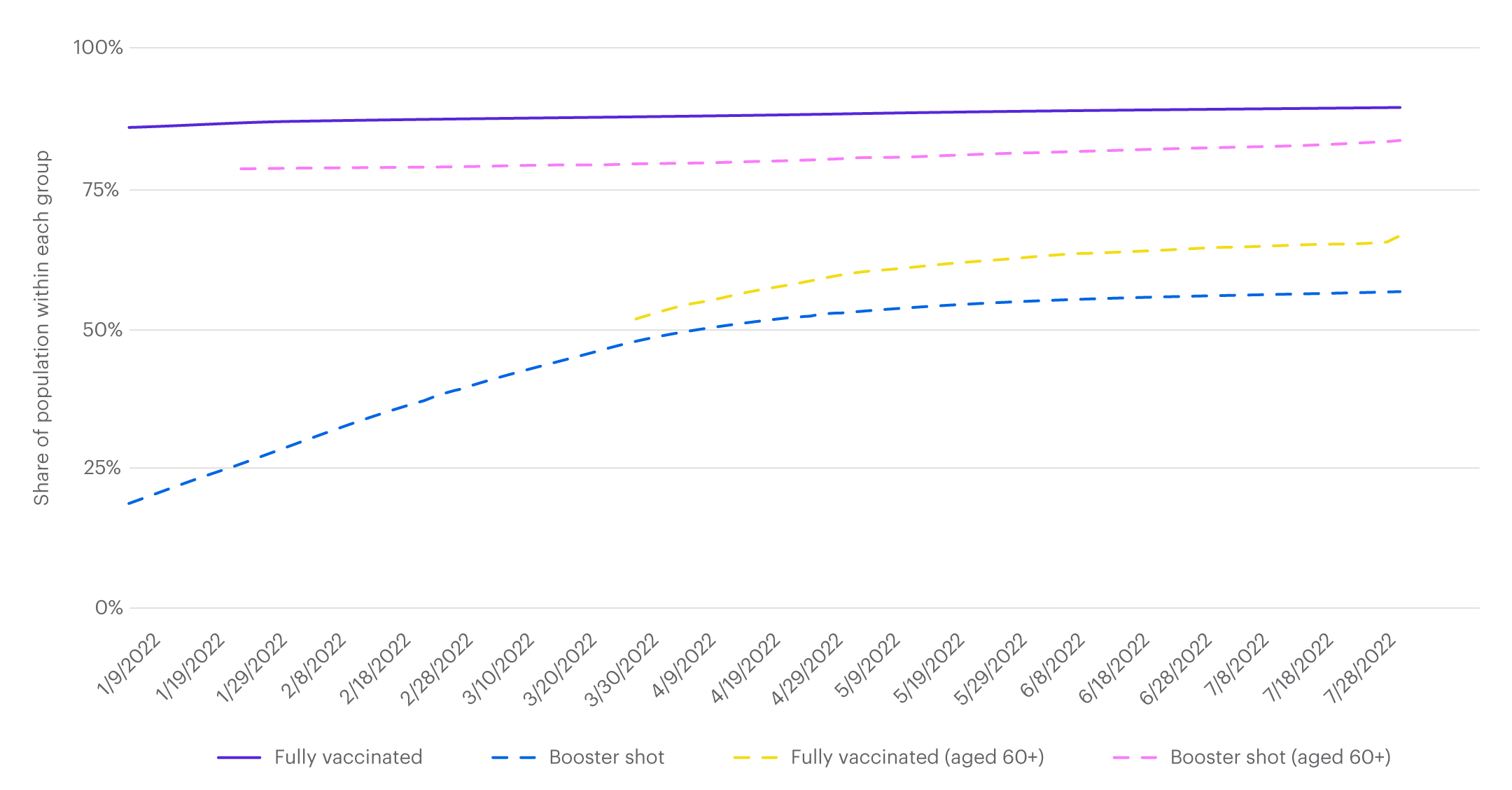 Source: NHC CEIC, Morgan Stanley Research
---
To be certain, any shift in COVID policy will require robust communication from the government to ensure the desired effect on the country's economic recovery. China's citizens will need a clear signal that the policy is easing and economic life is beginning to return to normal.
Where opportunity lies
Both US and European players are poised to gain from the transition. In the States, they include sectors set to benefit as Chinese consumers ramp up discretionary spending: branded apparel and footwear, technology and transportation, retail food. Looser travel restrictions bode well for the European luxury good, including apparel, footwear, and consumables.  
And after two years of restricted economic growth, China's own economy will also benefit as a new COVID-management policy emerges. "Locally, the effect of scaling back from COVID-zero will aid recovery of domestic tourism, with full benefits to related industries of domestic aviation, gaming, hotels and retail to be realized next year," says Xing.  
What to read next...
The global economy is becoming increasingly decentralized as part of a trend dubbed "slowbalization." A look at what that means for supply chains and which countries and sectors may benefit from the shift toward a multipolar world economy.
---
Learn why municipal bonds align with ESG principles that could make a positive impact and why these securities may be undervalued.
---