When volatility and time top price
DVA down Thursday after 22% Wednesday sell-off
Some put options traded lower early Thursday
Implied volatility eased despite further stock losses
Around 10:10 a.m. ET on Thursday, International Business Machines was trading around $141.45, down roughly 1% for the day. At the same time, its October $142 put option was trading at $1.60, up $0.65 from Wednesday's close. Nothing unusual about that: A stock falls, and its at-the-money (ATM) put option increases in value.
Now consider what was happening in the options of dialysis company DaVita (DVA). With the stock down approximately 2% at $74.38, the October $75 put was trading at $2.49—a little below Wednesday's close of $2.60: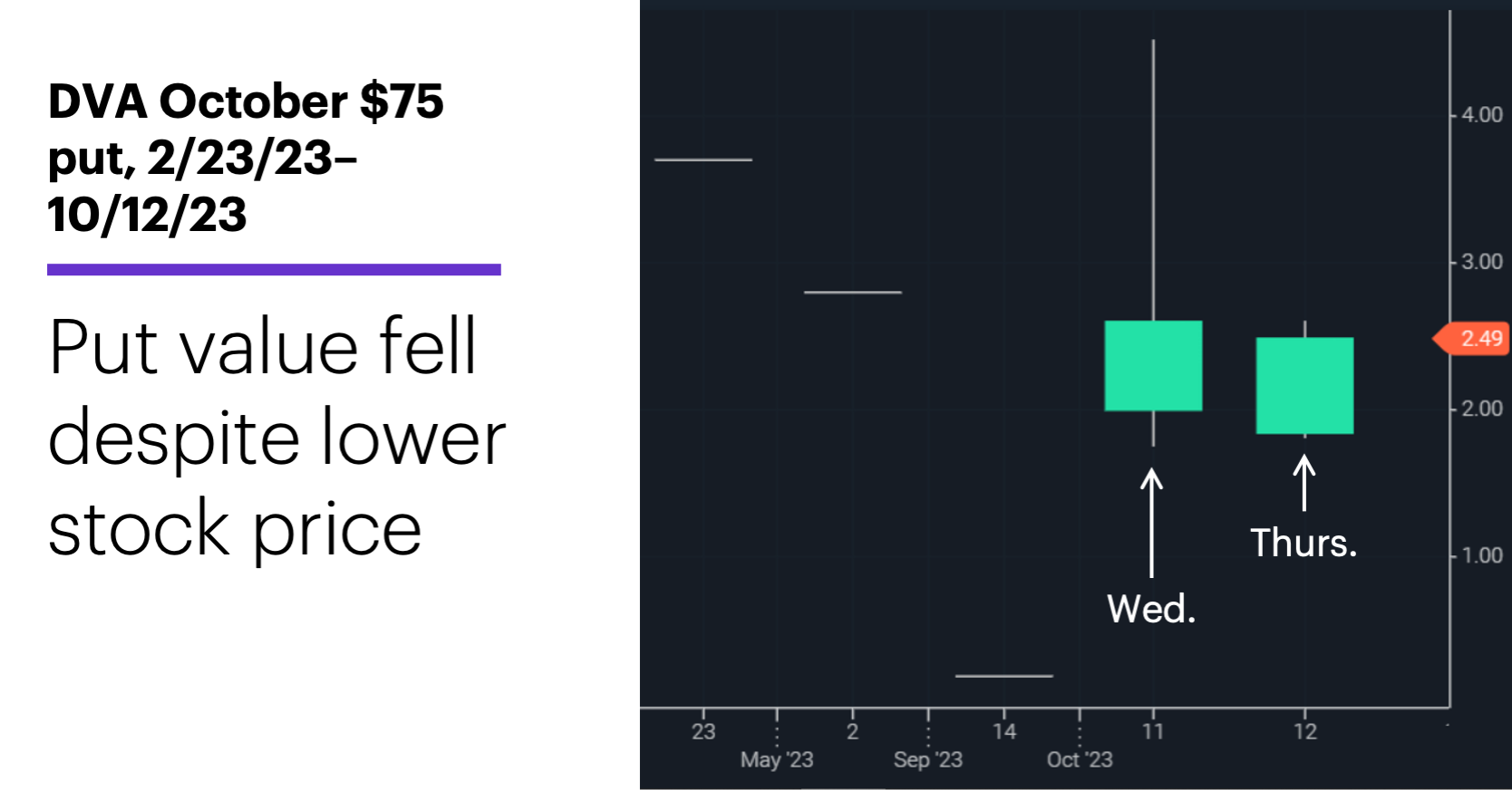 Source: Power E*TRADE. (For illustrative purposes. Not a recommendation.)
---
Why would DVA's put options lose value even though the stock was down twice as much as another stock that saw its puts gain value? The answer lies, at least partly, in DVA's implied volatility (IV). On Wednesday, DVA had one of the biggest IV increases of the day, jumping 17.85 to 55.27: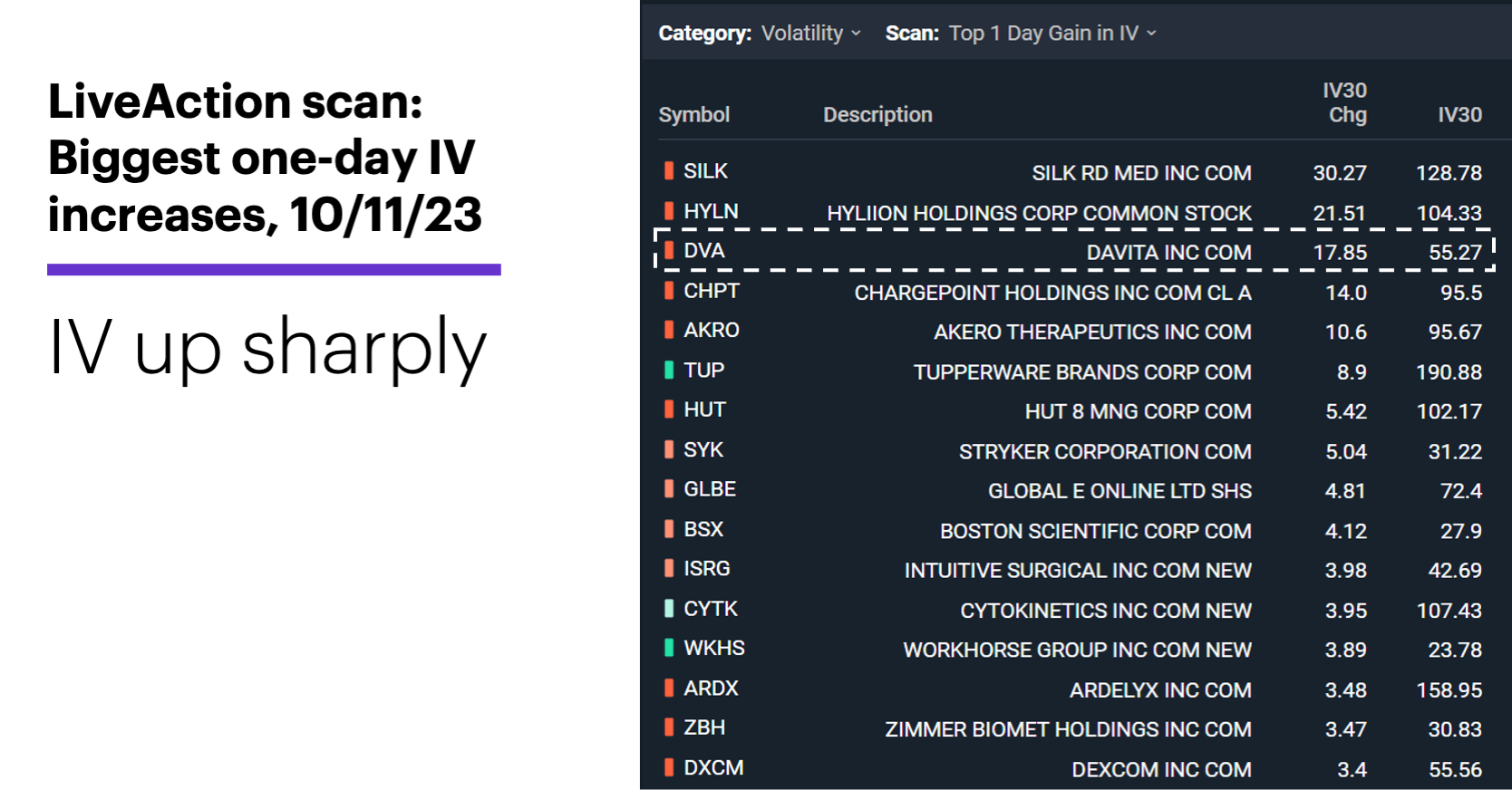 Source: Power E*TRADE. (For illustrative purposes. Not a recommendation.)
---
The IV surge occurred as the stock fell as much as 22% intraday before closing down 16.9%. That sell-off followed news that clinical trials of Novo Nordisk's (NVO) Ozempic showed success in slowing kidney disease in diabetes patients,1 a development that could theoretically decrease demand for dialysis: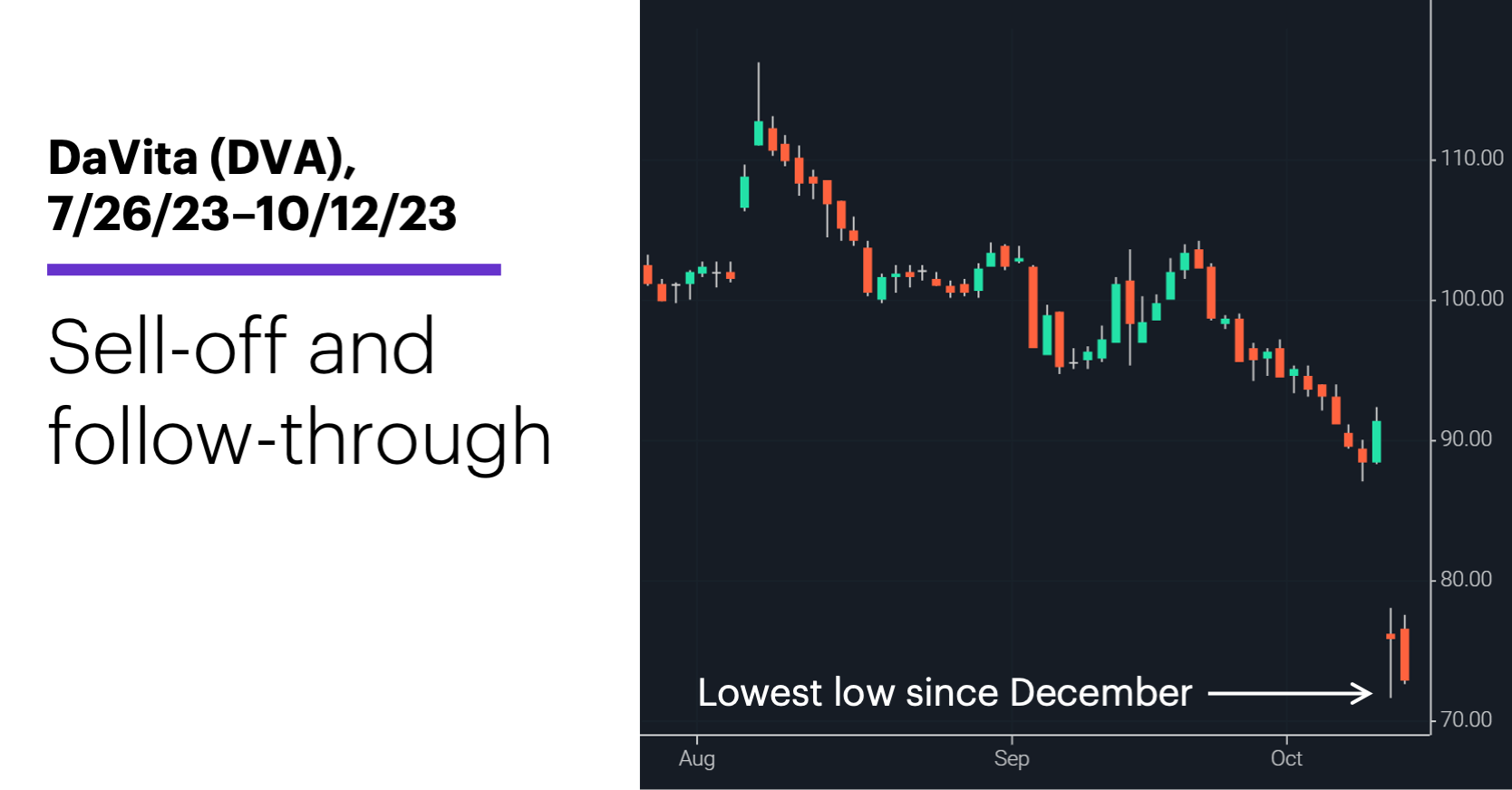 Source: Power E*TRADE. (For illustrative purposes. Not a recommendation.)
---
But even after DVA extended its losses on Thursday, the October $75 put option's IV remained lower than it had been on Wednesday. Around 11:15 a.m., when DVA was down roughly 3.7% for the day, the October $75 put's IV was below 49. (At that point, though, the option was trading higher on the day.)
If that sounds counterintuitive, remember that IV is an estimate of future volatility. After the initial shock of Wednesday's sell-off was absorbed, it makes sense that the options market would expect less near-term volatility in DVA, since additional "bad" news of the same perceived magnitude was unlikely to occur before the option expires on October 20.
The episode illustrates a few key options-trading principles. First, lower IV typically translates into lower options premiums, while high IV often has the opposite effect. Second, options lose more time value the closer they get to expiration. Finally, because IV spikes can be fleeting, option sellers may have a limited window to take advantage of potentially overpriced options, while option buyers are wise to avoid positions that could lose value even if the underlying stock moves in the direction they expect it to.
Market Mover Update: November WTI crude oil futures (CLX3) surrendered a sizable intraday gain to close lower for the third time since Monday's big rally (see "Oil move has precedent"). Option Care Health (OPCH) extended its pullback, falling to its lowest level since July 13 (see "Breaking down a "big" trade").
Today's numbers include (all times ET): Import and Export Prices (8:30 a.m.), Consumer Sentiment (10 a.m.).
Today's earnings: Blackrock (BLK), Citigroup (C), JPMorgan Chase (JPM), Progressive (PGR), PNC (PNC), UnitedHealth (UNH), Wells Fargo (WFC).
Click here to log on to your account or learn more about E*TRADE's trading platforms, or follow the Company on Twitter, @ETRADE, for useful trading and investing insights.
---
1 Reuters. Ozempic's early success in kidney disease trial drags on dialysis stocks. 10/11/23.
What to read next...
10/11/23
Find out what the crude oil market has done after making moves like the one that unfolded in recent days.
---
10/09/23
Seasonal volatility on full display as bulls capture week with late rally.
---
10/06/23
Health care stock's options landscape shifts as stock attempts to hold off trend.
---