What's behind the crypto bear market?
E*TRADE from Morgan Stanley
02/14/23
Summary: Learn what factors contributed to the recent cryptocurrency bear market and what to watch in the years ahead.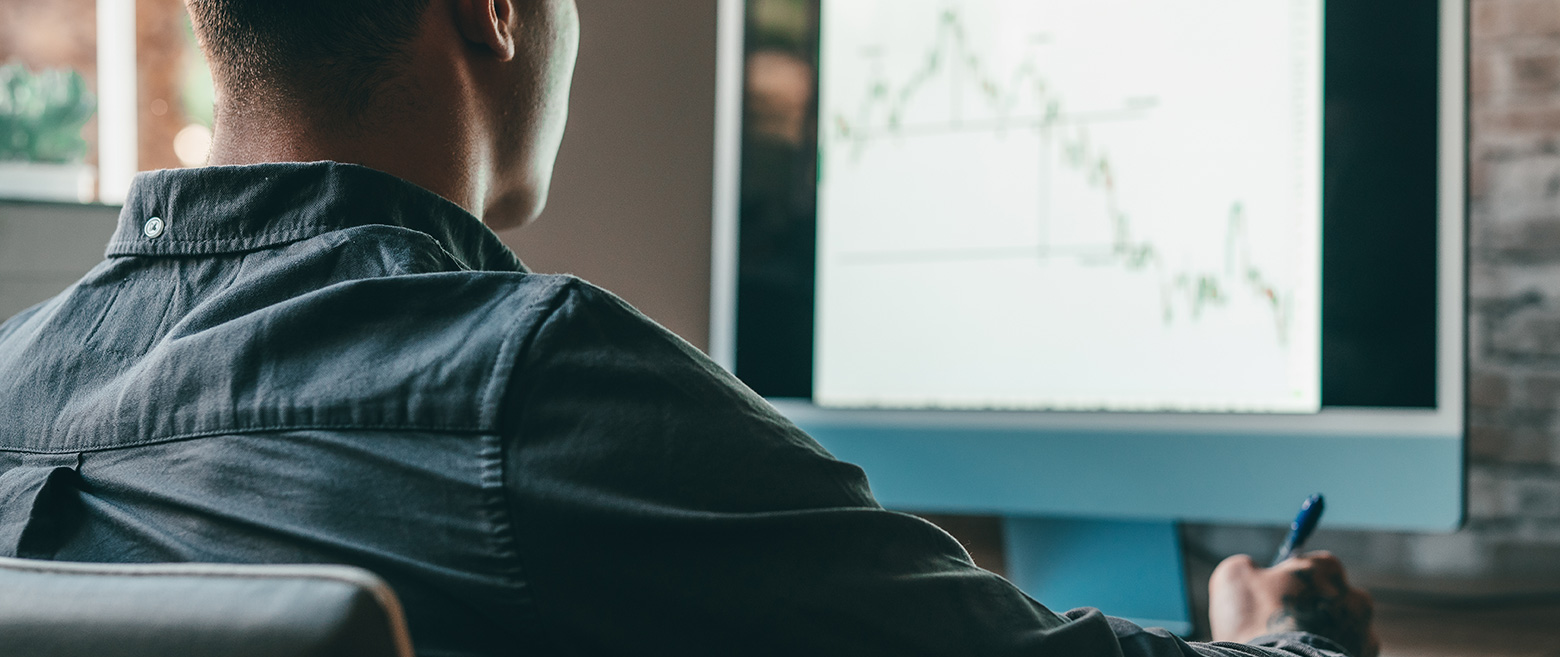 Cryptocurrencies experienced significant volatility in 2022. While that's to be expected in the crypto market, it's nonetheless unnerving for investors.
Interest in Bitcoin spiked in 2020 amid a rally that reached its peak in November 2021. Since then, cryptocurrency prices, including bitcoin, have fallen drastically. Between November 2021 and December 2022, bitcoin's price fell 75%.1
Let's explore what factors contributed to the current state of the market and what themes may be important in the longer term.
Tighter central bank policy
Bitcoin's growth has tracked global money supply growth. The stimulus provided by central banks and governments, including the US Federal Reserve, throughout the pandemic was a key driver of the crypto bull market. As the Fed indicated in late 2021 it would raise interest rates and decrease its balance sheet—i.e., tightening money supply—the crypto market weakened.
Fallout from the collapse of crypto institutions
Leverage—the use of borrowed funds to trade more cryptocurrency—had been growing in the industry amid the bitcoin bull market in 2020 and 2021. Individual traders as well as institutional investors looking to participate in the rally borrowed against bitcoin or related securities to make outsized bets on crypto prices.
Additionally, many crypto companies had been raising capital using tokens, digital assets that can represent a unit of value of a blockchain-based organization. A token's value is often speculative—it does not offer the token holder a stake in the company (like equity) or a claim on assets in the case of a default (like debt). Those tokens were then used as collateral for leverage.
In both instances, leverage can contribute to market volatility, but the implications are amplified in a bear market when prices are falling.
In November 2022, a major, overly leveraged cryptocurrency exchange filed for bankruptcy, rattling the broader crypto market. The collapse called into question the integrity and transparency of market infrastructure.
The bitcoin halving cycle
Bitcoin creation follows a four-year cycle, and its price behavior, historically, has appeared to follow three distinct phases. First, there's typically a rapid rise in price. The rise in price is, secondly, followed by its peak and then a bear market. Third, prices move sideways, which may eventually lead to a new bull market. 
Bitcoin price behavior around halving dates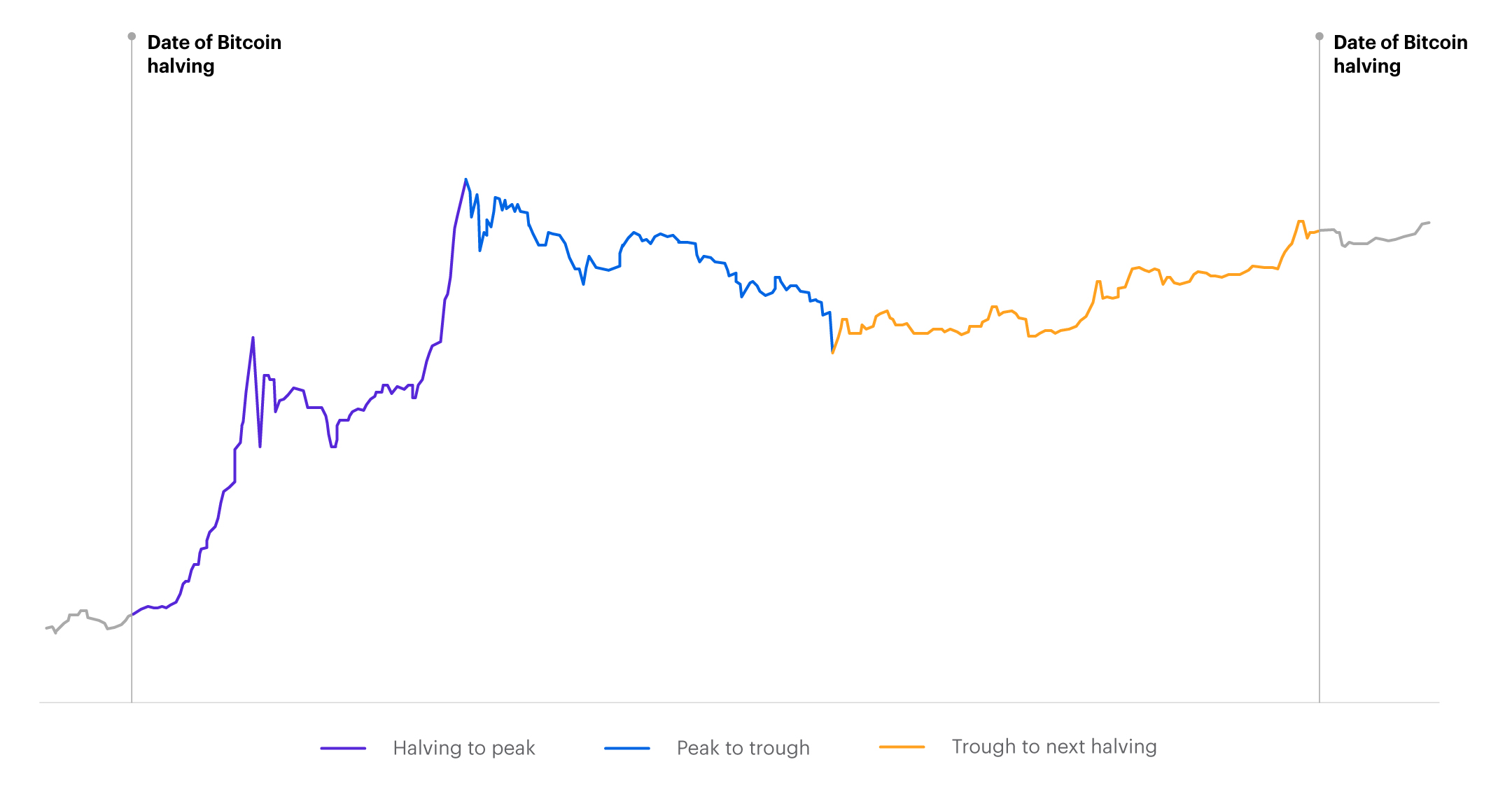 Source: Morgan Stanley Research. For illustrative purpose only.
---
The speculation among investors today is whether bitcoin's price may be moving out of the second phase and into the third, but because of the asset's relatively short history, there's little available data to help answer that question.2 While bitcoin's price has historically observed different phases to the cycle, that doesn't necessarily mean this pattern will continue in future halvings.
Looking ahead
Although some cryptocurrencies staged a comeback at the start of 2023, no one knows for sure if the rally has legs. Volatility is likely to continue in the near term as monetary policy remains tight and the industry grapples with residual fallout from the collapse of some major crypto companies.
Two important themes for the longer term are:
Regulation. Recent events have drawn more attention to the risks associated with crypto investments which may motivate regulators to expand their oversight of the industry.
Infrastructure and technology. Despite crypto's extreme volatility, some experts believe that blockchain and distributed ledger technology will be developed further in the future and increasingly used to trade financial assets.
As always, investors and traders in the space should make sure they are educated and fully understand the related risks.
Morgan Stanley Research, "Cryptocurrency: Latest news and markets," December 12, 2022
Morgan Stanley Thoughts on the Market, "When will Crypto Prices Find a Bottom?," August 12, 2022
What to read next...
Learn what cryptocurrency is, how to invest, and the risks.
---
Here's what to know about Bitcoin, including how it works and the risks of investing.
---
The price of cryptocurrencies is impacted by supply and demand. Here are several factors that may affect the price of Bitcoin.
---