Dueling volatility catalysts
SRPT volatility near highest levels of past year
Two potentially market-moving events on horizon
Current positions concentrated in OTM calls
Even when the broad market is relatively quiet, as it has been so far this week, there's always something going on beneath the surface—even if it may not look that way at first.
Biopharma stock Sarepta Therapeutics (SRPT) has been a little sleepy itself the past few days, trading mostly sideways, but it also sat atop the LiveAction scan for 52-week high implied volatility (IV) on Tuesday morning: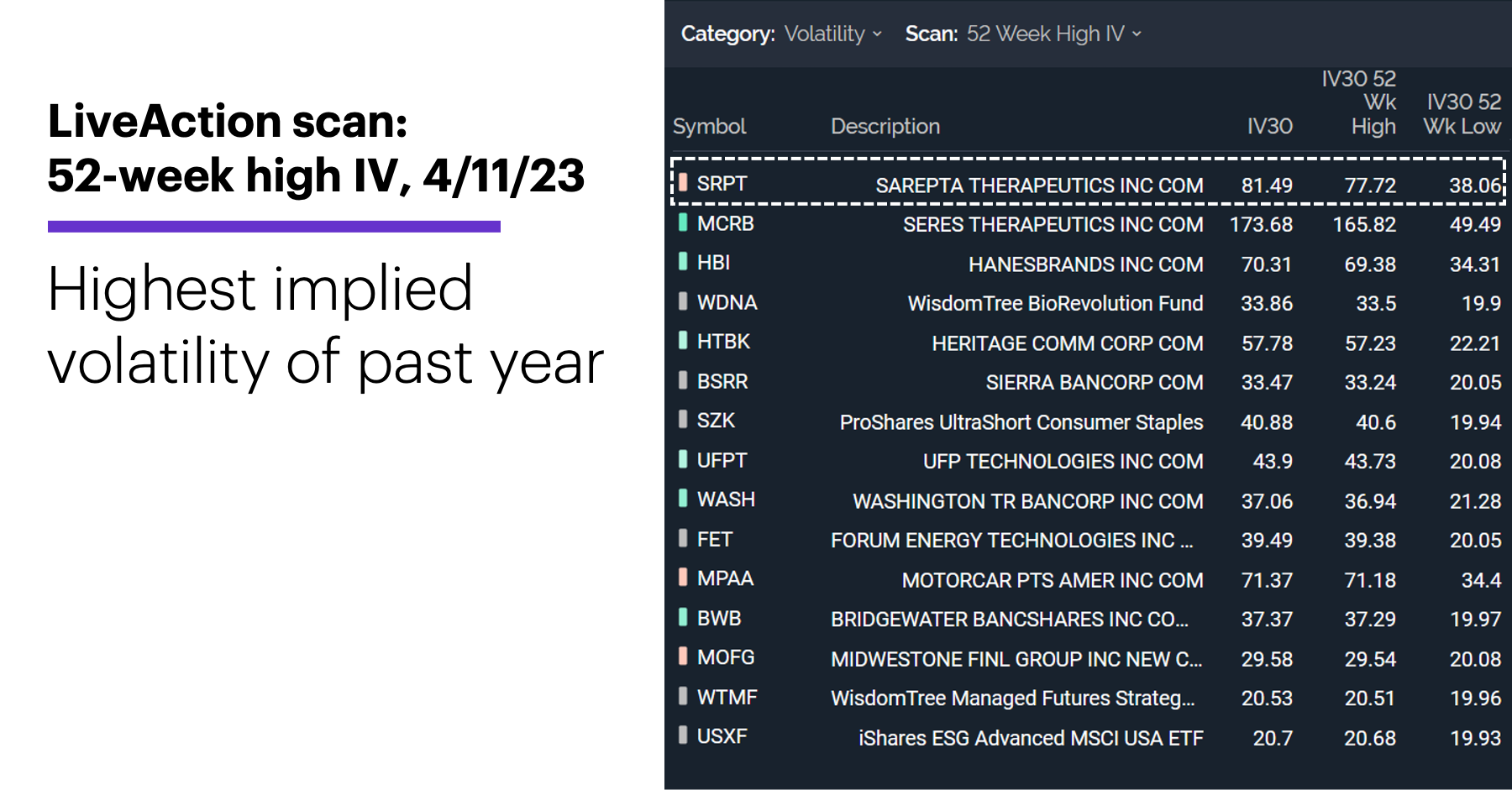 Source: Power E*TRADE. (For illustrative purposes. Not a recommendation.)
---
And that wasn't the only volatility signal SRPT was flashing—it also appeared on the LiveAction scan for biggest one-week IV increases. Because IV is forward looking, this suggests the market is expecting heightened volatility in the stock in the near future—and that could be tied to SRPT's next earnings announcement, currently scheduled for early May. Because of the uncertainty surrounding earnings, IV often climbs in the weeks leading up to an announcement.
But perhaps more importantly, SRPT also landed on Monday's scan for biggest one-day IV gains—an additional IV boost that followed the Food and Drug Administration's (FDA) announcement that it would hold a meeting on May 12 to review the company's gene-therapy treatment for a certain type of muscular dystrophy, something that it had previously said it would not do.1 Not surprisingly, SRPT's volatility constellation showed IV was highest for the May 12 weekly options and the May monthly options: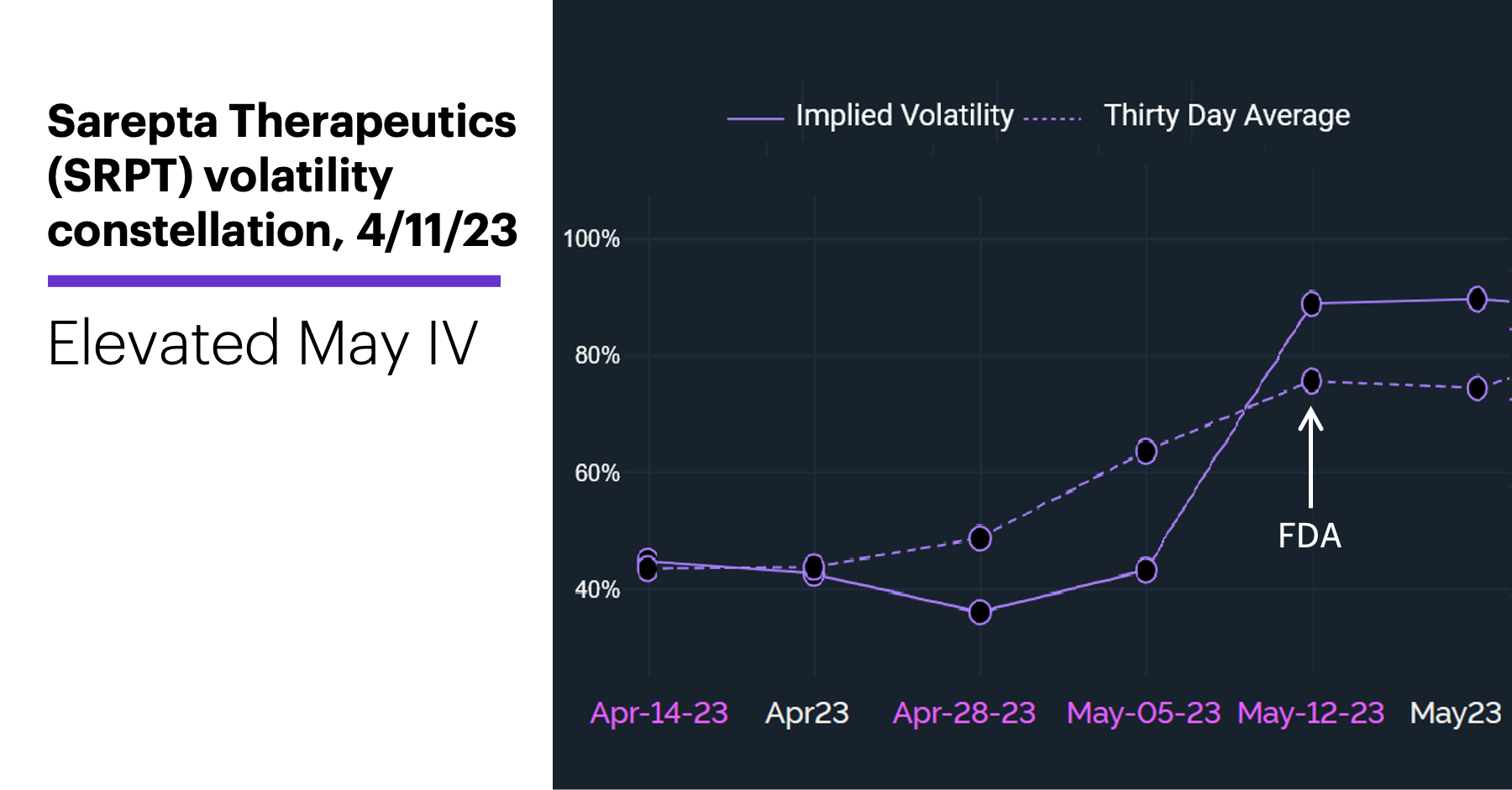 Source: Power E*TRADE. (For illustrative purposes. Not a recommendation.)
---
It's not often earnings get overshadowed by another nearby event on the market calendar, but traders may be wondering whether this will be one of those times.
Shortly after SRPT's last earnings announcement on February 28, Morgan Stanley & Co. analysts upped their rating on the stock from Equal-weight to Overweight.2 The stock jumped 19% on March 1, then tacked on an additional 7% over the next three days to reach its highest level (around $160) since January 2021. Then, on March 17, the stock tumbled 18% when the FDA first announced it was going to review the muscular dystrophy treatment, presumably increasing uncertainty about the drug's forward path: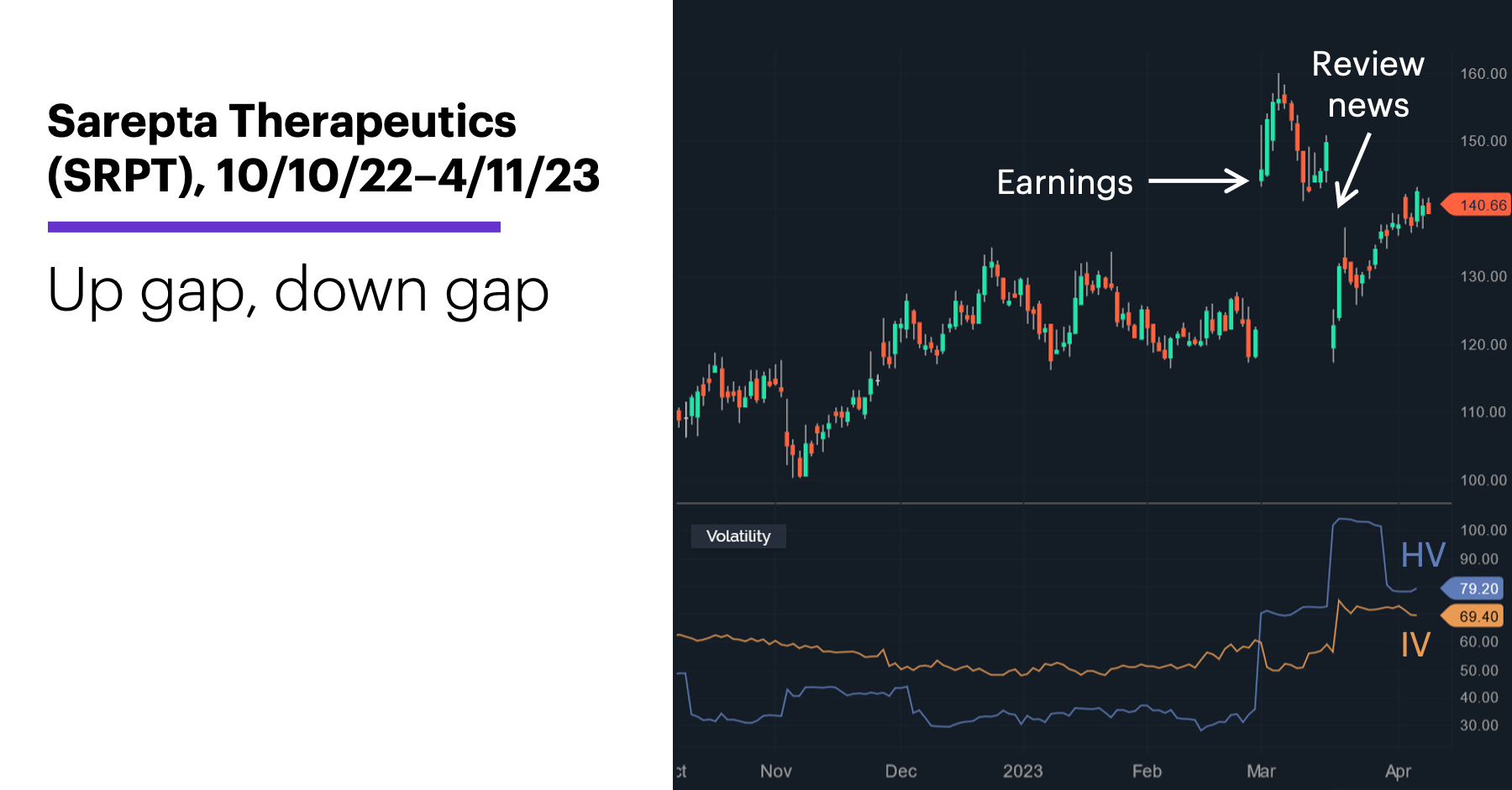 Source: Power E*TRADE. (For illustrative purposes. Not a recommendation.)
---
As of Tuesday, SRPT was up a little more than 13% since March 17—still a little below where it was trading after its last earnings release.
Given these twin uncertainties, not only could SRPT's IV be higher than average over the next three weeks—potentially making its options much more expensive than they would be otherwise—IV may not decline soon after earnings, as is typically the case with most stocks. Options sellers comfortable with such uncertainty may find those premiums attractive, but buyers would be wise to factor this reality into their trade strategies, regardless of their outlook on the stock.
A final note: Although there wasn't much activity in SRPT options yesterday, the single biggest concentration of existing positions (more than 8,000 contracts) was in out-of-the-money May monthly calls, including 4,300 in the May $145 calls.
Today's numbers include (all times ET): Mortgage applications (7 a.m.), Consumer Price Index, CPI (8:30 a.m.), Atlanta Fed Business Inflation Expectations (10 a.m.), EIA Petroleum Status Report (10:30 a.m.), FOMC minutes (2 p.m.).
Today's earnings include: Apogee Enterprises (APOG).
Click here to log on to your account or learn more about E*TRADE's trading platforms, or follow the Company on Twitter, @ETRADE, for useful trading and investing insights.
---
1 Reuters. Sarepta slides as FDA about-turn on panel clouds gene therapy approval path. 3/17/23.
2 Business Insider. Sarepta Therapeutics was upgraded to a Buy Rating at Morgan Stanley. 3/1/23.
What to read next...
04/10/23
Market turns cautious as latest round of economic data surprises to downside.
---
04/05/23
Do traders think the recent move in crude oil—and energy stocks—represented a real shift or a temporary disruption?
---
04/04/23
Every year is different, but in recent decades the market has often had a spring in its step in April.
---