Make the most of your stock plan account
You've got a stock plan account and access to a linked brokerage account from E*TRADE. The convenience of viewing your assets all in one place may help you when planning for a well-rounded portfolio to achieve your short- and long-term goals.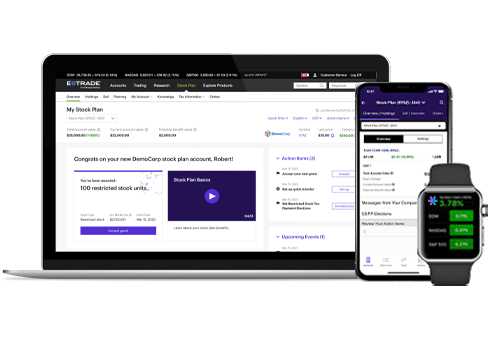 How does it all work?
Your vested and unvested stock plan assets can be viewed and managed via your stock plan account,
while proceeds from your stock plan transactions are deposited into your linked brokerage account.
Your stock plan account1
Where you can manage your equity benefits
View the value of your stock plan holdings

Make plan elections

Exercise options or sell stock plan shares

Access information and plan documents

 Your stock plan proceedskeyboard_arrow_right
Your linked brokerage account
Where proceeds from your stock plan transactions are deposited
Buy stocks, mutual funds, ETFs, and bonds
Build a diversified portfolio2
Move money to your account with free Transfer Money3

Use our tools to help plan for retirement
Start investing with your linked brokerage account
We offer a mix of investment solutions to help meet your financial needs–short and long term.
Bring your retirement assets under one roof
It's easier to manage your money when it's all in one place. At E*TRADE, you can roll over a former employer plan to an IRA.4
Tap into professional money management
E*TRADE Capital Management can build a portfolio customized to your needs.
Receive complimentary investment guidance
Explore ways to incorporate your stock plan into your overall financial plan.