The state of cybersecurity analytics
Insights from Morgan Stanley Research
06/30/21
Summary: As companies have moved their operations, applications, and digital services into the cloud, they are faced with new security challenges. As a result, the field of cybersecurity analytics is evolving to enable more effective threat prevention, detection, and response.
The migration to cloud-based applications and digital services has been humming along for years. From retail to manufacturing, many large enterprises run most of their operations in the cloud.
But as applications hosted by companies in their own offices have moved to the public cloud, significant security challenges have accompanied that migration. A more distributed and dynamic IT architecture makes it harder to monitor and analyze the performance of these applications.
Data often gets trapped in silos operated by different vendors, hindering the analytics capabilities, and limiting a company's overall ability to detect and quickly respond to threats. Going forward, security operations teams need a more integrated platform to detect, monitor, and respond to threats in the most efficient way possible.
That's why a consolidated, unified observability platform (a system for monitoring the performance of cloud-based applications) emerges—to replace once siloed capabilities for performance monitoring provided by an ecosystem of monitoring vendors.
Sizing up the next-gen cybersecurity market
The trend towards the convergence of observability and analytics to enable next generation cybersecurity could result in significant market share shifts among current players in both the security and observability ecosystems. Together, cybersecurity analytics and observability represent a large addressable market that is forecasted to grow from ~$18 billion today to $28 billion by 2024.
Security analytics and observability is expected to grow to $28 billion by 2024.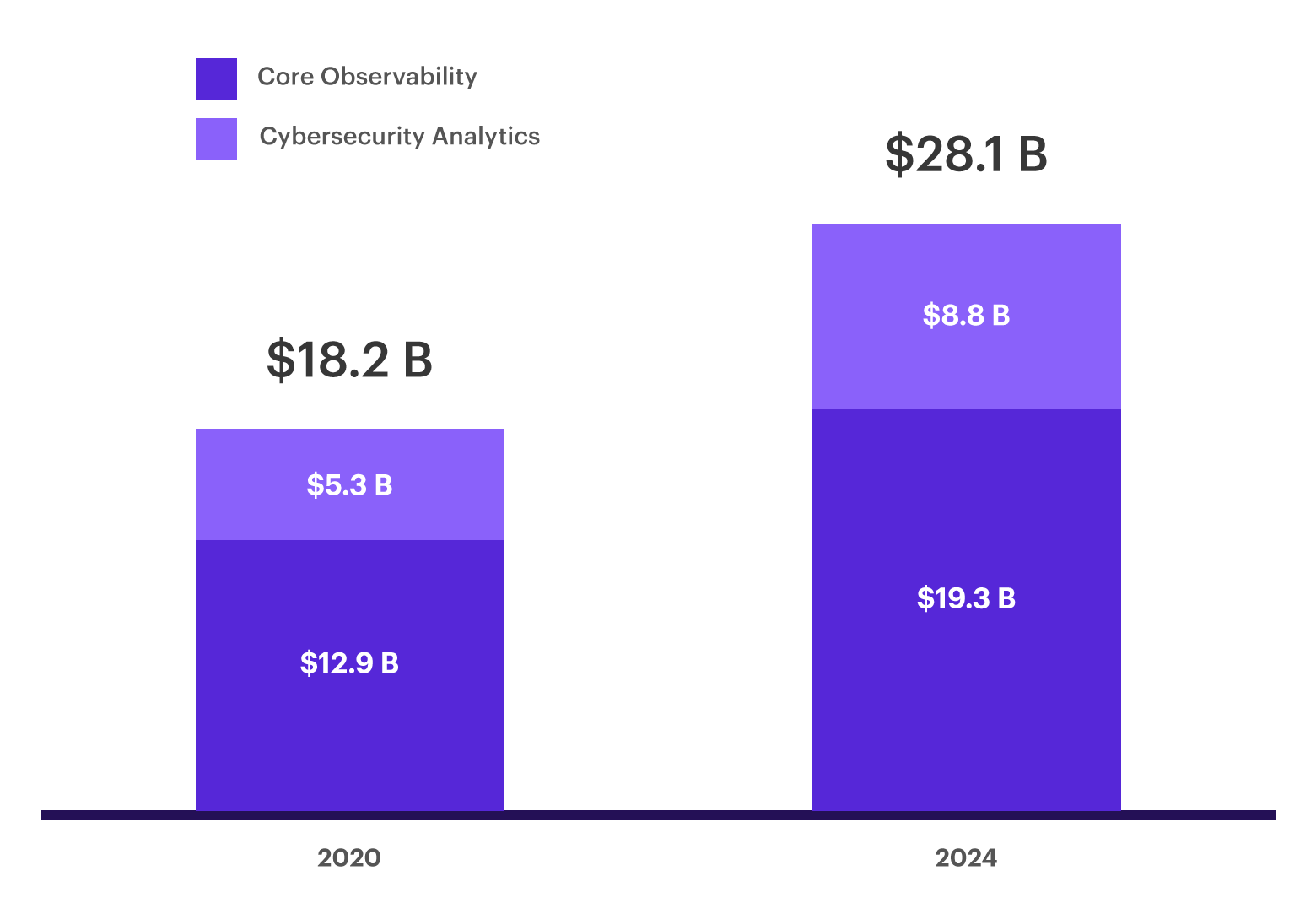 Source: IDC, Gartner and Morgan Stanley Research
---
Further, mergers and acquisitions have picked up for security firms looking to add observability to their set of services, while observability players are rapidly adding security capabilities.
The winners in this market could potentially grow by at least twice the rate of the overall market. Cloud security vendors are expected to be top performers in the category and generate much of the growth, at least in the short-term.
The benefits of a unified security and observability system
As security analytics and observability become more interconnected, companies can vastly improve their ability to detect security threats, mostly by centralizing data from multiple sources in a dedicated cloud data repository. That improves security teams' ability to correlate a smaller number of meaningful security incidents into automated alerts.
Security teams become more productive as their detection accuracy and reaction time improve. They also share real-time threats across all security services, increasing their speed to address the issue, while also accelerating their ability to drive value for the organization.
What investors should consider
Those who are looking for investing opportunities covering a wide array of these companies with a single investment may look to mutual funds or exchange-traded funds (ETFs) focused on cybersecurity.
ETFs and mutual funds are both collections, or "baskets," of individual stocks, bonds, or other assets—in some cases hundreds of them—all pooled together. When an investor buys a share of the fund, they own a small piece of this basket of assets. ETFs and mutual funds are similar in that they give a broad range of investment choices and inherently offer greater diversification compared to a single stock. That said, there are distinct differences in these investment choices. The price of an ETF fluctuates throughout the trading day. ETFs also tend to have lower fees and are typically passively managed—mirroring the performance of an index. On the other hand, a mutual fund's price (commonly referred to as net asset value) is calculated just once a day, typically has higher expense ratios, and is managed by professional fund managers who actively try to outperform a market or index.
To learn more about the distinctions between mutual funds and ETFs, check out ETFs vs. mutual funds: Understand the difference.
The source of this article, What's New in the 'New Stack'?—Security and Observability Collide, was originally published on April 27, 2021.
What to read next...
Along with stocks and mutual funds, ETFs are a popular type of investment. They offer diversification, typically low investing costs, among other potential benefits. But what exactly is an ETF?
---
Mutual funds are a common type of investment found in the portfolios of many investors. In fact, if you have a retirement account such as a 401(k), you may already own a mutual fund. They are a simple way to diversify your portfolio and potentially benefit from professional management.
---