CIO survey reveals top cybersecurity priorities
Insights from Morgan Stanley Research
07/26/21
On the global political stage, nations are scrambling to better understand and prevent cyberattacks that continue to grow more common amid a time of rapid change.
The same is true in the business world. Companies face an increasing array of security challenges as operations, applications, and digital services transition to the cloud. At the same time, remote work has forced companies to evolve with the demands of a distributed IT environment.
Morgan Stanley's recent survey of Chief Information Officers revealed that security software is a top priority, as companies invest heavily to safeguard network and application access and detect cyber threats. 
Here are some additional highlights that may interest investors eyeing the cybersecurity space.
IT budgets bouncing back
Even before the pandemic disrupted global trade and commerce, CIOs were in the midst of a wholesale migration to data-driven digital solutions. Recent events have only reinforced that trend. Digital transformation remains #1 on CIO priority lists, with security software and cloud computing also top of mind.
After tightening wallets in 2020, execs appear optimistic that budgets will rebound to support these priorities. For 2021, IT budgets are expected to increase 3.9%, and longer term, almost 40% of CIOs see IT budgets growing as a percentage of overall business revenues. In particular, CIOs expect the strongest growth in software spending, followed by communications, services, and hardware.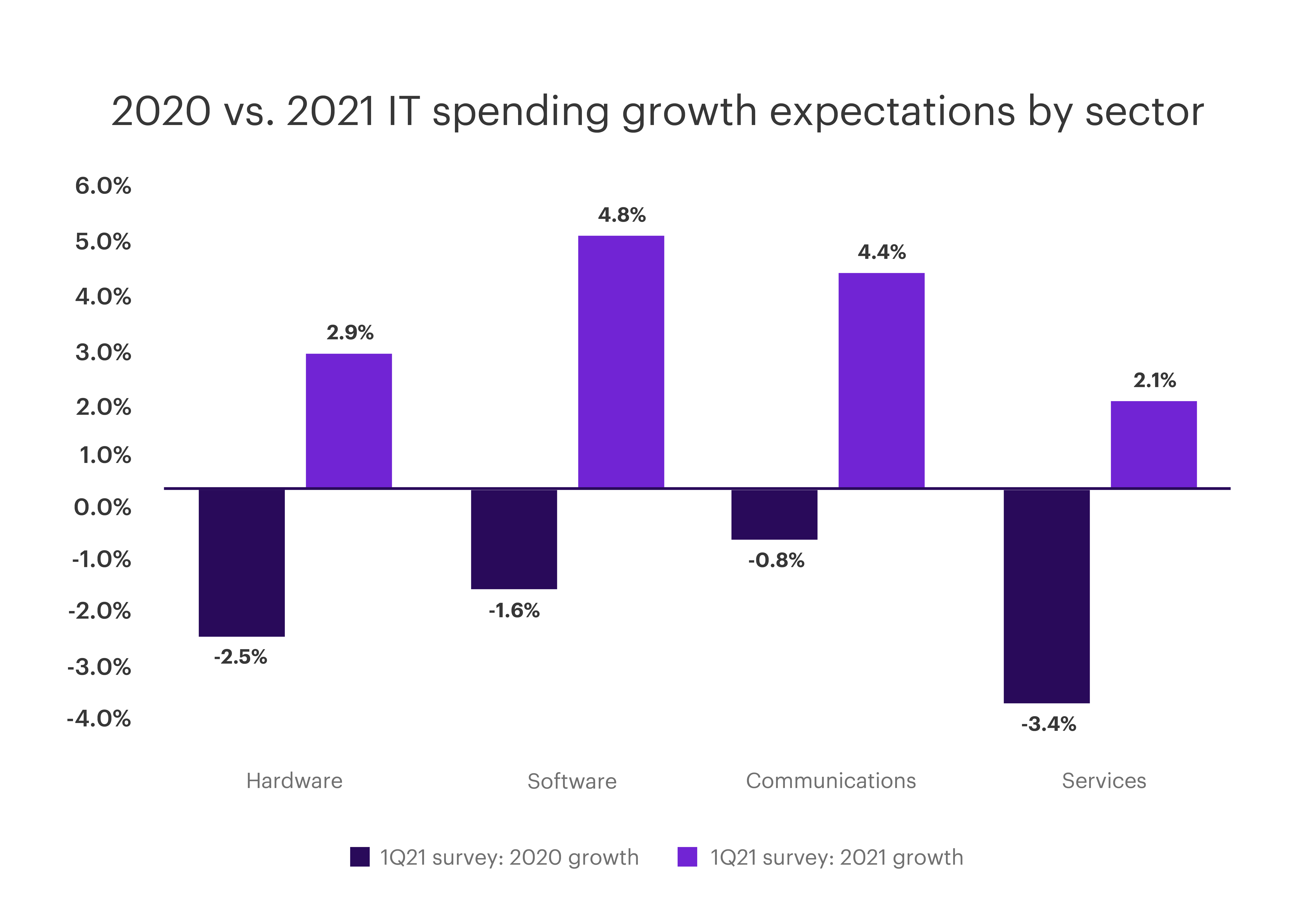 Source: AlphaWise, Morgan Stanley Research
---
Key areas of growth
The survey also revealed that increased cloud migration is a net positive for security spend. CIOs reported a continued uptick in the percentage of workloads currently running in the public cloud at 26% versus 23% a year ago. Accordingly, they see spending growth in key areas that support security initiatives: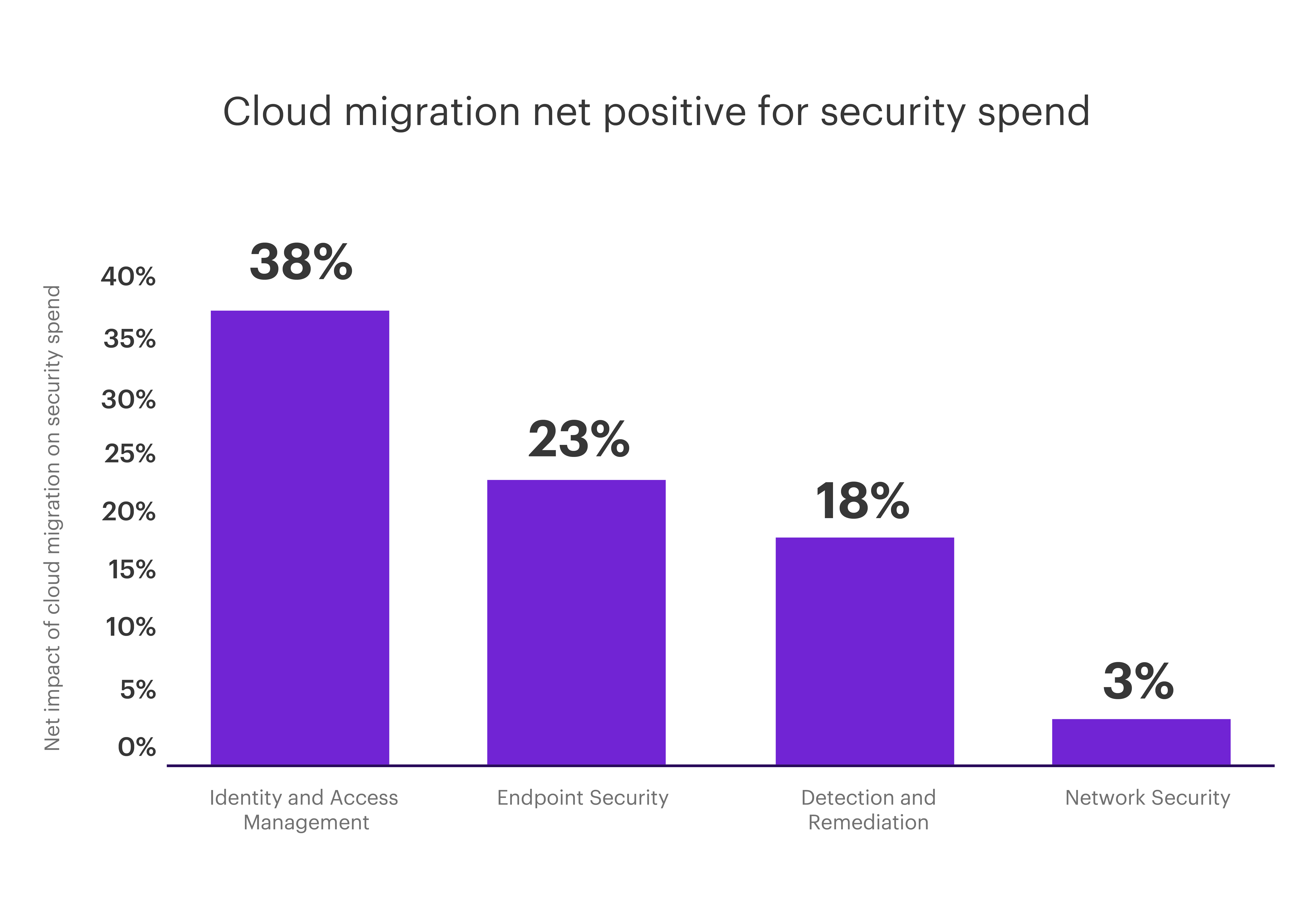 Source: AlphaWise, Morgan Stanley Research
---
Identity and access management and endpoint security, which allow companies to maintain the security of employee devices accessing their networks, may be the biggest beneficiaries of cloud migration. Additionally, CIOs identified these same markets as top security priorities overall in 2021, with 28% selecting these areas for increased spending. 
Detection and remediation, including security information and event management (SIEM) and security analytics, help companies monitor their systems to detect breaches and other security incidents. These projects also appear likely to benefit from a continued shift to the cloud. Recent  high-profile cyberattacks may serve as another tailwind for this market, since security analytics is critical to detecting and preventing such activity.
Network security may not be a primary beneficiary of cloud migration, with mixed responses from CIOs. Still, as enterprises shift to the cloud, they are also likely to re-orient security architectures and may spend on related areas such as secure remote access. 
What investors should consider
Digital transformation is poised to continue, further increasing the importance of—and demand for— cybersecurity software. Those who are looking for investing opportunities covering a wide array of companies with a single investment may look to mutual funds or exchange-traded funds (ETFs) focused on cybersecurity.
ETFs and mutual funds are both collections, or "baskets," of individual stocks, bonds, or other assets—in some cases hundreds of them—all pooled together. When an investor buys a share of the fund, they own a small piece of this basket of assets. ETFs and mutual funds are similar in that they give a broad range of investment choices and inherently offer greater diversification compared to a single stock. That said, there are distinct differences in these investment choices. The price of an ETF fluctuates throughout the trading day. ETFs also tend to have lower fees and are typically passively managed—mirroring the performance of an index. On the other hand, a mutual fund's price (commonly referred to as net asset value) is calculated just once a day, typically has higher expense ratios, and is managed by professional fund managers who actively try to outperform a market or index.
To learn more about the distinctions between mutual funds and ETFs, check out ETFs vs. mutual funds: Understand the difference.
The sources of this article, "4Q20 CIO Survey – Where is a Better Outlook Good Enough?" and "1Q21 CIO Survey – Data Suggests IT Acceleration" were originally published on January 12, 2021, and April 8, 2021, respectively.
What to read next...
Morgan Stanley Research breaks down the evolution of cybersecurity analytics as more companies move their operations and services to the cloud.
---
Along with stocks and mutual funds, ETFs are a popular type of investment. They offer diversification, typically low investing costs, among other potential benefits. But what exactly is an ETF?
---
Mutual funds are a common type of investment found in the portfolios of many investors. In fact, if you have a retirement account such as a 401(k), you may already own a mutual fund. They are a simple way to diversify your portfolio and potentially benefit from professional management.
---