The top industries imperiled by water scarcity
Insights from Morgan Stanley Investment Management
04/01/21
Summary: These are some of the industries threatened by the world's water crisis and considerations for investors interested in taking an active role in addressing water scarcity risks.
A global water crisis has been long in the making. Depleted aquifers, droughts made worse by climate change, advancing desertification, the decline of once dependable glacial melt-off—all while the growing demand from larger populations and economic activity put unprecedented pressure on the supply of fresh water. The global consequences of insufficient safe drinking water range from higher child mortality and other health issues to social instability and mass migrations.
The growing scarcity of fresh water also affects the global economy, especially industries with high water usage, which run the gamut from food companies and energy firms to textiles and technology manufacturers. For corporations, policymakers, investors, and even consumers, now is the time to understand the core issues and engage with solutions to manage the growing risks to businesses, supply chains, and even more acute vulnerabilities.
Here are some of the industries most at risk because of the world's water woes:
Bulk users: food, beverage, and agriculture
Agriculture accounts for 69% of global freshwater use, which makes the entire food and beverage supply chain highly sensitive to water stress. A single kilogram of beef takes more than 15,000 liters of water to produce, based on irrigating feed crops, providing drinking water, and hosing down factory farms and transport trucks. Similarly, a kilogram of nuts uses around 9,000 liters of water.1 California dedicates roughly 10% of its water supply just for growing almonds.
Agriculture-related water stress isn't just limited to food production. For example, growing, washing, and dyeing the cotton used to make a single pair of jeans requires 9,500 liters of water.2
Not all businesses are prepared to deal with water stress. Only 40% of beverage companies have developed programs to optimize water usage, and just 24% of food companies report efforts to manage water stress in their supply chains.3 At the other end of the spectrum, some companies in the industry have targeted a 100% rate of water reusage by 2020.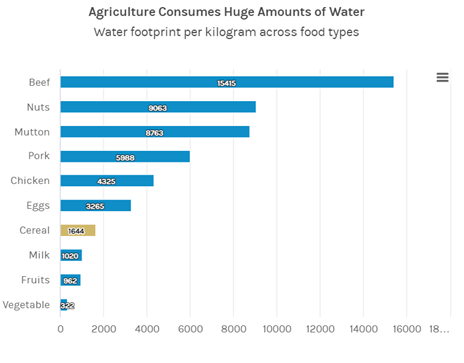 Source: Mesfin M. Mekonnen, Winnie Gerbens-Leenes (26 September 2020). The Water Footprint of Global Food Production. https://www.mdpi.com/2073-4441/12/10/2696/pdf
---
Oil and gas: Water management risks
Oil and natural-gas companies also face water challenges, usually tied to environmental and community impact, as well as reputational and regulatory risks.
The extraction of oil using hydraulic fracturing (fracking) is particularly fraught, requiring high-pressure water mixed with chemicals and sand to extract shale oil. To complicate matters, 38% of these projects worldwide are located in arid areas. Fracking also produces contaminated water that requires proper disposal, with its own costs and risks.
Utilities: Water costs in power production
Water is used in 90% of global power production (raw material extraction, powering turbines, cooling thermal processes, and cleaning emissions),4 with 47% of global thermal power plant capacity (coal, natural gas, and nuclear) located in regions already experiencing water stress.5
Poor water management and unsustainable rates of water consumption increase the risk of operational disruptions and regulatory water-withdrawal limits. These disruptions can not only lead to a loss of revenue, but often require additional investment in infrastructure, such as desalinization plants or air cooling.
Semiconductors: Growing thirst for ultrapure water
The production of wafers—the thin layers used to make integrated circuits—requires massive amounts of ultrapure water (UPW), the hyper-purified water needed to meet the industry's stringent manufacturing requirements. Producing a single smartphone requires more than 12,000 liters of water.
A typical semiconductor manufacturing facility uses two to four million gallons of UPW per day. Semiconductor companies have also historically incurred clean-up costs connected to groundwater contamination of up to $100 million per incident.6
Investing considerations
Water is fundamental. Nearly every other substance or material that's part of everyday life can be substituted, but there's no replacement for water.
The industries mentioned above, and the businesses that comprise them, are on the frontlines of the water scarcity issue. The risks they face have repercussions for their top and bottom lines, as well as potentially long-term ramifications to brand favorability and market standing—precisely because the issue of water management also ripples out to stakeholders, including investors and customers. Investors interested in taking an active role in addressing water scarcity risks may consider incorporating ESG factors into their investment approach. Investors can also look to invest in companies that provide the technology and resources for safe drinking water, water conservation, and water purification.
The source of this Morgan Stanley article, The Top Industries Imperiled by Water Scarcity, was originally published on September 18, 2019.
 www.waterfootprint.org/en/resources/interactive-tools/product-gallery/, Mekonnen, M.M. and Hoekstra, A.Y. (2012) A global assessment of the water footprint of farm animal products, Ecosystems, 15(3): 401-415
The Hidden Water in Everyday Products. Water Footprint Calculator. (2017). https://www.watercalculator.org/footprint/the-hidden-water-in-everyday-products/,
MSCI.
UN Water. www.unwater.org/water-facts/water-food-and-energy/ Accessed 28 June 2019.
World Resources Institute. www.wri.org/ blog/2018/04/water-stress-threatens-nearly-half-world-s-thermal-power-plant-capacity Published: 11 April 2018.
www.sustainalytics.com/esg-blog/world-water-day-water-use-semiconductor-industry/
Morgan Stanley Disclosures
Risk Considerations
All investing is subject to market risk, which is the possibility that the market values of the investments you own will decline and that the value of those positions may therefore be less than what you paid for them.
ESG Strategies that incorporate impact investing and/or Environmental, Social and Governance (ESG) factors could result in relative investment performance deviating from other strategies or broad market benchmarks, depending on whether such sectors or investments are in or out of favor in the market. As a result, there is no assurance ESG strategies could result in more favorable investment performance.
DEFINITIONS
The Global Risks Report 2019 is the 14th edition of the Global Risks Report, prepared by the World Economic Forum with the support of Marsh & McLennan Companies and other partners, examines the evolving macro-level risk landscape and highlights major threats that may disrupt the world in 2019 and over the next decade. An electric-vehicle battery (EV Battery) or traction battery is a battery used to power the propulsion of battery electric vehicles. Vehicle batteries are usually a secondary battery. The water desalination processes separates dissolved salts and other minerals from water. Feedwater sources may include brackish, seawater, wells, surface (rivers and streams), wastewater, and industrial feed and process waters. A water footprint is the amount of fresh water utilized in the production or supply of the goods and services used by a particular person or group.
DISCLOSURES
The views and opinions are those of the author as of the date of publication and are subject to change at any time due to market or economic conditions and may not necessarily come to pass. Furthermore, the views will not be updated or otherwise revised to reflect information that subsequently becomes available or circumstances existing, or changes occurring, after the date of publication. The views expressed do not reflect the opinions of all portfolio managers at Morgan Stanley Investment Management (MSIM) or the views of the firm as a whole, and may not be reflected in all the strategies and products that the Firm offers.
Forecasts and/or estimates provided herein are subject to change and may not actually come to pass. Information regarding expected market returns and market outlooks is based on the research, analysis and opinions of the authors. These conclusions are speculative in nature, may not come to pass and are not intended to predict the future performance of any specific Morgan Stanley Investment Management product.
Certain information herein is based on data obtained from third party sources believed to be reliable. However, we have not verified this information, and we make no representations whatsoever as to its accuracy or completeness.
The information herein is a general communications which is not impartial and has been prepared solely for information and educational purposes and does not constitute an offer or a recommendation to buy or sell any particular security or to adopt any specific investment strategy. The material contained herein has not been based on a consideration of any individual client circumstances and is not investment advice, nor should it be construed in any way as tax, accounting, legal or regulatory advice. To that end, investors should seek independent legal and financial advice, including advice as to tax consequences, before making any investment decision.
Charts and graphs provided herein are for illustrative purposes only.
NOT FDIC INSURED | OFFER NO BANK GUARANTEE | MAY LOSE VALUE | NOT INSURED BY ANY FEDERAL GOVERNMENT AGENCY | NOT A BANK DEPOSIT
The whole or any part of this work may not be directly or indirectly reproduced, copied, modified, used to create a derivative work, performed, displayed, published, posted, licensed, framed, distributed or transmitted or any of its contents disclosed to third parties without MSIM's express written consent. This work may not be linked to unless such hyperlink is for personal and non-commercial use. All information contained herein is proprietary and is protected under copyright and other applicable law.