Responsible investing: Driving positive change for society and the bottom line
Calvert Research and Management
02/23/22
Summary: Explore why responsible investing matters, trends in responsible investing, and how to approach it.
Today's greatest sustainability challenges—over and above the pandemic—are crystalizing around climate change, a widening wealth gap, and gender and racial inequality. These global issues are interconnected, affecting the health and well-being of individuals as well as society. The direction they take is material to both economic and social outcomes, representing real risks and opportunities that have significant implications for investment portfolios.
Responsible investment strategies can make a difference by directing capital to companies effectively managing their environmental, social, and governance (ESG) risks or working toward advancing solutions to these issues. Furthermore, numerous studies have shown there is no inherent performance trade-off. The Morgan Stanley Institute for Sustainable Investing found that sustainable funds across both stocks and bonds outperformed their traditional peer funds in 2020.1 Longer-term analysis from the Institute indicated that ESG-focused funds may offer lower risk, with no performance drag, than their non-ESG peers.2 Rather than diminishing profitability, responsible investing can enhance it by focusing on critical, long-term issues that materially affect a company's business results.

A more holistic approach
One way to approach responsible investing is to screen out companies that don't align with personal values, whether environmentally, socially, or economically. There are plenty of examples that underscore the reputational and financial vulnerabilities of companies that don't prioritize responsible, sustainable practices—and their material investment risks.
Importantly, though, responsible investing is not just about risk mitigation. It is also about identifying opportunities. Examining ESG factors provides insight into a company's financially material risks and opportunities that goes beyond what is revealed on the corporate balance sheet. Financial materiality refers to issues or considerations specific to an industry or company. For example, using water more efficiently may lead to bottom-line savings for companies in industries reliant on natural resources, such as semiconductors, agriculture, or apparel. Water efficiency, on the other hand, is not particularly relevant for financial companies or technology firms—industries more dependent on human capital for innovation and resilience. Working in tandem with traditional financial analysis, ESG integration provides a more holistic view of a company's standing.
Alongside traditional financial analysis, ESG factors provide a fuller picture of a company's risks and opportunities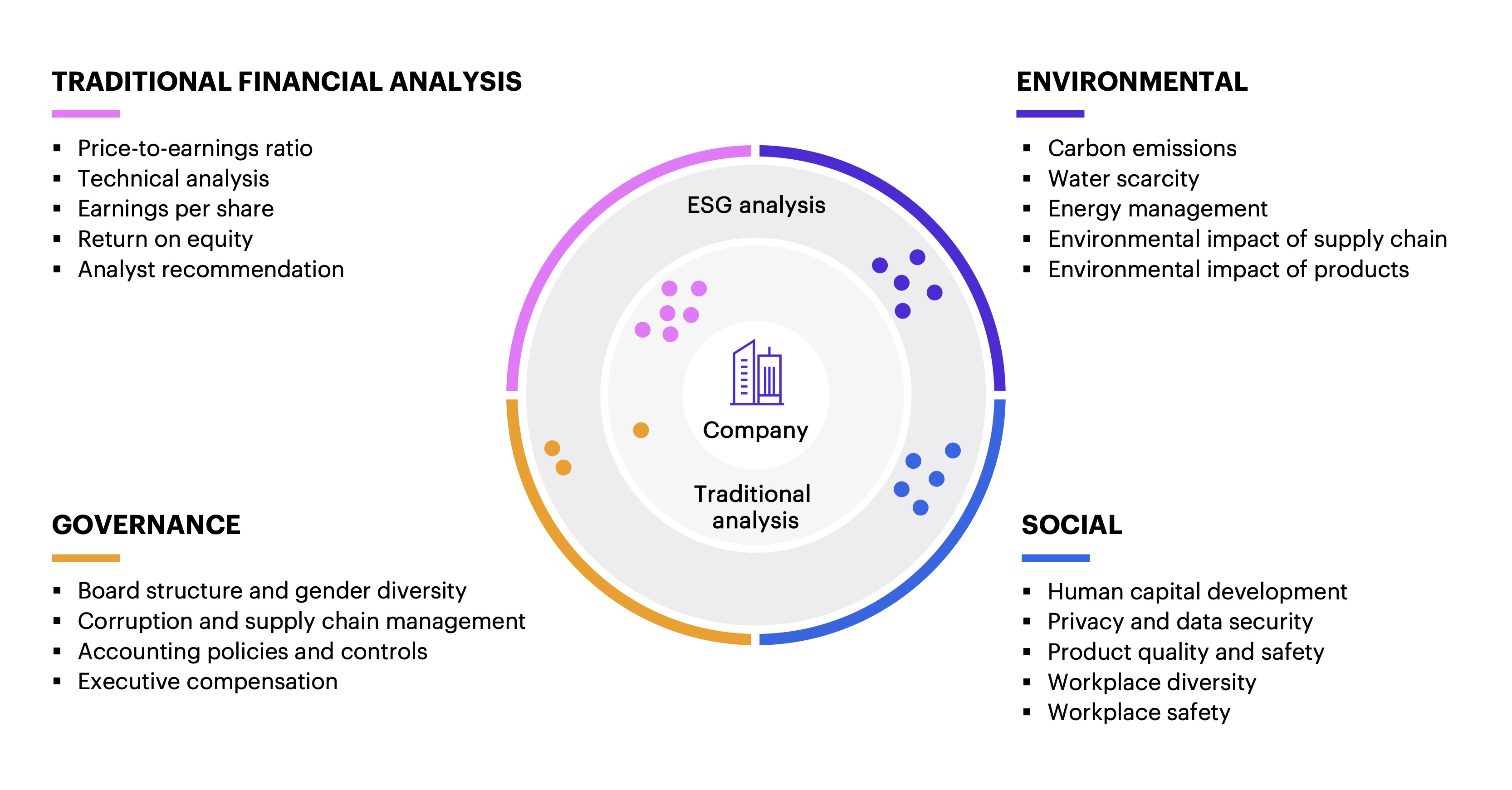 Source: Calvert Research and Management.
---
Pandemic pivots public toward ESG
There is growing recognition that the pandemic has exacerbated many pressing social and environmental issues. As a result, more people want to be thoughtful in terms of the companies they support—whether it's through products they buy, causes they support or, increasingly, their investment choices. Reviews of companies in publications like Barron's annual "100 Most Sustainable Companies" list—with data sourced by Calvert—has helped draw attention to ESG and inform investors.
This is translating to overwhelming interest in responsible investing, a trend reflected by the explosive growth in ESG assets. Responsibly managed strategies broke several records in 2020 and account for one in three dollars of professionally managed assets in the US.3 In turn, 2021 is on track to surpass the records set in 2020, according to preliminary Morningstar data.
ESG assets and fund flows set records in 2020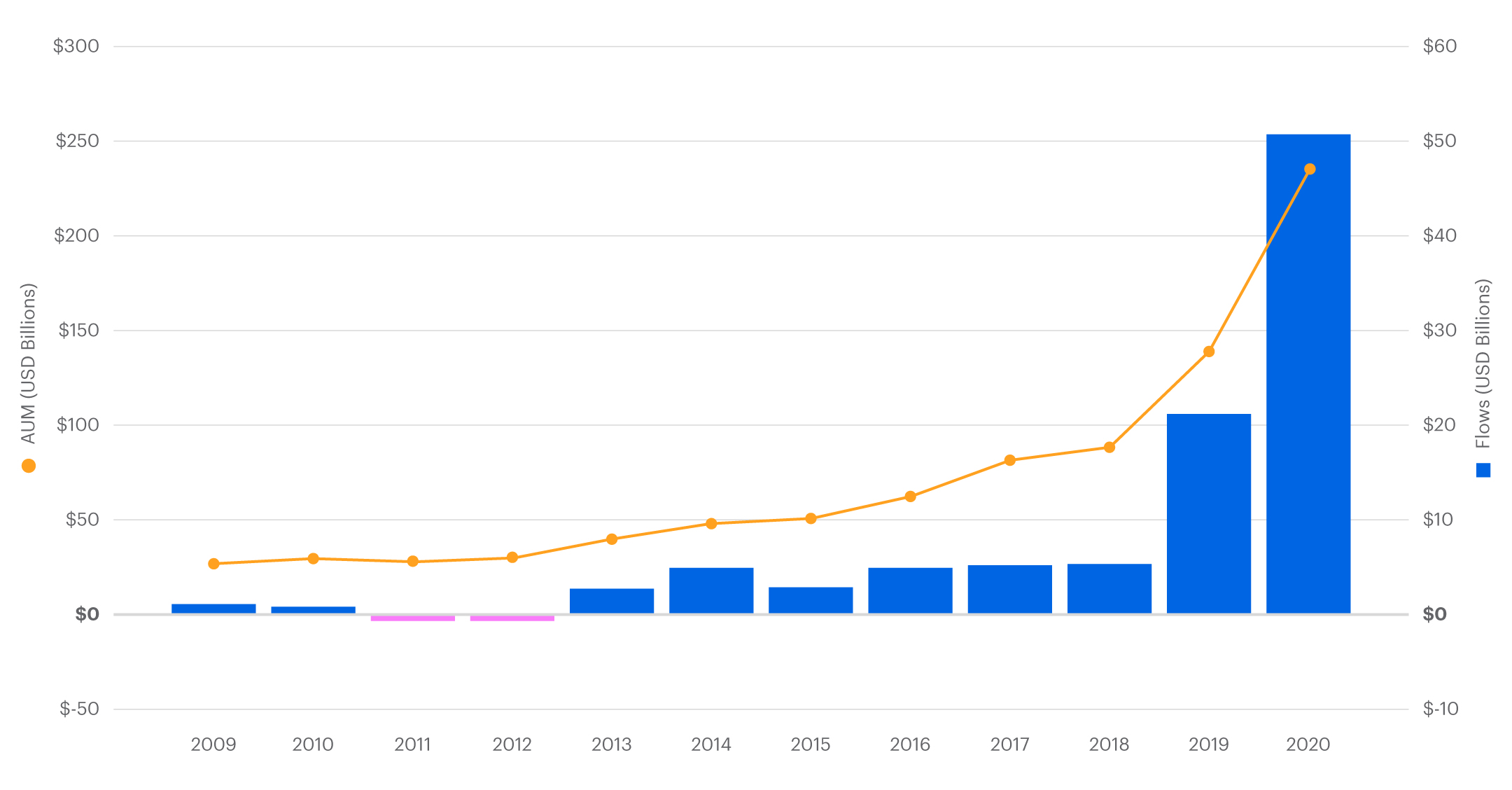 Source: Morningstar, "Sustainable Investing: The Evolving Landscape & the Path Forward," Jon Hale and Tanya Svidler, May 26, 2021.
---
Approaches to responsible investing
Responsible investing has matured rapidly, and there are now multiple investment approaches that can be used to support investors' values and drive positive change in the causes they care about. Several of the best-known strategies include:
Screening: Some investors prefer to avoid certain industries or sectors at odds with their values, preferences, or ethics. The classic example is eliminating companies associated with tobacco, alcohol, gambling, or firearms. This approach is associated with socially responsible investment (SRI) practices, which is how the industry was largely defined for the first 30 years.

Best-in-class: Here, investors prefer to invest in companies with the strongest ESG management practices. They may use ratings from companies like Sustainalytics or Morningstar to help inform their decisions.

Thematic: This involves a targeted approach, where investors seek to advance solutions to specific environmental or social issues like climate change, racial injustice, or gender equity and diversity.

ESG integration: Many investors are gravitating to this space because, rather than focusing on one or two issues, it assesses a full range of sustainability factors material to a company's financial success. This approach includes engagement with companies to improve their ESG practices or policies through means like direct dialogue or proxy voting.
Guidelines for investing in ESG funds
Investors can build truly diversified portfolios with ESG funds, but the proliferation of choices and labeling of strategies can be daunting (there were nearly 400 mutual funds and ETFs incorporating ESG factors at the end of 20204). One key consideration is to be aware of potential greenwashing, where funds may overstate or misrepresent their sustainability practices. Here are some points to evaluate:
Consult the fund's offering documents, such as its prospectus, to ensure there is explicit reference to and delineation of its ESG investment practices (e.g., screening, thematic, or integration) and guidelines.

Look at the rigor of the fund's ESG research. Does the fund manager have an independent, dedicated team of sustainability research analysts? This can make a critical difference. Companies' sustainability data is self-reported (greenwashing can exist at the corporate level). A dedicated research team can review varied, independent sources of data to analyze whether a company the fund invests in is executing on its ESG commitments.

Does the fund manager actively engage with companies to improve their ESG practices? This is important because engaging with companies to improve their ESG practices not only benefits the environment and society but can help improve corporate efficiency and resilience, potentially making the company a better investment.

Can the fund manager measure the impact its investments are having? Do they have the data and tools for comparing water usage, pollution, carbon emissions, and other metrics against standardized benchmarks, based on the underlying holdings? And are these publicly disclosed?
A company's future security depends on its ability to improve its capabilities and mitigate any material ESG business risks, whether it be data security, intellectual property, or water scarcity. Investing in companies with good or improving ESG characteristics can be an effective way to drive positive change, benefiting investors, communities, and companies alike.

Calvert Research and Management (Calvert) is part of Morgan Stanley Investment Management, the asset management division of Morgan Stanley. A global leader in Responsible Investing, Calvert sponsors one of the largest and most diversified families of responsibly invested mutual funds, encompassing active and passively managed equity, income, alternative and multi-asset strategies. With roots in Responsible Investing back to 1982, the firm seeks to generate favorable investment returns for clients by allocating capital consistent with environmental, social and governance best practices and through structured engagement with portfolio companies.
Morgan Stanley Disclosures
The views and opinions are those of the author as of the date of publication and are subject to change at any time due to market or economic conditions and may not necessarily come to pass. The views expressed do not reflect the opinions of all investment personnel at Morgan Stanley Investment Management (MSIM) and its subsidiaries and affiliates (collectively the "Firm") or the views of the firm as a whole, and may not be reflected in all the strategies and products that the Firm offers.
Please consider the investment objectives, risks, charges and expenses of the funds carefully before investing. The prospectuses contain this and other information about the funds. To obtain a prospectus for the Morgan Stanley Funds please download one at morganstanley.com/im or call 1-800-548-7786. For the Eaton Vance and Calvert Funds, please download one at https://funds.eatonvance.com/open-end-mutual-fund-documents.php or contact your financial professional. Please read the prospectus carefully before investing.
Eaton Vance and Calvert are part of Morgan Stanley Investment Management.  Morgan Stanley Investment Management is the asset management division of Morgan Stanley.
The whole or any part of this material may not be directly or indirectly reproduced, copied, modified, used to create a derivative work, performed, displayed, published, posted, licensed, framed, distributed or transmitted or any of its contents disclosed to third parties without MSIM's express written consent. This material may not be linked to unless such hyperlink is for personal and non-commercial use. All information contained herein is proprietary and is protected under copyright and other applicable law.

What to read next...
A new study from Calvert, part of Morgan Stanley Investment Management, examines whether racial and ethnic board diversity can have a positive effect on stock performance.
---
As the world increasingly transitions to a low-carbon economy, explore how you can pursue your climate action goals alongside your financial objectives.
---
Green bonds give fixed income investors a way to incorporate environmental and social causes into their portfolio strategies. We dig into what green bonds are, how they've started to gain traction, and what to consider before investing.
---