How to use gender lens investing to advance and empower women
Calvert Research and Management
04/06/22
Summary: Learn how investors can help empower women and improve corporate diversity practices. Plus, explore how a gender lens can uncover investment risks and opportunities that might otherwise not be apparent.
Despite advancements over the past decades, true gender equality still has a long way to go. In some parts of the world—including the US—women are not treated with the same gravitas as their male counterparts. But besides just being the right thing to do, there are material financial reasons why gender equality matters. Studies show that companies with greater diversity outpace their less-diverse counterparts on a range of measurements, including innovation, increased profitability, and better reputations.
In corporations, gender inequality is an issue that requires persistent advocacy. Although women hold more advanced degrees than their male counterparts, they are paid less for equivalent work—and for Black and Hispanic women that gap is even greater. Women are underrepresented on corporate boards and do not hold as many upper management positions as men.
Women are underrepresented in leadership roles
While starting out fairly equally in entry-level roles, the odds of women climbing to the top are slim.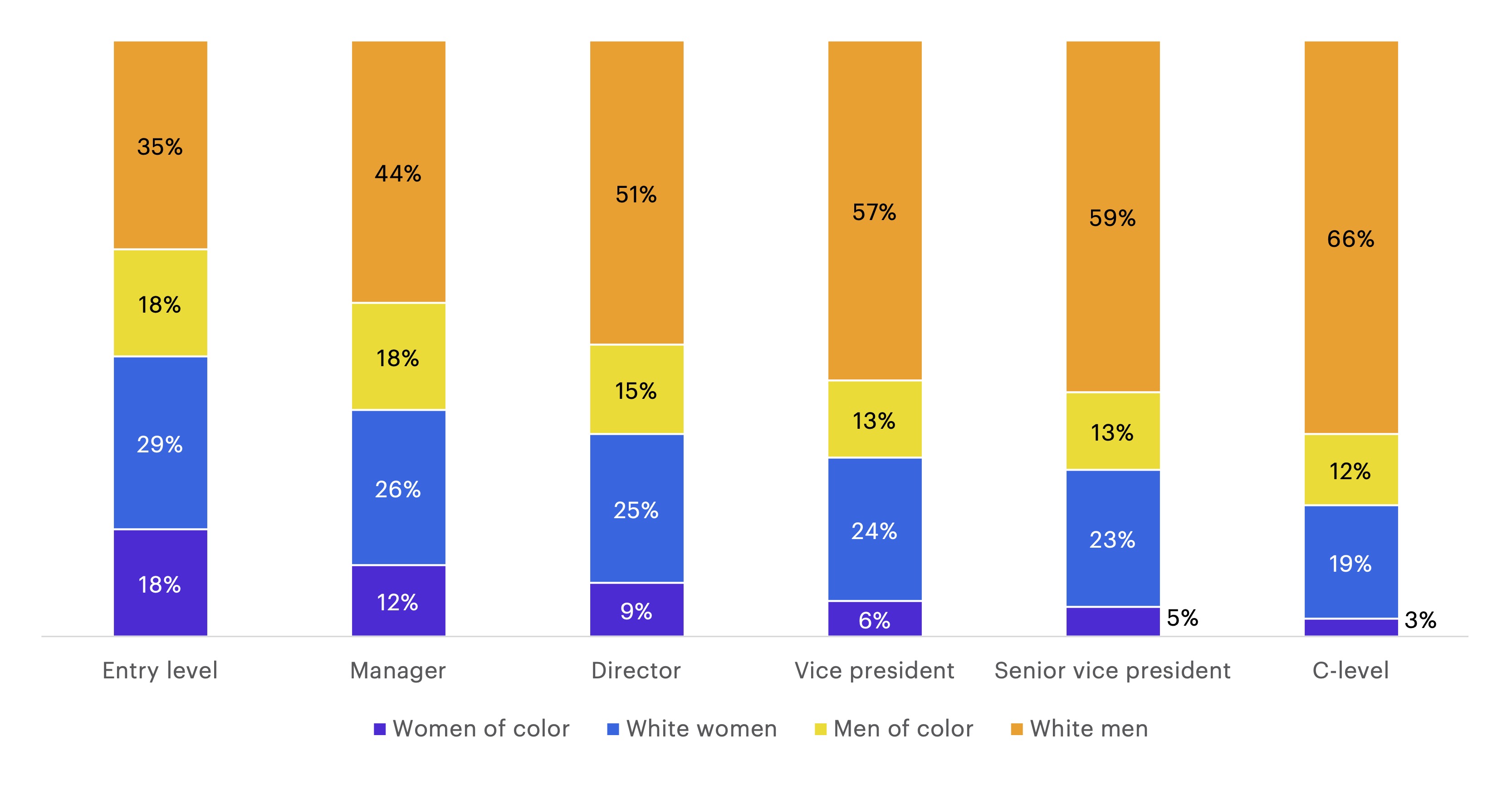 Diversityjobs.com, "We Know Diversity is Good for Business, So Why Do Corporate Leaders Remain Predominantly White and Male?," Jessica Baron, November 10, 2020.
---
Beyond ethics, there are economic and financial ramifications related to gender equality that can negatively affect investors and markets.
Why gender equality matters
Research shows that companies whose management teams have above-average diversity report 19% higher revenues from innovative products and services than companies with less diverse leadership.1 Yet, women hold only 21% of senior-level positions, while representing 47% of the US workforce, according to global consulting firm McKinsey & Company. Men, in contrast, hold 77.5% of all Fortune 500 board seats and 92.6% of those are board chairmanships.2
The pandemic has only made this situation worse. The World Economic Forum has stated that "COVID-19 is the biggest setback to gender equality in a decade," with women being the vast majority of workers leaving the US labor force over the past two years.
Investing with a gender lens
While environmental considerations often capture the headlines, gender issues that fall under social and governance criteria are potentially important drivers of financial return (together, "ESG"). For example, if the US labor force participation rate for women matched other advanced economies, it could add almost $3 trillion to stock market value by 2027, according to research by S&P Global.3
At Calvert, we actively engage with companies to promote gender diversity. Our gender-lens approach focuses on three actionable processes, namely shareholder resolutions and proxy voting, direct dialogues with company management, and actions with coalitions. From a proxy standpoint, we always vote for equal pay for equal work and more diversity on boards. We have engaged directly with the CEOs and upper management of over a dozen companies on their lack of gender diversity. In the most recent 2019–2020 proxy season, Calvert filed 17 resolutions on board diversity and employee diversity, with positive commitments from six of the companies. We are an active member of the Thirty Percent Coalition whose goal is for US companies to have at least 30% women on their boards.
How you can get started
There are tangible things you can do to help the environment like installing solar panels or buying an electric vehicle. Likewise, you may be able to help gender equality through fair hiring and pay practices if you are in a position to do so. But in either case, there are opportunities to align investment portfolios with your goals and values.
A responsible investing approach focuses on strategies that can drive positive changes. For example, screening out companies or industries that don't make diversity a priority, or instead, investing in best-in-class companies with strong diversity practices. Some investors may look to ESG integration, which assesses a full range of sustainability factors material to a company's financial success.
Investors could also turn to a financial professional for help building a portfolio with responsible investments.
Bottom line: Gender lens investing is about being proactive about gender equality, not reactive.
BCG, "How Diverse Leadership Teams Boost Innovation," Rocío Lorenzo, Nicole Voigt, Miki Tsusaka, Matt Krentz, Katie Abouzahr, January 23, 2018.
Researchgate.net, "Diversity Among Fortune 500 CEOs from 2000 to 2020: White Women, Hi-Tech South Asians, and Economically Privilege Multilingual Immigrants from Around the World," Richard L. Zweigenhaft, November 2020.
S&P Global, "Adding More Women To The U.S. Workforce Could Send Global Stock Markets Soaring", Jodie Gunzberg, Beth Ann Bovino and Jason Gold, June, 2018.

Calvert Research and Management (Calvert) is part of Morgan Stanley Investment Management, the asset management division of Morgan Stanley. A global leader in Responsible Investing, Calvert sponsors one of the largest and most diversified families of responsibly invested mutual funds, encompassing active and passively managed equity, income, alternative and multi-asset strategies. With roots in Responsible Investing back to 1982, the firm seeks to generate favorable investment returns for clients by allocating capital consistent with environmental, social and governance best practices and through structured engagement with portfolio companies.
Morgan Stanley Disclosures
The views and opinions are those of the author as of the date of publication and are subject to change at any time due to market or economic conditions and may not necessarily come to pass. The views expressed do not reflect the opinions of all investment personnel at Morgan Stanley Investment Management (MSIM) and its subsidiaries and affiliates (collectively the "Firm") or the views of the firm as a whole, and may not be reflected in all the strategies and products that the Firm offers.
Please consider the investment objectives, risks, charges and expenses of the funds carefully before investing. The prospectuses contain this and other information about the funds. To obtain a prospectus for the Morgan Stanley Funds please download one at morganstanley.com/im or call 1-800-548-7786. For the Eaton Vance and Calvert Funds, please download one at https://funds.eatonvance.com/open-end-mutual-fund-documents.php or contact your financial professional. Please read the prospectus carefully before investing.
Eaton Vance and Calvert are part of Morgan Stanley Investment Management.  Morgan Stanley Investment Management is the asset management division of Morgan Stanley.
The whole or any part of this material may not be directly or indirectly reproduced, copied, modified, used to create a derivative work, performed, displayed, published, posted, licensed, framed, distributed or transmitted or any of its contents disclosed to third parties without MSIM's express written consent. This material may not be linked to unless such hyperlink is for personal and non-commercial use. All information contained herein is proprietary and is protected under copyright and other applicable law.
What to read next...
Investing in equality for women can potentially increase a company's—and your portfolio's—bottom line.
---
A new study from Calvert, part of Morgan Stanley Investment Management, examines whether racial and ethnic board diversity can have a positive effect on stock performance.
---