Creating portfolios with purpose
A perspective from E*TRADE Securities
03/31/21
Summary: As sustainability continues to grow in importance among investors, Corporate America, and regulators, there are opportunities to align portfolios with personal values.
In a time of heightened awareness about public health, social justice, and climate change, the practice of sustainable investing has never felt more important.
In fact, more than eight in 10 US investors say they're interested in sustainable investing, while half take part in at least one aspect of sustainable investing.1 It's growing in importance among Corporate America, as well—more S&P 500 companies are citing environmental, social, and governance (ESG) themes in their earnings calls than ever before.2 Even regulators are making ESG a priority, with the Securities and Exchange Commission (SEC) and the Federal Reserve establishing committees dedicated to evaluating climate change and sustainability-related risks.3,4
As enthusiasm about sustainable investing continues to grow, so do the opportunities for individuals looking to align their investments with their values.
Dispelling financial trade-off myths
There's long been a preconceived notion that pursuing a positive social or environmental impact through investing comes with a financial trade-off, but recent data proves otherwise.
The Morgan Stanley Institute for Sustainable Investing analyzed the performance of more than 3,000 US mutual funds and exchange-traded funds (ETFs) and found that sustainable equity and bond funds outperformed their traditional peers by 4.3 and 0.9 percentage points in 2020, respectively.5 The study also showed that ESG funds helped reduce investment risk, weathering periods of market volatility better than their non-ESG counterparts.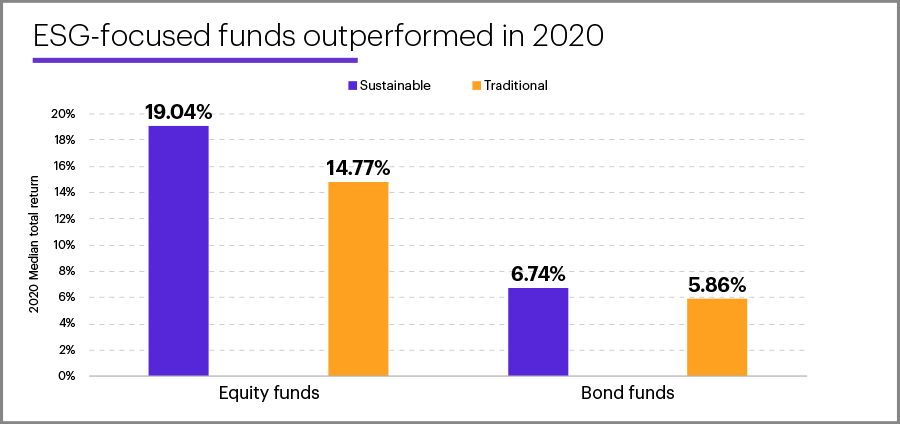 Source: Morgan Stanley Institute for Sustainable Investing
---
The data tells a similar story longer term, too. From 2004 through 2019, sustainable funds' annual returns were in line with, or exceeded, those of traditional funds while potentially offering more stability.5
Embracing a societal shift
Aside from the potential advantages for investors, the implications of not adopting sustainable practices may actually present long-term risks for companies.
"Significant events in the past year, including the pandemic and the racial equality movement, have brought social and governance elements to the fore, and they've gained a lot of traction with investors," says Jessica Alsford, Head of Global Sustainability Research at Morgan Stanley. "When it comes to investment decisions, there's been an added focus on how companies treat their employees, suppliers, customers, and society as a whole. Longer term, we think this focus may have an impact on company profitability and stock performance."
Given this shift in favor of ESG factors, companies that lag their peers in sustainability efforts may potentially miss out on growth opportunities and employee talent—and also face increased scrutiny from analysts, investors, and the public at large.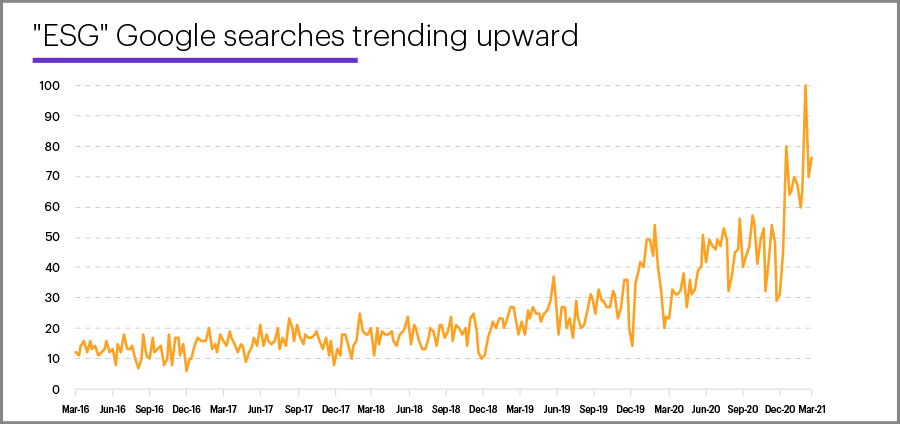 Source: Google Trends, Note: Numbers represent search interest relative to the highest point on the chart for the given region and time. A value of 100 is the peak popularity for the term. A value of 50 means that the term is half as popular. A score of 0 means there was not enough data for this term.
---
Investable themes
The sustainable investing space is broad, giving investors plenty of opportunities to find areas that resonate with their personal goals and values. Here's a quick look at some popular ESG themes and emerging trends:
Clean energy. A primary concern among the climate conscious is minimizing the carbon footprint. Besides shifting away from traditional fossil fuel producers and industrials, investors could look for companies working to offset carbon emissions with greener technology (electric vehicles, carbon capture, biofuels), or those specializing in renewable resources and infrastructure (solar and wind power).
Water. The global water crisis threatens to upend entire industries, from agriculture to commodities to manufacturing. As population growth, climate change, and pollution continue to diminish the world's freshwater supplies, companies that provide the technology for potable water, wastewater, conservation, and purification have become increasingly important.
Diversity and inclusion (D&I). Advancing D&I across all areas of society is top of mind for business, government, and academic leaders alike, who identified it as one of the most pressing issues facing the global economy at the 2021 World Economic Forum. "Once again, the events of 2020 have highlighted just how imperative inclusivity is, not just from a gender perspective, but also race and ethnicity," Alsford notes. "We expect investors to be much more engaged and hold companies accountable for what they're doing to drive diversity and inclusion across a range of different definitions."
Sustainable consumption. The future of food and agriculture is one of the most complex areas in the sustainable space. By 2050, we will need to produce 50% more food than we do today to feed an expected global population of 10 billion.6 Since the agriculture and food industries together represent about a quarter of global greenhouse gas emissions,7 this space represents an opportunity for companies to find sufficient, healthy, and low-carbon-impact food solutions.
Building sustainable portfolios
As a consumer, you may already be making sustainable choices. You may have purchased a brand because you support the company's mission, for instance, or checked a product's environmental footprint. A sustainable investor follows a similar mindset.
For those looking to bring a sustainable approach to their investing strategy, here are a few ideas to help align portfolios with values:
Explore sustainable funds. There are plenty of mutual funds and ETFs that reflect ESG and SRI principles. Do some research to see which funds may be a good fit.
Consider a theme. Thematic investing highlights specific economic, environmental, or social trends, from innovative vehicles, to clean energy, to water for the future.
Use a core–satellite strategy. Consider allocating a small portion of an overall portfolio to sustainable assets, while keeping the remainder mapped to broader investing goals.
Of course, investors should also make sure that any decisions reflect their individual goals, timelines, and risk tolerance. If those boxes are checked, aligning investments with personal values is a solid next step.
Morgan Stanley Institute for Sustainable Investing, 2019 Sustainable Signals report, https://www.morganstanley.com/pub/content/dam/msdotcom/infographics/sustainable-investing/Sustainable_Signals_Individual_Investor_White_Paper_Final.pdf
The New York Times, Dealbook newsletter, 3/8/21, https://www.nytimes.com/2021/03/08/business/dealbook/chamath-palihapitiya-spac.html
US Securities and Exchange Commission, "SEC Announces Enforcement Task Force Focused on Climate and ESG Issues," 3/4/21, https://www.sec.gov/news/press-release/2021-42
CNBC, "Fed sets up panels to examine risks that climate change poses to the financial system," 3/23/21, https://www.cnbc.com/2021/03/23/fed-to-examine-risks-climate-change-poses-to-financial-system.html
Morgan Stanley Institute for Sustainable Investing, "Sustainable Funds Outperform Peers in 2020 During Coronavirus," 2/24/21, https://www.morganstanley.com/ideas/esg-funds-outperform-peers-coronavirus
Morgan Stanley Research, "The future of food: 4 solutions for a hungry planet," 1/11/21, https://www.morganstanley.com/ideas/future-of-food-global-food-supply
Morgan Stanley Thoughts on the Market, "What's in store for ESG investing?"12/22/20, https://www.morganstanley.com/ideas/thoughts-on-the-market-sustainability
What to read next...
Sustainable funds outperformed traditional peer funds and reduced investment risk during coronavirus in 2020, according to the Morgan Stanley Institute for Sustainable Investing
---
Morgan Stanley Research uncovers five emerging technologies that could curb carbon emissions, halt climate change and offer new ways to invest in earth's future.
---
Examine industries threatened by the world's water crisis and how investors can help protect assets.
---