Diving into the young investor mindset
A perspective from E*TRADE Securities
10/25/19
It's no secret that young people face numerous obstacles to investing, including high student loan debt, rising housing costs, and gaps in financial literacy.  
The challenge of getting young people to invest is more than academic: This year, Millennials are expected to surpass Baby Boomers as the country's largest living adult generation; already, they make up more than one-third of the US labor force.1
But getting more young people into the markets requires seeing the world through their eyes, as evidenced by a E*TRADE Financial Streetwise survey of more than 900 active investors under the age of 30 with at least $10,000 in an online brokerage account.
Among the notable findings:
•  Social media rules: Two in five young investors use Instagram as a preferred social media outlet to learn about the markets and investing.
•  Unconventional is conventional: More than 40% of young investors have an interest in blockchain and crypto-related securities.
•  Cash isn't always king: 37% of investors under 30 are moving out of cash and into new positions.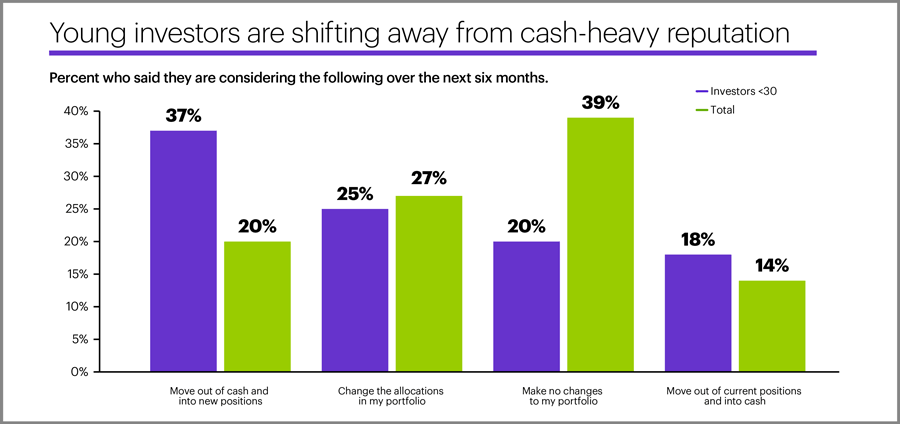 Source: E*TRADE Streetwise quarterly tracking study
---
To gain additional insights, E*TRADE recently hosted a panel discussion entitled, "Diving into the Young Investor Mindset." Alexandra Scaggs, Senior Writer with Barron's, moderated the discussion, which also included David Kupecky, Executive Director of the Boys & Girls Club of Metro Queens, Inc., Jeff Spiegel, US Head of Megatrend and International ETFs at BlackRock, and Liensa Vidra, Director of Product Management at E*TRADE Financial.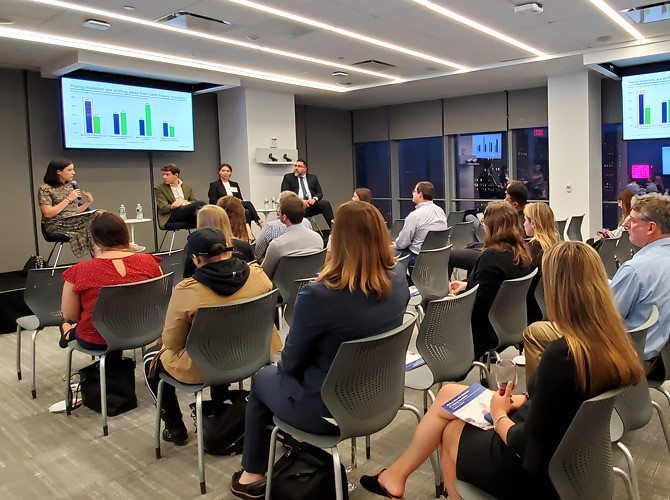 Panelists at E*TRADE's "Diving into the Young Investor Mindset" symposium, October 16, 2019
---
Young, tech-savvy investors have a unique viewpoint
The panelists stressed that today's young investors may have value sets that differ meaningfully from those of their parents and grandparents.
"These are early adopters who tend to be at the cutting edge of the innovation wave," said BlackRock's Jeff Spiegel. "They focus on areas in which they are interested in their everyday lives. That could mean investing in Megatrend ETFs focused in areas like self-driving electric vehicles, cybersecurity, or clean energy. These are things that mean something to young investors, who typically live a tech-forward life."
The importance of social media
Living a tech-forward life often means gleaning information from social media.
"Social channels provide an astounding level of personalization," said E*TRADE's Liensa Vidra. "These channels can sniff out exactly what you're looking for and serve it up. Young investors are really looking for that kind of personalized information."
For that reason, Vidra believes the same tailored marketing strategies used for clothing and electronics can potentially offer assistance for young investors.
"These social channels already know your age or that you might have changed jobs," she noted. "As a result, they can suggest an article that might be perfect for you. Or, hey, you might want to consider a rollover."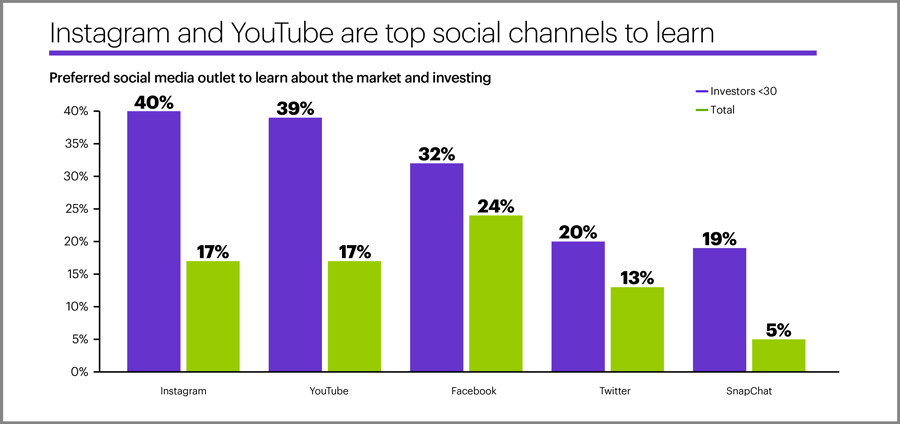 Source: E*TRADE Streetwise quarterly tracking study
---
What does it mean to be an investor?
How young people approach investing begins with their unique views about money, according to Boys & Girls Club's David Kupecky.
"Money is often something that's just on their phone," Kupecky said. "It doesn't feel real."
And while investing can seem like an arcane concept, Kupecky doesn't believe it has to be that way.
"Young people often think investing is confusing, but the research they're doing on, say, Jordan 4 sneakers is not that different than the research you'd conduct on actual companies," Kupecky said. "In many cases, young people are already doing investment research in some form without even realizing it."
BlackRock's Spiegel echoed those thoughts.
"There's this massive misconception that doing well in the markets requires special expertise, and if I don't know what I'm doing, I'm going to lose," he said. "But in many cases, the more you try to come up with complicated trading strategies on your own, the worse you might do."
Here, again, technology can provide solutions.
"A lot of younger investors don't have specific financial goals," said Vidra. "They're just looking to grow their money. And that's the key—giving people the tools to realize that a little now can mean a lot later. The hope is that over time saving will become a trend."
Potential solutions
Fortunately for younger investors, getting started doesn't have to be a heavy lift.
1. It's not as hard as it might seem: Getting exposure to the market can be as easy as finding a broad-based exchange-traded fund (ETF), which now trades commission free on major platforms like E*TRADE.

2. Participate in workplace retirement plans: Placing a portion of one's paycheck into a tax-advantaged 401(k) or 403(b) account can be a great place to start. And contributing enough to maximize the employer match is the closest thing to free money investors are likely to find.
3. Make it automatic: E*TRADE provides the option to automatically withdraw funds from a paycheck into a professionally managed Core Portfolios account or brokerage account for as little as $25 per deposit.

Ultimately, the panelists agreed that young investors have one advantage that's hard to replicate:
"Young people have the virtue of not needing the money tomorrow," said Spiegel. "They have a long investment time horizon. Over the course of 30 or 40 years, you can get really huge growth out of that."
That's a nugget any young investor can take to the bank.
1.  Pew Research Center, "Millennials projected to overtake Baby Boomers as America's largest generation," March 1, 2019, https://www.pewresearch.org/fact-tank/2018/03/01/millennials-overtake-baby-boomers
Click here to log on to your account or learn more about E*TRADE's trading platforms, or follow the Company on Twitter, @ETRADE, for useful trading and investing insights. Online stock, ETF, and options trades are now commission-free.1
Barron's, the Boys & Girls Club of Metro Queens, Inc., and BlackRock are separate and unaffiliated companies from E*TRADE.
What to read next...
10/18/19
A tentative Brexit deal has been agreed upon, but many unresolved issues remain.
---
10/11/19
Weak manufacturing numbers have triggered recent market volatility. How concerned should investors be?
---
10/01/19
Stocks advanced in September despite formidable intrigue and obstacles.
---