Breaking down the inverted yield curve
A perspective from E*TRADE Securities
08/14/19
On Wednesday, August 14, the yield on the benchmark 10-year Treasury note fell below the 2-year Treasury rate, resulting in an inverted yield curve.
So why is this a big deal?
The bond market is a key indicator of economic health. When returns on long-term bonds (10-year Treasuries) fall below short-term bonds (2-year Treasuries), it generally signals that investors are concerned about a slowing economy and are increasingly focused on near-term economic conditions.
And while parts of the curve have inverted in the past, the 2- and 10-year spread, which is most watched by market observers and economists, has not inverted since December 2005.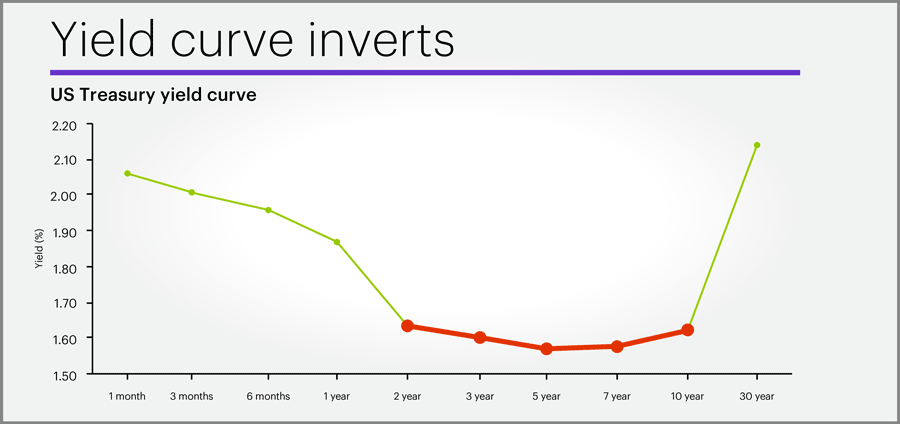 Source: FactSet Research Systems, August 14, 2019
---
Yield curve characteristics
First, some perspective on how a yield curve is typically shaped.
A "normal" yield curve slopes upward, with short-term rates lower than longer-term rates. This is because investors generally demand a premium to hold debt for longer periods of time. An upward-sloping yield curve assumes that long-term yields will continue to exceed short-term yields and is generally indicative of a healthy, growing economy.
An inverted yield curve assumes that the Fed will cut short-term rates to prop up the economy. Under this scenario, investors would rather hold longer-dated Treasury bonds and lock in today's yields than reinvest in short-term Treasury bills that may eventually offer very low yields in the event of a recession.
Risks of an inverted yield curve
While past is not prologue, the reason an inverted yield curve unnerves many investors is that it has historically been a predictor of a recession. In fact, an inverted Treasury yield curve has preceded all nine US recessions since 1955, according to a study conducted by the Federal Reserve Bank of San Francisco.1 That said, the New York Fed has noted that by even the most aggressive predictions, a recession is at least 12 months out.2
Fed actions and the yield curve
But is this concern misplaced? It all depends on your perspective.
The Fed recently cut rates in hopes of stimulating the economy and steepening the yield curve, bringing it back to its "normal" shape.
And for a little while it did. The day after the Fed lowered rates, 2-year Treasury yields retreated. Yet, the Fed also telegraphed that it could continue to ease monetary policy due to a slowdown in US business investment, global growth concerns, and the effect of trade tensions.
What are the possible effects?
A yield curve inversion does not necessarily spell imminent doom for the stock market. For example, after the most recent inversion in December 2005, the S&P 500® rallied for nearly two more years, peaking in October 2007. Similarly, after the May 1998 inversion, the S&P 500 continued to push higher until March 2000.
Those that believe an inverted yield curve is a bad omen may find solace in traditionally more defensive sectors such as consumers staples, health care, and utilities.
Regardless, an escalation in market volatility is no reason to abandon a long-term investment strategy. History has shown that investors who tune out near-term noise and remain focused are in the best position to achieve their long-term financial goals.
Click here to log on to your account or learn more about E*TRADE's trading platforms, or follow the Company on Twitter, @ETRADE, for useful trading and investing insights.
What to read next...
08/09/19
A new round of proposed tariffs has roiled the markets and upended a trade truce between the US and China.
---
08/01/19
Stocks advanced in July ahead of the first rate cut since 2008.
---
07/31/19
The Federal Reserve's decision to lower rates by 0.25% is aimed at keeping the long-running economic expansion on track.
---