More tariffs are coming: Who pays for them?
A perspective from E*TRADE Securities
08/23/19
This could get messy.
In early August, the Trump administration pledged to impose 10% tariffs on an additional $300 billion of Chinese goods. Despite rekindled trade talks, China has now responded with counter-tariffs to the tune of $75 billion, covering US soybeans, motor vehicles, and oil.
It's the latest salvo in a trade war that has roiled the financial markets and heighted global growth concerns. In an interesting twist, China has timed its tariffs to take effect in two stages—on September 1 and December 15—perfectly coinciding with US target dates.
Supporters maintain that tariffs are an effective bargaining chip and important source of revenue. But who really foots the bill? The issue is prescient, because the Trump administration argues that China is paying for US-imposed tariffs and that billions of dollars are flowing in a direct line from Beijing to the US Treasury.
Is that really the case?
Tariffs 101
A tariff is a tax on imported goods. Nothing more, nothing less. For centuries, countries have used tariffs to raise revenue and protect domestic manufacturers. In fact, until 1914, tariffs were the US government's largest source of revenue.
While the federal income tax quickly usurped tariffs as a revenue generator, tariffs can still be used to protect favored industries and win trade concessions. But it can be difficult to understand just who is paying for them.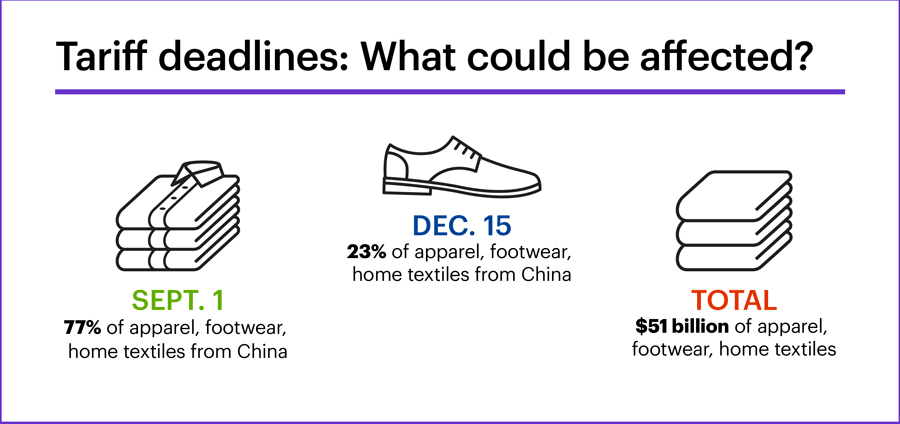 Source: American Apparel & Footwear Association
---
The mechanics of a tariff
1. Importers pay the tariff upfront
When shipments arrive at US ports of entry, importers take temporary ownership of goods for processing. So-called "importers of record" are US-registered firms responsible for assuring that shipments are properly documented and compliant.
Notably, importers are also responsible for paying all associated duties and fees—including tariffs—with checks made out to US Customs and Border Protection. Payment is typically remitted within 10 days of shipments clearing customs.
2. Importers then mark up prices
Once shipments have passed inspections and all applicable duties have been paid, the importer of record could theoretically take the financial hit and move on. But in the real world, importers pass the cost on to customers—i.e., the manufacturers, suppliers, and retailers that initially ordered the goods—in the form of price markups.
3. US businesses pass on added cost to consumers
From there, firms taking final delivery of imported goods are faced with a similar dilemma: Should they absorb the higher costs or pass them on to consumers? To protect profit margins, US firms often have little choice but to raise prices. But in a competitive environment, price hikes can only go so far. In many cases, higher input costs eat into a company's bottom line.
So, when does China pay?
You'll note that at no point in this process has a foreign country written a check to Uncle Sam. Yes, the US government collects tariff revenue. But those tariffs are, quite literally, paid for by US importers. Then, through a series of price markups that filter through the supply chain, the cost of tariffs is passed on to manufacturers, retailers, and consumers.
The empirical evidence
A 2019 study conducted by Harvard University found that higher import costs were "passed through to consumers for some goods, such as washing machines, but absorbed by lower retailer profit margins for others." The researchers went on to say that "this nearly complete passthrough of tariffs … suggests the tariff incidence has fallen largely on the US."1
Another study, conducted by the Federal Reserve Bank of New York in conjunction with Harvard University and Princeton University, found that "over the course of 2018, the US experienced substantial increases in the prices of intermediates and final goods … and complete passthrough of the tariffs into domestic prices of imported goods. By the end of 2018, import tariffs were costing US consumers and the firms that import foreign goods an additional $3 billion per month in added tax costs."2
By the end of 2018, import tariffs were costing US consumers and the firms that import foreign goods an additional $3 billion per month in added tax costs.
But don't just take it from the academics.
Financial data provider FactSet found a 41% increase in companies citing tariffs in second-quarter earnings calls—many of which addressed disappointing results. In fact, with 95% of S&P 500® companies reporting, earnings are down 0.42% from last year—the second consecutive quarter of year-over-year earnings declines.3 A representative example is Caterpillar, which blamed higher material costs and tariffs for lower-than-expected earnings and diminished full-year guidance.4
How could the escalating trade war affect investors?
Despite mixed messaging and shifting deadlines, it appears tariffs are here to stay. So far, the markets have frowned on tariffs and have rallied at even the slightest hint that they could be delayed, which means investors may need to adapt.
•  First, look where tariffs are being applied. Tariffs generally protect some US industries more than others. So far, the Trump administration has slapped stiff tariffs on Chinese steel and aluminum producers, semiconductors, washing machines, and solar panels. In these cases, protected US producers could benefit.
•  Conversely, the latest round of tariffs—if enacted—could hit electronics, shoe, and apparel makers especially hard. Roughly 70% of shoes sold in the US come from China, and most shoe manufacturers have gone on record opposing tariffs.5 Many consumer electronics also originate in China, so it came as little surprise that Apple shares rallied after the US delayed tariffs on some Chinese-made electronics products.
•  Also, be aware of companies dependent on Chinese imports: Downstream manufacturers that rely on inputs imported from China—in particular, steel-dependent equipment makers—have taken a hit.
Whether the two sides return to the bargaining table remains to be seen. But one thing is certain: When it comes to tariffs, China won't be footing the bill.
Click here to log on to your account or learn more about E*TRADE's trading platforms, or follow the Company on Twitter, @ETRADE, for useful trading and investing insights.
1. Harvard University, "Tariff Passthrough at the Border and at the Store: Evidence from US Trade Policy," May 2019, https://scholar.harvard.edu/files/CGNT_0.pdf
2. Princeton University Discussion Paper Series, "The Impact of the 2018 Trade War on U.S. Prices and Welfare," March 2, 2019, https://www.princeton.edu/~reddings/papers/CEPR-DP13564.pdf
3. FactSet Research Systems, Earnings Scorecard, August 21, 2019
4. CNBC, "Caterpillar drops after company cuts guidance, citing tariffs and lower demand in China," July 24, 2019, https://www.cnbc.com/2019/07/24/caterpillar-shares-drop-after-earnings-miss-street-global-economic-bellwether-cuts-guidance.html
5. CNBC, "70% of shoes sold in the US come from China. With new tariffs, the industry braces for a hit," August 2, 2019, https://www.cnbc.com/2019/08/02/new-tariffs-on-shoes-has-the-industry-bracing-for-a-hit.html
What to read next...
08/14/19
Acting as an economic warning signal, the Treasury yield curve has inverted.
---
08/09/19
A new round of proposed tariffs has roiled the markets and upended a trade truce between the US and China.
---
08/01/19
Stocks advanced in July ahead of the first rate cut since 2008.
---