Middle East turmoil stirs up markets
A perspective from E*TRADE Securities
01/10/20
After a quiet holiday, the markets kicked into high gear at the outset of the new year. After starting 2020 with new record highs on January 2, US stocks were dealt a setback the next day by news of the US airstrike that killed Iranian General Qasem Soleimani, with hashtags like #FranzFerdinand and #WorldWarIII trending on social media after Iran's Foreign Minister promised retaliation.
A week later, things look much different.
In the immediate aftermath of the US strike, the S&P 500®, Nasdaq, and Dow all retreated from record highs, oil prices surged, and investors moved to safe-haven assets like gold and US Treasuries. By Monday, January 6, though, markets appeared to have digested the initial shock—stocks regained some of their losses and oil prices retreated—but held their breath in anticipation of Iran's next move.
But investor fears of large-scale conflict seemed to decrease when the dust settled following Iran's counterattack on US bases in Iraq on January 7—no US or Iraqi casualties were reported and potential oil-production targets were untouched—and both the S&P 500 and Nasdaq rallied to new records.
Is that the end of the story? Let's take a longer-term view of what the conflict between the US and Iran may mean for the markets and investor portfolios.
Oil prices and stock sectors
Crude oil made one of the biggest moves in the immediate aftershock of the US airstrike, with US WTI oil futures jumping nearly 5% and Brent oil futures topping $70/barrel for the first time since September. It's a familiar story when tensions flare in that part of the world: Middle East turmoil = threat of reduced oil supplies = higher oil prices (and maybe an energy stock boost).
The spike trickled throughout the market, boosting some oil companies and defense socks, while dampening others, including airlines, on the prospect of higher fuel costs.
Also weighing on the minds of investors was the possibility of Iran closing the Strait of Hormuz—the most important oil-shipping channel in the world.1
Iran's retaliatory strike knocked stock index futures for a loop and pushed oil futures prices to new highs on the evening of January 7, but the market again recovered quickly. By the time President Trump remarked that Iran "appears to be standing down" on January 8, oil prices had fallen dramatically, and stocks were on their way to making new records.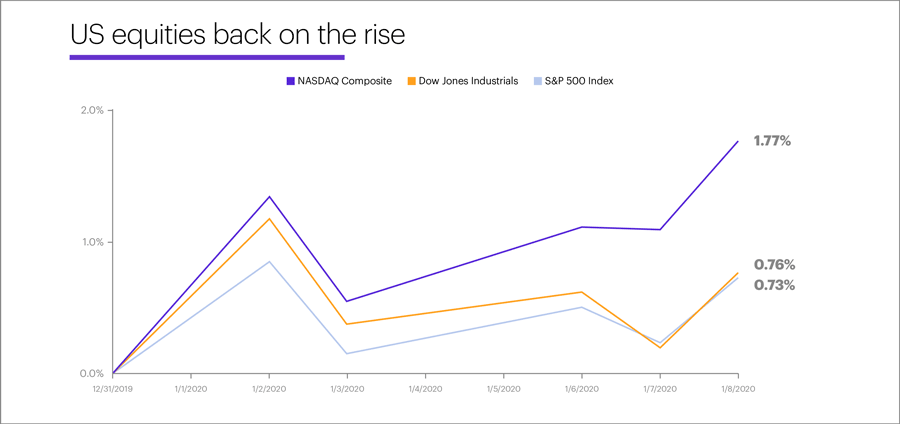 Source: FactSet Research Systems
---
Long-term oil price increase debatable
Some market observers have noted that market shocks triggered by similar events have often subsided within a few weeks. The most recent example was the September attacks on Saudi Arabian oil-production facilities, which resulted in a one-day 15% spike in crude oil prices. Two weeks later, though, prices were back below pre-attack levels. Similarly, oil prices were quick to reverse last July following the British impoundment of an Iranian oil tanker in Gibraltar.2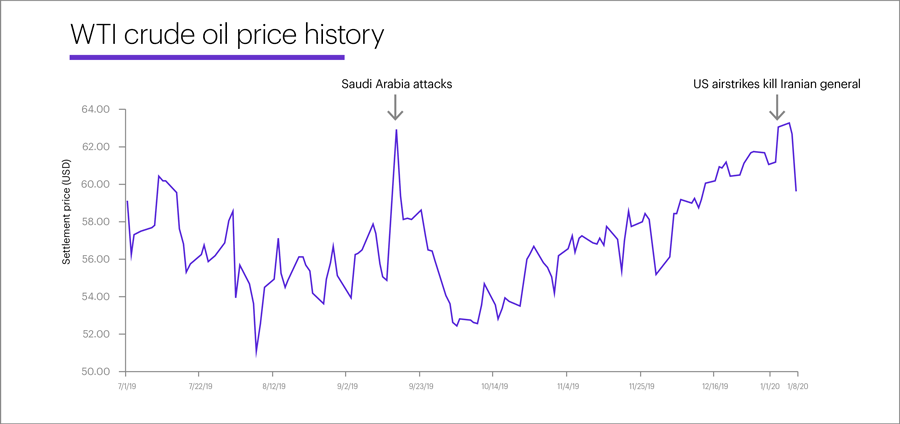 Source: FactSet Research Systems
---
The dust may not be completely settled
Despite the US market's record bounce on the heels of Iran's counterattack, tensions will likely persist for some time (President Trump announced new sanctions on Iran on January 8). The question is whether those tensions are likely to escalate.
Uncertainty remains over whether Iran's retaliation was a one-off, or the beginning of what could be an extended response that includes cyber attacks or other aggressions. While investors tend to seek out assets like gold and bonds in times of geopolitical turmoil, the current situation may present some unique opportunities to consider:
Defense stocks may outperform the broader market during tumultuous periods with the Middle East. According to analysis by CNBC, defense and aerospace companies typically see double the return of the S&P 500 in the months following a high-profile crisis event.3
Early casualties of the sell-off may recoup some of their losses if further escalations don't take shape. Stocks that took a hit on the earlier rise of oil prices, like airlines, may rebound more than the broader market.
Defensive stocks could potentially offer stability if tensions grow. Not to be confused with defense stocks (stocks of defense companies), defensive stocks such as utilities and consumer staples were moderate performers last year and may weather geopolitical tensions better than cyclical sectors.
The recent market turbulence serves as a reminder that knee-jerk reactions are often premature. For investors, it's best to ignore the geopolitical noise and stay focused on long-term goals. Remember that despite periods of volatility, the markets have historically proven resilient in the face of much larger geopolitical disruptions. 
Click here to log on to your account or learn more about E*TRADE's trading platforms, or follow the Company on Twitter, @ETRADE, for useful trading and investing insights. Online stock, ETF, and options trades are now commission-free.
---
US Energy Information Administration, June 20, 2019, https://www.eia.gov/todayinenergy/detail.php?id=39932
The Wall Street Journal, "Oil Traders Lose Faith in Geopolitical Rallies," January 7, 2020, https://www.wsj.com/articles/oil-traders-lose-faith-in-geopolitical-rallies-11578402000?mod=article_inline
CNBC, "Defense stocks double the S&P 500′s return six months after Middle East turmoil, history shows," January 6, 2020, https://www.cnbc.com/2020/01/06/defense-stocks-double-the-sp-500s-gains-months-after-crisis-events.html
What to read next...
01/02/20
After a record year for the markets, what could investors be watching in 2020?
---
12/20/19
We take a look at the US-China Phase One deal and share a few considerations for investors.
---
12/11/19
The Federal Reserve on Wednesday opted to leave the overnight fed funds rate unchanged.
---