US and China reach Phase One trade agreement
A perspective from E*TRADE Securities
12/20/19
Last week was a big one for trade—the topic that has proven it can rock the markets with as little as a tweet.
Early in the week, the revamped version of the North American Free Trade Agreement, known as the United States-Mexico-Canada Agreement (USMCA), received bipartisan backing in the US House and was later approved by Mexican and Canadian representatives.
But the big news came on Thursday when the White House announced it had finalized the long-awaited Phase One trade deal with China ahead of the December 15 deadline, when a new wave of tariffs was set to kick in.
The news provided some clarity for the markets, which have been repeatedly whipsawed by reports of breakthroughs and breakdowns on the negotiation front. Stocks surged on Thursday when the Phase One news broke, and followed through this week, with the S&P 500®, Dow Jones Industrial Average, and Nasdaq Composite hitting multiple record highs.
Although market sentiment tracked positive, some observers called into question how much the agreement actually accomplishes in tackling deeper-rooted issues involving Chinese trade practices, and whether the Trump administration may have accepted a "transactional" deal in order to score a temporary truce.1 Pending further information and signatures from both sides, we take a look at the landscape and what it may mean for investors.
Phase One highlights
The Phase One agreement came after nearly 18 months of agonizing back and forth between the world's two largest economies, and despite reportedly being 86 pages, many details surrounding the terms (and how they will be enforced) are still unclear.2 Here's what we do know:
The US canceled tariffs that were set to kick in on December 15 on Chinese goods such as smartphones, laptops, and toys.
The US agreed to reduce existing tariffs by half (from 15% to 7.5%) on $120 billion of Chinese imports. However, $250 billion of Chinese goods are still subject to a 25% tariff.
China agreed to reforms in the areas of intellectual property and technology transfer, namely putting an end to the requirement that foreign companies transfer their technology to Chinese companies in order to do business in the country.
China committed to increase purchases of US goods and services, including manufactured goods, agricultural, and energy products.
China promised to refrain from currency manipulation.3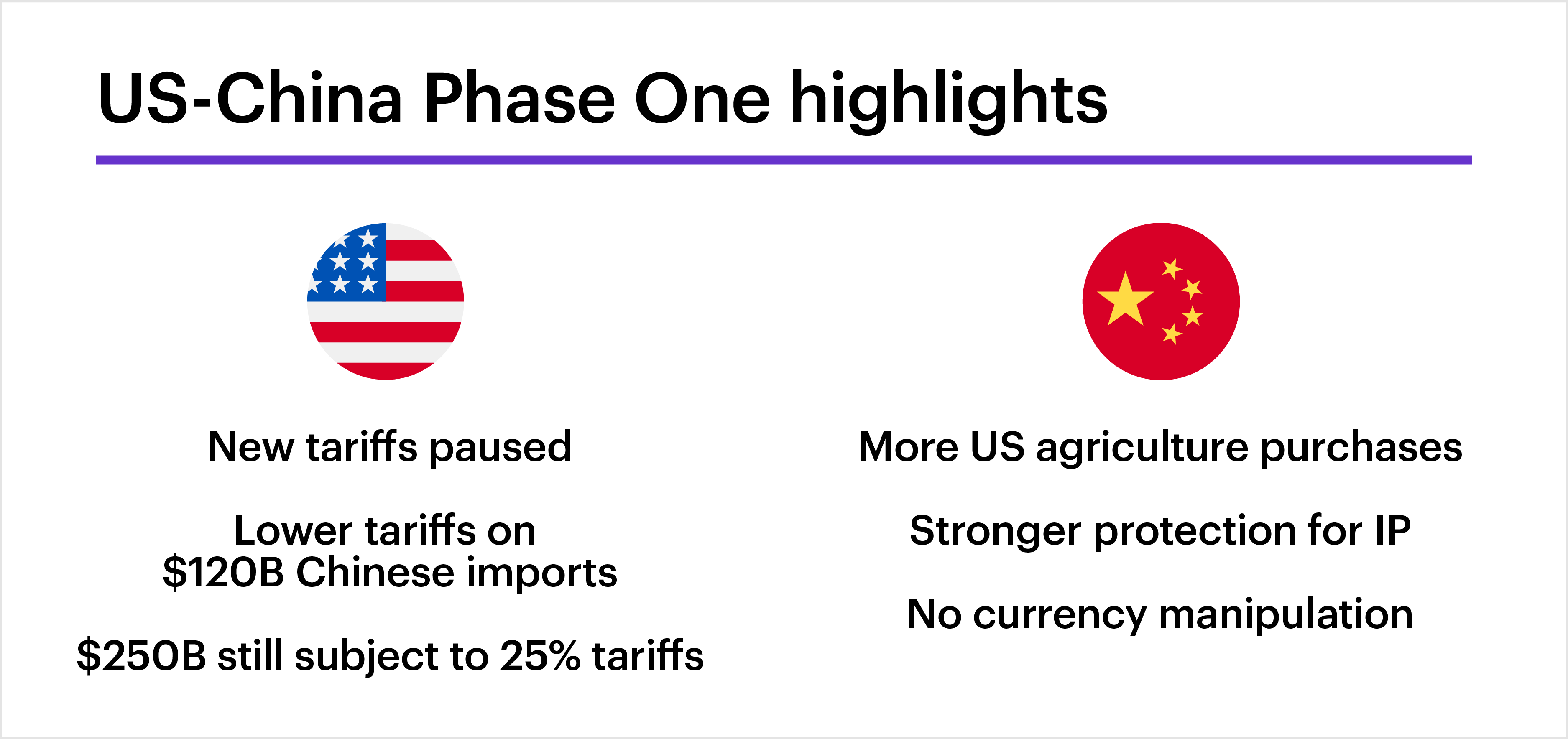 Despite lingering uncertainties, if nothing else the agreement suggests both countries are working toward compromise—a welcome alternative to postponement, renegotiation, or sabre rattling. The removal of additional tariffs and rollback of existing ones may encourage companies to step up production. It also means American consumers are not likely to see pass-through price hikes in goods like electronics and toys—especially during the holiday shopping season.
Phase Two and beyond
While markets appear to be riding a trade-deal wave, it's important to note that the agreement is not yet etched in stone. Both sides still need to officially sign off before Phase Two discussions start on some of the thornier issues. And there is always the possibility of trade disputes with other countries, as evidenced by recent US tariffs aimed at Argentina, Brazil, and France.
But if the overall trade situation continues to progress, here are a few things investors may want to consider:
Agriculture and manufacturing could benefit. Although the details of "how" are unclear, China has agreed to increase its purchases of American agricultural products over the next two years. And with additional tariffs now off the table, the manufacturing sector could also pick up some steam.
Technology and intellectual property could become better protected. With tighter protections for technology and information transfer central to the agreement, tech stocks could be another trade winner.
Glimmer of potential for Chinese stocks? Despite the trade war, China's economy showed some surprising strength in industrial output and consumer spending.4 Trade breakthroughs may breathe some life into Chinese stocks, which have underperformed the US market.
After 18 months of tit for tat, Phase One is at least a sign of a break in hostility between two world powerhouses. Until an agreement is signed, sealed, and delivered, though, it would be prudent to keep an eye on future developments.
Click here to log on to your account or learn more about E*TRADE's trading platforms, or follow the Company on Twitter, @ETRADE, for useful trading and investing insights. Online stock, ETF, and options trades are now commission-free.
---
What to read next...
12/11/19
The Federal Reserve on Wednesday opted to leave the overnight fed funds rate unchanged.
---
12/02/19
Stocks pushed back into record territory in November while trade tensions and recession fears simmered.
---