Vaccines spur rotation buzz
A perspective from E*TRADE Securities
11/19/20
In a year that has delivered one bad headline after another, finally some good news came for humanity: Early results from clinical trials of two leading vaccine candidates have both proven roughly 95% effective in preventing COVID-19.1
It was good news for most of the stock market, too: The S&P 500® and Dow Jones Industrial Average surged to record closes on November 16. The renewed hope for a return to normalcy also seemed to spur shifts in market leadership (at least temporarily) that had some analysts buzzing about "rotation." In other words, seeing a light at the end of the tunnel, investors appeared to be favoring some neglected areas of the market, and backing away from others that gained favor during the height of the pandemic.
Of course, only time will tell if a significant, sustained rotation is indeed underway. Nevertheless, it serves as a reminder that there is more to the stock market than the mega-cap tech and stay-at-home names that have commanded so much investor attention this year. In that spirit, let's take a look at some haves and have-nots and potential catalysts that may change the playing field in the coming months.
Defensive vs. cyclical sectors
Defensive stocks typically offer consistent dividends and stable earnings since these companies sell products or services that most people require, regardless of economic conditions—such as utilities, consumer staples, and health care. Despite the sharp recession and unprecedented uncertainty earlier this year, traditional defensive plays lag the broader market year to date. 
Instead, tech stocks became something of a defensive strategy in the age of COVID-19, as the stay-at-home economy only heightened reliance on digital infrastructure and consumer products. The technology sector of the S&P 500 leads the pack on a year-to-date basis, although tech shares were conspicuously missing from the November 9 rally that followed the Pfizer-BioNTech vaccine news. 
Cyclical stocks appeared to be among the biggest beneficiaries of the recent move away from tech, as investors scooped up beaten-down sectors that some analysts say could improve in a fully functioning economy. The strongest sectors so far in November are energy, financials, and industrials—all areas that tend to be sensitive to economic prospects, and coincidentally, two of the three worst-performing sectors this year.
The stay-at-home vs. reopening trade
To be sure, big tech has been a market leader for a reason—the major players have proven track records and solid financial bases—and its favorability isn't likely to go out of style soon. Unlike the November 9 broad-market rally—in which many of the stay-at-home tech winners sold off—the November 16 rally that followed news of Moderna's vaccine trial success brought the tech-heavy Nasdaq Composite along with it. 
By and large though, a successful vaccine may bode well for what has become known as the "reopening trade"—stocks in industries such as travel, leisure, and hospitality that have struggled to recover amid lockdowns and shifts in pandemic lifestyles. 
Large vs. small caps
Investors also appear to be taking a fresh look at small-cap stocks (smaller, US-based companies), which have underperformed large caps (think: big businesses in the S&P 500) for the past couple of years, but have exploded this month. Small caps tend to be more cyclical than large caps, so an economic turnaround may create favorable conditions for them. Since the start of November, the small-cap Russell 2000 index is up more than 16%, vs. the S&P 500's 10.5% gain: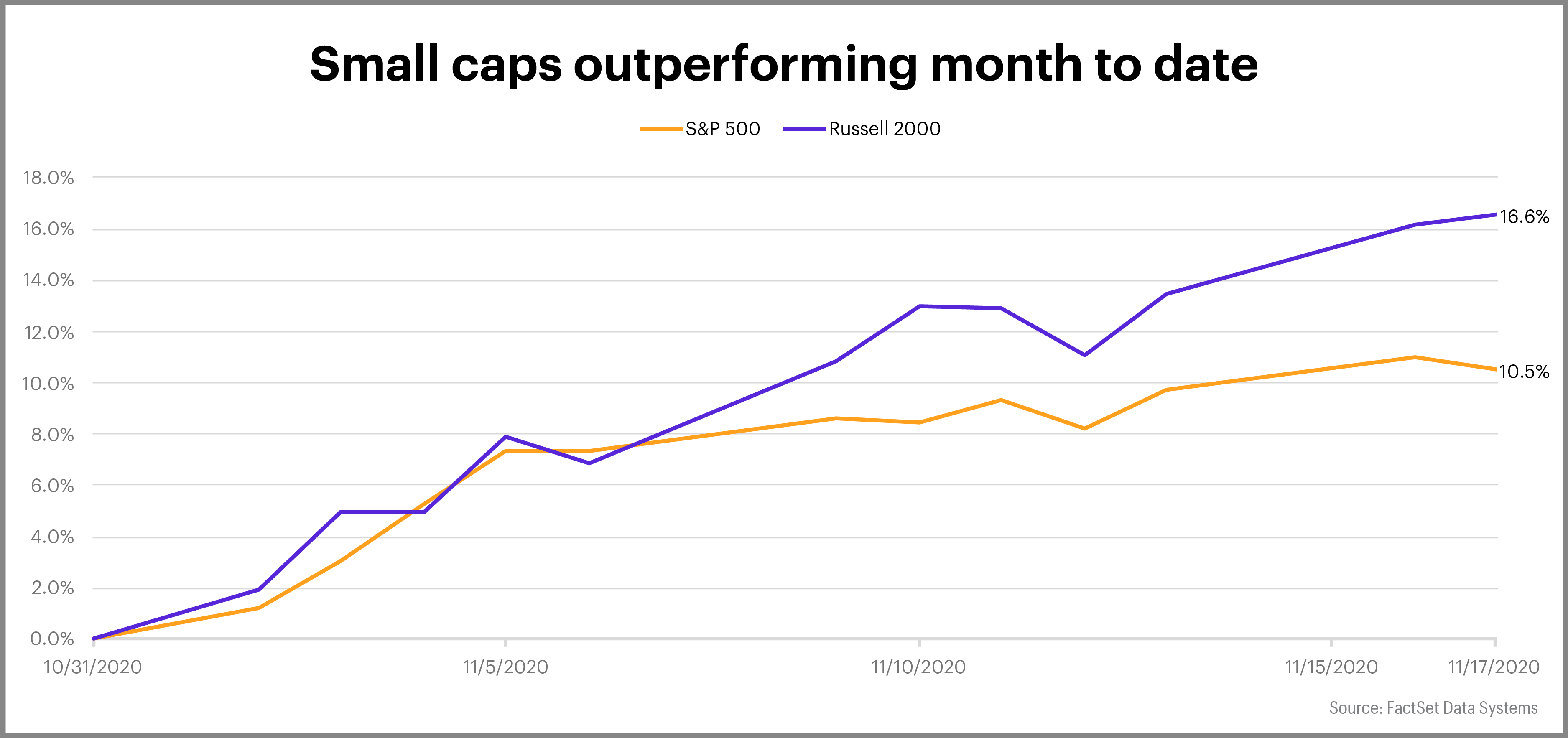 Potential market catalysts
A successful vaccine is just a first step toward ending the pandemic, and one month of new sector leadership is hardly a signal that the rotation will persist in the long term. New catalysts, economic realities, and investing themes may spur interest in different areas of the market after the coronavirus is no longer the primary driver. In the meantime, here are a few factors that could come into play: 
Virus resurgence: The latest wave of infections and hospitalizations have caused some state and local officials to reimpose lockdown measures. Until a vaccine is approved, distributed, and scaled, optimism surrounding the "reopening trade" may be susceptible to the reality of the virus. 
Stimulus limbo: Some market watchers worry that without more stimulus, the economic recovery may stall, which could in turn change the trajectory of the market. In this case, areas like cyclicals and small caps may once again take a back seat to defensive and less stimulus-sensitive sectors.
Economic data: While the economic recovery appears to be on solid ground, uncertainty remains about its near-term strength. Keep an eye on consumer spending, jobs data, and GDP. 
We may be in for some choppy trading ahead as investors weigh vaccine progress against rising COVID cases. Regardless of which areas of the market gain or lose favor in the coming months, remember diversifying a portfolio across asset classes and investments is key for a long-term investing strategy.
Click here
 to log on to your account or learn more about E*TRADE's trading platforms, or follow the Company on Twitter, 
@ETRADE
, for useful trading and investing insights. Online stock, ETF, and options trades are now commission-free.
CNBC, "Pfizer says final data analysis shows Covid vaccine is 95% effective – plans to submit to FDA in days," 11/18/20, https://www.cnbc.com/2020/11/18/coronavirus-pfizer-vaccine-is-95percent-effective-plans-to-submit-to-fda-in-days.html
What to read next...
11/08/20
We're breaking down what a Biden administration may mean for some key market sectors.
---
11/02/20
What started as a bright October for the market ended somewhat bleak—but is it darkest before the dawn?
---