Energy gets an unexpected bounce: Can it last?
A perspective from E*TRADE Securities
09/27/19
It's been a solid year for equities, with most sectors up by double digits thus far. There have been two notable exceptions, however—health care and energy. Recently, energy has gotten a big lift from an unlikely source: rebels fighting a civil war in the isolated country of Yemen. But can energy stocks really sustain their momentum?
Attacks knock out production
On Saturday, September 14, drone strikes on two major Saudi Arabian oil installations knocked out half of the country's production and about 5% of the world's oil supply.1 While Yemen's Houthi rebels claimed responsibility, US officials have stated that Iran was behind the attacks.
As a result, crude oil futures spiked 20% by the following Monday and the cost of gasoline in the US surged by an average of 10 cents per gallon last week.2,3 It was one of those alarming events that seemed like it could tip an already teetering world economy over the edge.
But by most accounts, it appears we've escaped relatively unscathed.
Barely two weeks after the attacks, the Saudis claim they've restored the majority of previous production levels, and the world's crude oil juggernaut expects to be back at full capacity by next week.4
Why are oil prices still elevated?
On the Friday before the attacks, Brent crude oil—one of two major benchmarks for oil prices—was at $60.22. After spiking to nearly $70 the following Monday, Brent crude retreated to around $64 a few days later, where it remained for the duration of the week. Now, even with the Saudis nearing full capacity, oil prices remain elevated.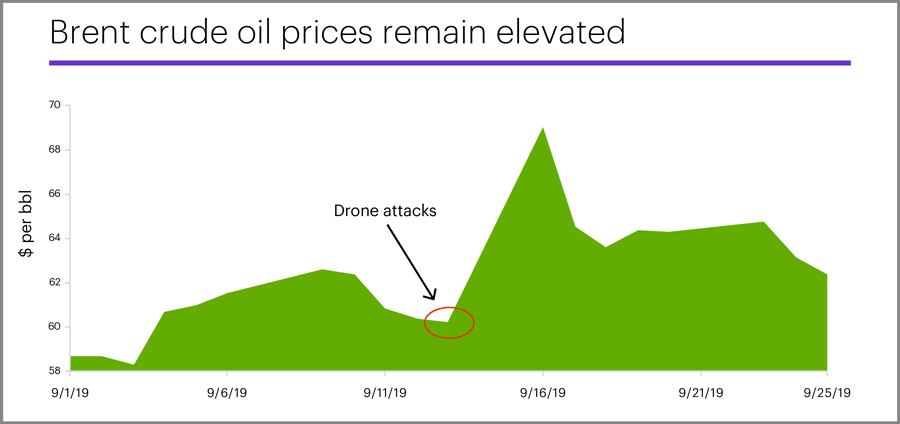 Source: Markets Insider
---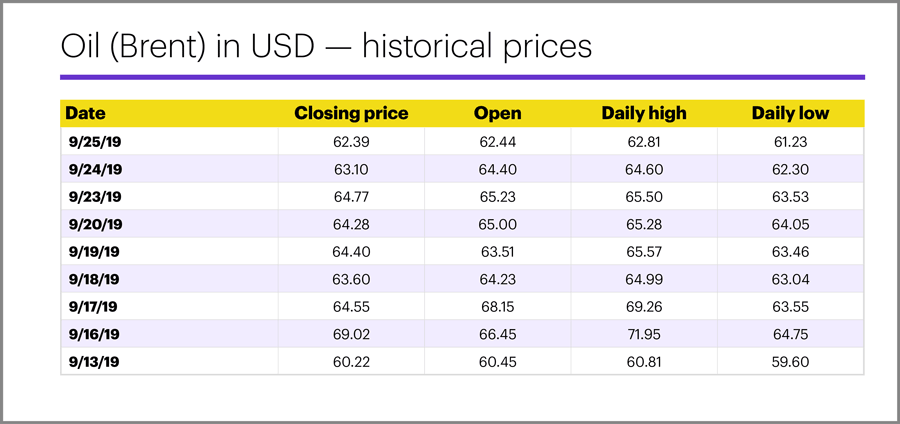 Source: Markets Insider
---
What gives?
In a word: caution. Although supply and demand matter in the long run, oil prices are technically determined in the futures markets. When traders expect crude oil supply to be limited, they buy more futures contracts, driving up the price of oil. In a sense, expectations determine reality.
This time around, it appears traders aren't buying Saudi claims that production will be fully restored by next week, and the possibility of further supply disruptions has led to an added risk premium.
Energy still bearish
But when you look at the bigger picture, energy is still in the throes of a bear market.
Consider that late last year, JP Morgan predicted that Brent crude oil would settle at around $73 in 2019 and $64 in 2020.5 A survey of 11 forecasters by S&P Global Platts predicted an average of around $75 per barrel in 2019.6
Fast forward to the present: Brent crude is at $62 per barrel well before most analysts expected—and that's after a major disruption to global supply. And it's not just oil: Natural gas prices have also collapsed and are hovering near 20-year lows.7
Remember that part about expectations? Over a longer time horizon, energy prices are down largely because of diminished economic growth prospects. The Organization for Economic Co-operation and Development recently downgraded global growth forecasts to their lowest levels in a decade, which would theoretically mean less demand for energy.8
Can energy's rebound last?
What does this mean for investors? Well, if you have a portion of your portfolio in energy stocks, you probably got a bounce from recent supply shocks. But it may be short-lived.
• Oil demand expected to weaken: The U.S. Energy Information Agency (EIA) is revising its 2019 Brent crude oil forecast to $63/barrel for 2019 and $62 for 2020—down from more than $80 at this time last year. These forecasts reflect moderating expectations for growth. Adds the EIA: "If realized, 2019 would be the first year when demand growth is less than 1.0 million b/d [barrels per day] since 2011."9
• Keep an eye on supply: In the energy markets, supply is paramount. Earlier this year, the Organization of Petroleum Exporting Countries (OPEC) agreed to extend supply cuts in a bid to prop up oil prices. But it hasn't been enough to offset increased US production of natural gas, oil, and renewables, which has helped keep a lid on energy prices.
• Trade tensions loom large: And, of course, we can't forget about the trade wars. An easing in trade tensions between the US and China could support energy prices by stimulating global economic growth, and as the 2020 elections approach, the Trump administration could be motivated to ink a deal. But so far, progress on trade has proven elusive.
On balance, the outlook for energy is tepid. But as recent events have shown, supply disruptions can spike prices on a dime. And when it comes to black gold, what goes up may take a while to come down.
Click here to log on to your account or learn more about E*TRADE's trading platforms, or follow the Company on Twitter, @ETRADE, for useful trading and investing insights.
1. Bloomberg, "Oil Prices Jump Most on Record After Saudi Arabia Strike," September 15, 2019, https://www.bloomberg.com/news/articles/2019-09-15/oil-prices-jump-19-after-attack-cuts-saudi-arabian-supplies
2. Markets Insider, "Oil (Brent) in USD – Historical Prices," September 25, 2019, https://markets.businessinsider.com/commodities/historical-prices/oil-price/usd?type=brent
3. AAA, "National Gas Price Average Jumps by a Dime in One Week," September 23, 2019, https://gasprices.aaa.com/national-gas-price-average-jumps-by-a-dime-in-one-week
4. Reuters, "Saudi Aramco restores oil output earlier than expected: sources," September 25, 2019, https://www.reuters.com/article/us-saudi-aramco/saudi-aramco-restores-oil-output-earlier-than-expected-sources-idUSKBN1WA0WN
5. CNBC, "JP Morgan gives its prediction for Brent crude in 2019," November 22, 2018, https://www.cnbc.com/2018/11/22/oil-pricesjp-morgan-gives-its-prediction-for-brent-crude-in-2019.html     
6. S&P Global, "Analysis -- Oil price outlook in 2019 little fazed by market jitters: Platts survey," November 22, 2018, https://www.spglobal.com/platts/en/market-insights/latest-news/oil/112218-analysis-oil-price-outlook-in-2019-little-fazed-by-market-jitters-platts-survey
7. U.S. Energy Information Administration, "Summer natural gas prices on track to be the lowest in more than 20 years," July 18, 2019, https://www.eia.gov/todayinenergy/detail.php?id=40132
8. OECD, "OECD sees rising trade tensions and policy uncertainty further weakening global growth," September 19, 2019, http://www.oecd.org/economy/oecd-sees-rising-trade-tensions-and-policy-uncertainty-further-weakening-global-growth.htm
9. U.S. Energy Information Administration, "Short-term Energy Outlook," September 10, 2019, https://www.eia.gov/outlooks/steo/marketreview/crude.php
What to read next...
12/27/19
In 2019's most read investing article, Alice Milligan discussed the Kiplinger's results and outlined some broader trends in the online brokerage industry.
---
09/18/19
In a nod to continued trade tensions and slowing global growth, the Federal Reserve on Wednesday lowered rates by an additional 0.25%.
---
09/03/19
Increased trade tensions and an inverted Treasury yield curve sent stocks into an August tailspin.
---