It's beginning to look a lot like retail season
A perspective from E*TRADE Securities
11/22/19
The holiday shopping season officially kicks off next week, and this year's Cyber Monday is anticipated to be the biggest online shopping day in US history. Black Friday, Thanksgiving, and "Cyber Tuesday" should also rack up strong seasonal sales, creating what is expected to be the first time holiday retail sales reach the trillion-dollar mark.1
Adding chestnuts to the open fire of retail is a healthy consumer economy: US retail sales rose 0.3% from October, beating market expectations and reversing September's 0.3% decline.2 Consumer sentiment is at its highest since August, and has been edging upward over the past four months.3 And with job and wage growth proving to be bright spots in the US economy, recession worries now seem less likely to have consumers sitting on their wallets.
So for those investors looking for opportunities in the retail sector this historic holiday season, here's a brief overview:
Days can't all be merry and bright
While the holiday season is traditionally one of the stock market's most bullish periods, investors eager to capitalize on its trends should keep in mind that many economists believe we are in the late stages of a very long economic expansion,4 which is when broad-based bullishness typically begins to wane, and the retail sector, in particular, can be susceptible to weakness.
Also trade tensions continue to loom large. Both the National Retail Federation (NRF) and eMarketer cited trade uncertainty and tariffs as potential negatives for holiday spending. According to a September survey by the NRF, nearly 80% of consumers were concerned about price hikes resulting from tariffs.1,5 And although trade talks are ongoing, there have been mixed reports about their actual progress.
A compacted shopping season may also dampen holiday cheer this year. With Thanksgiving falling nearly on the last day of the month, there will be six fewer shopping days between Thanksgiving and Christmas compared to last year.1
Look for the Rudolphs
Although there's always the possibility that the perceived benefit from the holiday season could already be priced into the retail sector, there are almost always a few surprises each season. Retailers who are cracking the code of evolving consumer habits are likely to be well-positioned to stand out from the crowd.
Ecommerce sales are forecasted to grow, and "mcommerce"—sales made via smartphones and tablets—is expected to be the fastest-growing shopping channel, accounting for nearly half of holiday ecommerce. Yet according to eMarketer's "Holiday Shopping 2019" report, brick-and-mortar still represents the vast majority of holiday sales.1 Translation: Retailers who can check all the boxes—digital, mobile, and the in-store experience—could stand out from the crowd. Not convinced? Keep in mind that even Amazon—the e-retailer of all e-retailers—has begun investing in brick-and-mortar stores.6
Stocking stuffers
Fortunately, the holiday season comes at the backend of the Q3 earnings season—which means we get the gift of guidance from the world's major retailers. Here's where things stand:
Big-box retailers such as Best Buy, Walmart, and Target stand to benefit from both brick-and-mortar and ecommerce sales. Along with in-store promos, "click-and-collect" options can attract consumers who prefer to shop online and pick up at their convenience. Target, for example, soared on Wednesday after beating earnings expectations and raising profit outlook for the year. The company cited digital sales growth of 31% for the quarter—noting that its "buy online, pick up in store" and curbside pickup offerings accounted for 80% of the digital growth.7
With ecommerce expected to bring in $135 billion this holiday season,1 companies with both a strong online and mobile presence could see a boost. And in light of this year's truncated shopping window, consumers may prioritize shopping with retailers that offer shipping incentives. Macy's, who reported an earnings surprise on Thursday while simultaneously cutting its full-year profit outlook, noted challenges with its ecommerce business while it works through issues with its digital storefront.8
The impact of ecommerce could reach well beyond the retail sector. For example, ecommerce platform providers, digital payment processors, and credit card companies may also benefit from the holidays.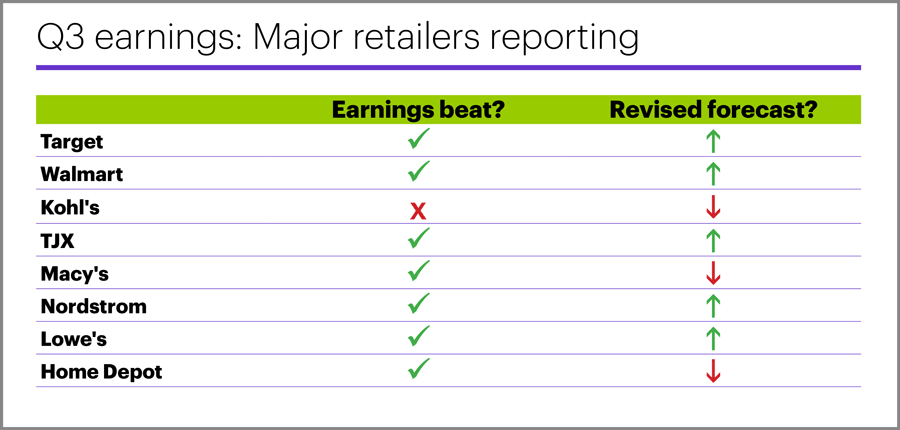 Of course, for every triumph there are more than a few pitfalls. The week of November 18 saw its share of Q3 earnings misses from retailers like Kohl's and Urban Outfitters, prompting some hand-wringing over the state of the retail industry.
On the other hand, notable beats from the likes of Nordstrom, Walmart, TJX, and Target suggest the story is far from over—and after a solid retail sales number last Friday and a potential trillion-dollar holiday season kicking off in a few days, Q4 may be a bright light after all.
Click here to log on to your account or learn more about E*TRADE's trading platforms, or follow the Company on Twitter, @ETRADE, for useful trading and investing insights. Online stock, ETF, and options trades are now commission-free.
---
What to read next...
11/15/19
Consumer spending and business spending are moving in opposite directions.
---
11/08/19
Despite some positive surprises, S&P 500 earnings are down for the third straight quarter.
---
11/01/19
Mixed economic signals failed to spook investors in October
---