Making sense of the latest volley in the US-China trade war
A perspective from E*TRADE Securities
08/09/19
It's here again. Like a dizzying carnival ride, the never-ending trade posturing between the US and China has come full circle, bringing another bout of market volatility.
The latest round looks a lot like it did in mid-May, when the US and China last ramped up the rhetoric and brought down the markets. Similar, too, are the investor takeaways.
The familiar three steps
By now, the pattern is familiar. It starts with Treasury Secretary Steve Mnuchin sending a delegation to China, trumpeting that a trade breakthrough is close at hand. While ostensibly an important milestone, this is where things have typically gone south.
Step two: President Trump gets wind that limited progress has been made and fires off a tweet imposing stiff tariffs on Chinese exports to the US.
Final step: The markets tumble.
The latest tariff threats
And so it went last Thursday, when the Trump administration announced a 10% tariff on an additional $300 billion in Chinese imports as of September 1. This would add to the 25% levy on $250 billion worth of Chinese imports already in place since early this year. The first round of tariffs triggered retaliatory measures from China that have put the hurt on US soybean growers, increased import prices, and taken a bite out of corporate earnings.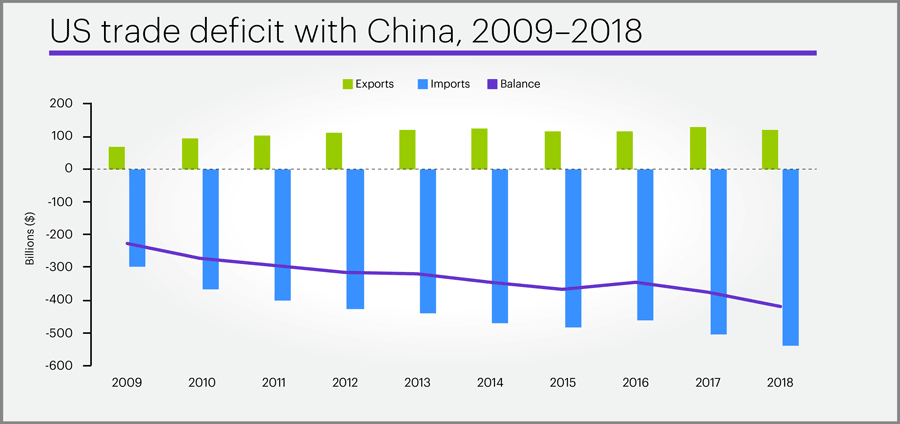 Source: U.S. Department of Agriculture
---
Last week's volley of threats came only days after Mnuchin again led a delegation to China—this time, to Shanghai, site of a landmark 1972 agreement that normalized relations between the US and China. Of the historically significant location Mnuchin declared, "I'll take that as good news that we'll be making progress next week."1
Markets reacted poorly
Over the ensuing days, the Dow Jones Industrial Average lost more than 1,500 points—including the biggest one-day decline of 2019—and the S&P 500® fell 6% off its July 26 highs. The two trading partners now appear to be further apart than ever.
The currency effect
This time around, there was an added twist when China temporarily allowed its currency to devalue, which exacerbated market volatility and prompted the Trump administration to label the move currency manipulation.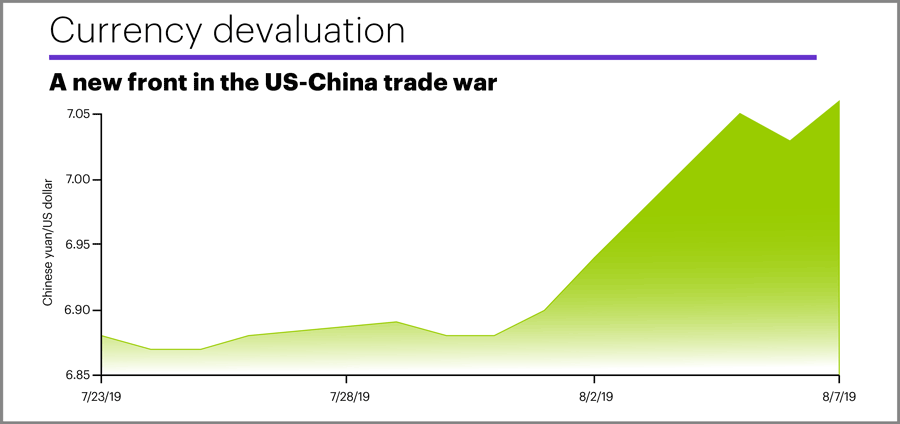 Source: Yahoo! Finance
---
Why do currency issues matter? When China's currency becomes cheaper relative to the US dollar, it hurts US exporters by making American goods more expensive in world markets. It also takes some of the starch out of US tariffs by making Chinese imports cheaper.
Although China has since allowed its currency to stabilize, the trade bombast may be having an unintended effect. Uncertainty surrounding trade is triggering a flight to quality—driving up the value of both US Treasuries and the dollar, which makes US exports less competitive.
How could the escalating trade war affect investors?
For investors, the escalating US-China trade war carries additional implications:
•  Consumer retail: According to Goldman Sachs, the latest tariffs, if imposed, would disproportionately affect apparel, footwear, consumer electronics, and toys—many of which are manufactured in China. Not surprisingly, retailers slumped last week soon after the tariffs were announced.2
•  Soybeans and ag: US growers are heavily reliant on exports to China for their income. Soybeans, which comprise 60% of US agricultural exports, have been a particularly visible trade casualty. On Tuesday, China announced that its companies have stopped buying US farm exports altogether. How long will this last? Tough to say, but it's an area to keep an eye on.
•  Steel and alumnium: Conversely, industries protected by tariffs on Chinese imports, such as steel and aluminum producers, could benefit if US mills can pick up the slack. However, downstream manufacturers dependent on metal inputs may not be so lucky.
Keep in mind that if the two sides reach a truce before September 1, the latest proposed tariffs may not even go into effect. In the meantime, hold onto your seats: This ride may get a little bumpy.
Click here to log on to your account or learn more about E*TRADE's trading platforms, or follow the Company on Twitter, @ETRADE, for useful trading and investing insights.
1. UPI, "Mnuchin, Lighthizer to travel to Shanghai for trade negotiations," July 24, 2019, https://www.upi.com/Top_News/US/2019/07/24/Mnuchin-Lighthizer-to-travel-to-Shanghai-for-trade-negotiations/2931564013774/
2. CNBC, "Analysts sorting winners and losers as new set of tariffs take aim at Nike, retailers," August 2, 2019, https://www.cnbc.com/2019/08/02/analysts-sorting-winners-and-losers-as-new-set-of-tariffs-take-aim-at-nike-retailers.html
What to read next...
08/01/19
Stocks advanced in July ahead of the first rate cut since 2008.
---
07/31/19
The Federal Reserve's decision to lower rates by 0.25% is aimed at keeping the long-running economic expansion on track.
---
07/26/19
Despite plenty of positive Q2 earnings surprises, earnings are expected to be down from last year's levels.
---