Another record: Economic expansion becomes longest ever
A perspective from E*TRADE Securities
07/12/19
Landmark anniversaries often come in round numbers. As such, 121 months doesn't seem that notable, but it is. As of July, we're now in the longest sustained economic expansion in US history at 121 months and counting.
Coming out of the grinding recession of 2008–2009, what has transpired over the past decade hardly seemed possible. Lest we forget whence we came: In 2008 alone, home foreclosures surged by 81%.1 Unemployment peaked at 10% in October 2009—its highest rate in 26 years.2 And some of the most venerable financial institutions collapsed after being deemed too big to fail.
We've come a long way, baby.
One for the record books
The current expansion breaks the record previously set from March 1991–March 2001. Along the way, the flourish of economic growth racked up some impressive numbers:
•  The home foreclosure rate fell to a 13-year low of 0.47% in 2018.3
•  At 3.7%, the unemployment rate is at its lowest mark since December 1969.
•  The stock market continues its record-breaking bull run, as the S&P 500® recently climbed above 3,000 for the first time and has gained more than 340% from a post-crisis low of 676.53 in March 2009.4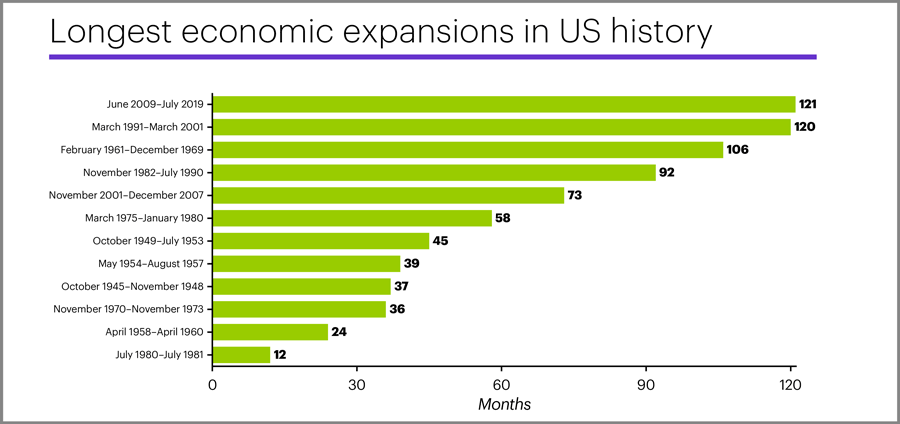 Source: National Bureau of Economic Research
---
Easing monetary policy in a booming economy?
One other notable statistic: The Federal Reserve hasn't cut interest rates since 2008.
Which gets us to the elephant in the room: Investors believe there's a more than 70% chance the Fed will cut interest rates by 0.25% later this month.5 Why on earth would Fed policymakers cut rates if things are going gangbusters?
The answer: They wouldn't. Which means the Fed is concerned about the sustainability of economic growth.
The Atlanta Fed produces a widely followed feature known as GDPNow™. While nothing close to an official forecast, GDPNow is billed as "a running estimate of real GDP growth based on available data for the current measured quarter."6
The GDPNow model predicts that gross domestic product will decelerate to 1.3% in the second quarter, which would mark quite a downdraft from the first quarter's 3.1% growth rate.6
Perhaps the Fed is onto something. After all, there are warnings signs out there:
•  New orders for manufactured goods were down 0.7% in May and are down in three of the last four months.7
•  The Fed's favored inflation gauge—the core Personal Consumption Expenditure Price Index—is running below the Fed's long-term 2% target, a potential harbinger of economic slowing.8
•  Treasury yields have fallen over the past year, indicating that investors are seeking potential havens against market volatility.
How long can the expansion continue?
None of this implies that we're about to dive headlong into recession. Among developed nations, expansions of 15-plus years are not unheard of. Australia hasn't endured a recession in nearly 30 years.9
Given the twin catalysts of accommodative fiscal and monetary policy, the long-running economic boom may have some more room to run. The bull market, too, may only be in the 7th-inning stretch. A recent E*TRADE study indicates that two-thirds of investors believe the bull market has a year or more to go.
Investor considerations
The record-breaking expansion has defied all expectations, but prudent investors appear to be exercising caution, nonetheless.
•  Watch the yield curve: The Treasury yield curve has flattened in part because investors expect to reinvest at lower short-term yields over the coming years, which has pushed them into longer-dated issues. That, in turn, could continue to bode well for intermediate-term Treasuries.
•  The best offense is a good defense? If the economy does decelerate, defensive plays like consumer staples, utilities, and health care—"necessity" sectors that can weather a slowdown—may benefit.
•  Know your value: Diversification is often positioned in terms of a healthy equity/fixed income mix, but equity asset allocation matters as well. Growth stocks have ruled the roost over the past decade, but value stocks—those with growth potential masked by low price/earnings multiples—may have an important role to play as part of a diversified portfolio.
It's been a good run, and 121 months has a nice ring to it. But round numbers always resonate: 150 would sound even better.
Click here to log on to your account or learn more about E*TRADE's trading platforms, or follow the Company on Twitter, @ETRADE, for useful trading and investing insights.
1. "Foreclosures Increased 81% in 2008," The New York Times, January 15, 2009, https://economix.blogs.nytimes.com/2009/01/15/foreclosures-increased-81-in-2008/
2. CNN Money, "Foreclosures up a record 81% in 2008," CNN Money, January 15, 2009, https://money.cnn.com/2009/01/15/real_estate/millions_in_foreclosure/
3. Bankrate, "Foreclosure rates haven't been this low since before the Great Recession," March 6, 2019, https://www.bankrate.com/mortgages/foreclosure-rates/    
4. FactSet Research Systems, www.factset.com
5. CME FedWatch Tool, July 10, 2019, https://www.cmegroup.com/trading/interest-rates/countdown-to-fomc.html
6. Federal Reserve Bank of Atlanta, "GDPNow," July 10, 2019, https://www.frbatlanta.org/cqer/research/gdpnow.aspx
7. U.S. Census Bureau, "Monthly Full Report on Manufacturers' Shipments, Inventories, and Orders May 2019," July 3, 2019, https://www.census.gov/manufacturing/m3/prel/pdf/s-i-o.pdf
8. Bureau of Economic Analysis, "Personal Consumption Expenditures Price Index, Excluding Food and Energy," https://www.bea.gov/data/personal-consumption-expenditures-price-index-excluding-food-and-energy
9. "What the Rest of the World Can Learn From the Australian Economic Miracle," The New York Times, April 6, 2019, https://www.nytimes.com/2019/04/06/upshot/australia-lessons-economic-miracle.html
What to read next...
07/01/19
Investors stepped on the gas in June, confident that the Fed will lower rates in July.
---