September repeat: Fed trims rates again
A perspective from E*TRADE Capital Management, LLC
09/18/19
Responding to stubbornly low inflation, continued trade tensions, and global growth concerns, the Federal Reserve on Wednesday cut the federal funds target rate by an additional 0.25%—the second such rate cut this year. The decision to ease interest rates brings the benchmark lending rate to a target range of 1.75–2.00%—a level last seen in the second quarter of last year.
Today's move comes on the heels of a 0.25% rate cut in July and was expected by market participants after Federal Reserve Chairman Jerome Powell hinted at monetary easing in August. At an economic symposium in Jackson Hole, Wyoming, Powell noted that "the global growth outlook has been deteriorating since the middle of last year," and added that the Fed would "act as appropriate to sustain the expansion."1
A monetary sea change
The monetary environment has changed markedly since last December, when many market watchers were expecting the Fed to hike interest rates by as much as 0.75% in 2019. Instead, the US central bank has pared rates by a cumulative 0.50%—the first monetary easing in more than a decade—and the Federal Open Markets Committee (FOMC) could lop rates again at its next policymaking meeting in October.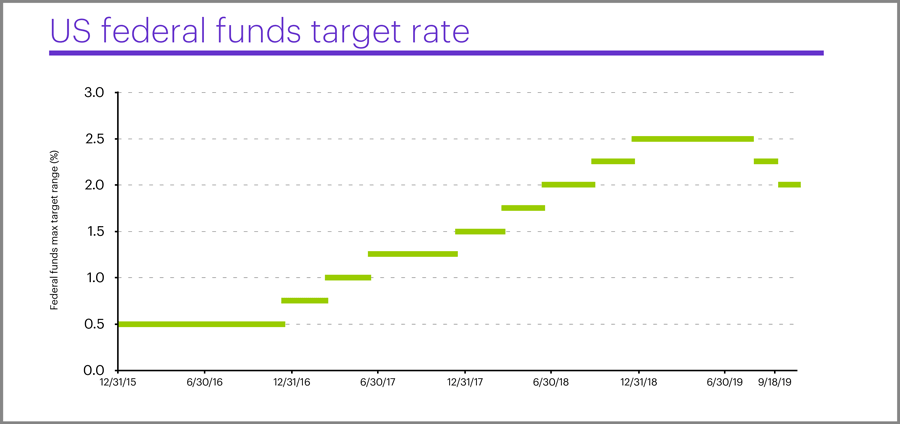 FactSet Research Systems, September 18, 2019
---
Economic crosswinds
The Fed's accommodative stance comes at a time of conflicting economic signals. While US unemployment is near a 50-year low and consumers continue to ramp up spending, manufacturing output has slowed, and job gains have tapered. In August, the American economy created 130,000 new jobs—the smallest increase in three months and well short of consensus expectations.2
The US and China have also been locked in a tumultuous trade war that has resulted in stiff tariffs, a sharp decrease in US farm exports, and a measurable hit to corporate earnings. Adding to investors' unease is the recently inverted Treasury yield curve, which has historically been an early precursor to recession.
Will the Fed cut again?
With inflation still short of the Fed's 2.0% objective and bond yields hinting at an economic slowdown, the Federal Reserve may not be done cutting rates in 2019. Regardless, today's move is unlikely to satisfy President Trump, who has attempted to jawbone Fed Chair Powell into cutting interest rates more aggressively—even if it means rates below zero.3
Investor takeaways
The Fed's decision to lower interest rates is part of a larger trend of global monetary easing. Last week, the European Central Bank trimmed its deposit interest rate and launched a new round of bond purchases. Collectively, these accommodative measures could be viewed by investors as a cautionary signal.
Some additional points to consider:
• Less dry powder: With each accommodative action, the Federal Reserve shrinks its arsenal of monetary tools. The more aggressive the Fed is when the economy is growing, the less cushion it has when economic fundamentals deteriorate. That could prove problematic if the US economy eventually falls into recession.
• Yield opportunities dwindling: For investors, finding yield opportunities becomes more challenging, although a reduced Fed funds rate doesn't necessarily translate into lower Treasury yields. While the hunt for yield could bode well for dividend-paying stocks, investors should bear in mind that equities reflect company fundamentals and still require due diligence.  
• Diversification key: It's also important to note that the Fed has cut rates because of perceived threats to US economic growth. Those same risks bolster the case for a diversified portfolio that includes high-quality fixed income holdings.
The FOMC meets next on October 29–30—the heart of Q3 earnings season and just ahead of the deadline for Britain to exit the European Union. Right now, the odds of an additional rate cut change by the day, but the events of the coming month could tip the Fed's hand one way or the other. 
Click here to log on to your account or learn more about E*TRADE's trading platforms, or follow the Company on Twitter, @ETRADE, for useful trading and investing insights.
---
1. Board of Governors of the Federal Reserve System, "Transcript of Chair Powell's Press Conference," June 19, 2019, https://www.federalreserve.gov/mediacenter/files/FOMCpresconf20190619.pdf
2. Bureau of Labor Statistics, US Department of Labor, "The Employment Situation – August 2019," September 6, 2019, https://www.bls.gov/news.release/empsit.nr0.htm
3. Barron's, "Trump Calls for Below-Zero Interest Rates in the U.S., Labels Fed 'Boneheads,'" September 11, 2019, https://www.barrons.com/articles/trump-calls-for-below-zero-interest-rates-in-the-u-s-labels-fed-boneheads-51568214161
What to read next...
12/27/19
In 2019's most read investing article, Alice Milligan discussed the Kiplinger's results and outlined some broader trends in the online brokerage industry.
---
09/03/19
Increased trade tensions and an inverted Treasury yield curve sent stocks into an August tailspin.
---
08/29/19
The results are in, and year-over-year corporate earnings are down for the second straight quarter.
---