Halloween hat trick: Fed cuts rates again
A perspective from E*TRADE Capital Management, LLC
10/30/19
In a move that underscores the perceived fragility of the long-running economic expansion, the Federal Reserve on Wednesday cut interest rates by 0.25%—the third such rate cut this year. The Fed's action brings the federal funds rate to a target range of 1.50–1.75%—a level last seen in the second quarter of 2018.
The Fed action mirrors rate cuts in July and September and was largely anticipated by market participants. In recent comments, Federal Reserve Chairman Jerome Powell asserted, "We will act as appropriate to support continued growth, a strong job market, and inflation moving back to our symmetric 2% objective."1 Powell has used similar language to telegraph previous rate cuts.
A mixed economic bag
The Fed's decision to ease monetary policy comes amid mixed economic signals. While the economy is still expanding and US unemployment is at a 50-year low, manufacturing activity has been in decline and trade wars are beginning to take a toll on manufacturers' profit margins. Even consumer spending—the lifeblood of the US economy—has flagged. The Commerce Department reported that US retail sales fell in September for the first time in seven months.2
The news is similarly mixed in the financial markets. Equities have posted double-digit gains year-to-date and the S&P 500® index recently climbed to a record high, but some of the biggest gains have come in defensive sectors, suggesting that investors are wary of economic growth prospects.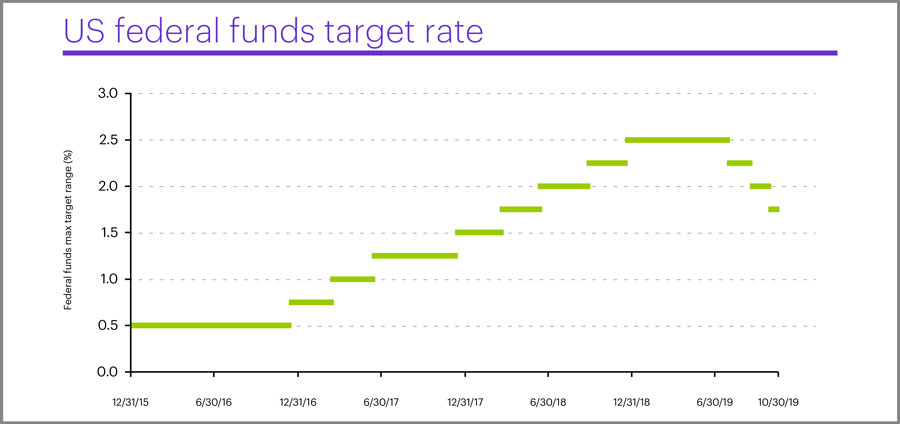 FactSet Research Systems, October 30, 2019
---
Will the Fed cut again?
It can be easy to forget that as recently as last November, economists were forecasting up to three rate hikes in 2019. Instead, the Fed has done just the opposite in hopes of stimulating investment and supporting economic growth. Still, policymakers must maintain some monetary dry powder should the economy eventually slip into recession. Put another way: After cutting interest rates three times since July, the Fed may finally be due for a breather.
Investor takeaways
The Fed's accommodative posture has been previously characterized by Chairman Powell as a "mid-cycle adjustment," but investors should be prepared for any number of scenarios.3
• Is three the charm? While interest rates are still above their levels of a few years ago, pushing rates much lower could be a gamble. The more aggressive the Fed is when the economy is growing, the smaller cushion it has when economic fundamentals deteriorate. While many analysts believe the Fed has trimmed rates for the last time this year, The Federal Open Market Committee (FOMC) will have the final say.
• Yield opportunities shifting: As part of a modest steepening in the yield curve, longer-term Treasury yields have risen in recent weeks, which may force income-seeking investors to go further out on the yield curve. The hunt for yield could also bode well for dividend-paying stocks, although investors should realize that dividend payers come with different levels of risk than fixed income.
• Diversification is key: While investors may cheer the Fed's decision to ease monetary policy, it's important to note that the Fed has cut rates because of perceived threats to US economic growth. Those same risks bolster the case for a diversified portfolio that includes high-quality fixed income holdings.
The FOMC next meets December 10–11. A lot can happen before then, and as we move past Halloween into the winter holiday season, shifting economic signals could determine whether the Fed has one more trick up its sleeve. 
1.  Board of Governors of the Federal Reserve System, "Data-Dependent Monetary Policy in an Evolving Economy," October 8, 2019, https://www.federalreserve.gov/newsevents/speech/powell20191008a.htm
2.  U.S. Census Bureau, "Advance  Monthly Sales for Retail and Food Services, September 2019," October 16, 2019, https://www.census.gov/retail/marts/www/marts_current.pdf
3.  Federal Reserve Bank of Chicago, "On Mid-Cycle Adjustments," October 1, 2019, https://www.chicagofed.org/publications/speeches/2019/on-mid-cycle-adjustments
---
Click here to log on to your account or learn more about E*TRADE's trading platforms, or follow the Company on Twitter, @ETRADE, for useful trading and investing insights. Online stock, ETF, and options trades are now commission-free.
What to read next...
10/25/19
Young, tech-forward people are changing what it means to invest.
---
10/18/19
A tentative Brexit deal has been agreed upon, but many unresolved issues remain.
---
10/11/19
Weak manufacturing numbers have triggered recent market volatility. How concerned should investors be?
---